Sales Have Ended
Registrations are closed
Ticket sales for this event are now closed. Find out more about the Acts of Kindness program here; https://mvcc.vic.gov.au/kindness/
Sales Have Ended
Registrations are closed
Ticket sales for this event are now closed. Find out more about the Acts of Kindness program here; https://mvcc.vic.gov.au/kindness/
About this Event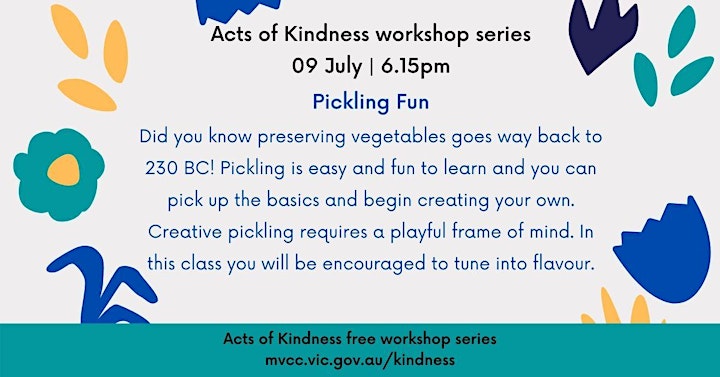 What's it all about?
The word pickle originates from Dutch or German meaning salt or brine, the process of preserving vegetables this way goes back to 230 BC. Pickling is easy and fun to learn and you can pick up the basics and begin creating your own. Creative pickling requires a playful frame of mind. In this class you will be encouraged to tune into flavour.
What will we cover?
During the class we will cover the basic principles of pickling and discuss the huge array of vegetables, fruits, spices and herbs that can be used to make delicious pickles at home. We will prepare a batch of pickles step by step so get ready! While we chat and get creative, you will get a chance to learn about different versions of pickles and we will discuss the techniques and flavours to create lovely combinations at home.
What will you need?
EQUIPMENT LIST for Pickled Red Cabbage
Chopping board, Good knife, Saucepan, Stirring spoon, Dessertspoon, Teaspoon,Scales,Cup
Jars with good fitting lids (plastic food storage containers would work, but not as well) – sterilised
INGREDIENTS LIST for Pickled Red Cabbage
500g Red cabbage
2 Red onions
300ml Red wine vinegar
100ml Water
40-50g Sugar
3 or 4 Whole cloves
1 Cinnamon stick
6 Black peppercorns
½ teas Ground ginger
½ teas Ground nutmeg
And if you are interested in trying this recipe next :
INGREDIENTS LIST for Bread & Butter Cucumbers
400g Cucumbers
1 White onion
200ml Cider vinegar
100ml Water
40g Sugar
1/2 teas Ground turmeric
5g Coriander seeds
5g Mustard seeds
1/2 teas Celery seeds
1/2 teas Chilli flakes
This program requires participants to have an active Zoom account. To create an account, please visit: https://zoom.us