Sales Have Ended
Registrations are closed
Ticket sales for this event are now closed. Find out more about the Acts of Kindness program here; https://mvcc.vic.gov.au/kindness/
Sales Have Ended
Registrations are closed
Ticket sales for this event are now closed. Find out more about the Acts of Kindness program here; https://mvcc.vic.gov.au/kindness/
About this Event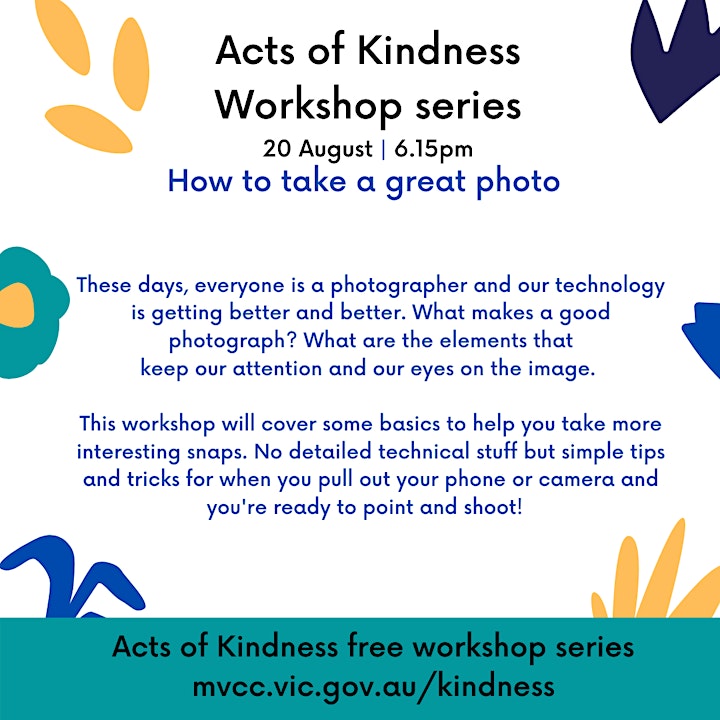 What's it all about?
These days, everyone is a photographer and the technology continues to get better and better. This workshop will cover some basics to help you take more interesting images. We won't go into the technical knowledge but rather give you some simple ideas to incorporate when you pull out your phone (or point and shoot camera)
What will we cover?
What makes a good photograph? What are the elements that keep our attention and our eyeballs on the image
Lighting – The source of light, direction and why it matters
Composition – How we arrange the subject/s in our image to tell a story
Mood – using lighting and composition in order to convey the emotion of the image
Group activity – how to start putting this into practice
What will you need?
Come prepared with your smartphone or camera, in order to review some of your images and see how the composition ideas might be applied to them
Pen and paper to take notes if desired
Who will be teaching?
Chelsea Trewarne is an enthusiast photographer who was tired of seeing her boring travel photos and wanting to take better images. She is still continuing to work on the basics and exploring other genres of photography.
Pam Kreuger long time local photography enthusiast. The genres of photography she is drawn to are travel, street and lifestyle portrait images. Mentoring enthusiastic beginner photographers she finds both rewarding and very fulfilling and has been doing this for several years. Pam is continually learning new skills in photography as this is an ever changing area with new technology which is changing at rapid rates.