Sales Have Ended
Registrations are closed
Ticket sales for this event are now closed. Find out more about the Acts of Kindness program here; https://mvcc.vic.gov.au/kindness/
Sales Have Ended
Registrations are closed
Ticket sales for this event are now closed. Find out more about the Acts of Kindness program here; https://mvcc.vic.gov.au/kindness/
About this Event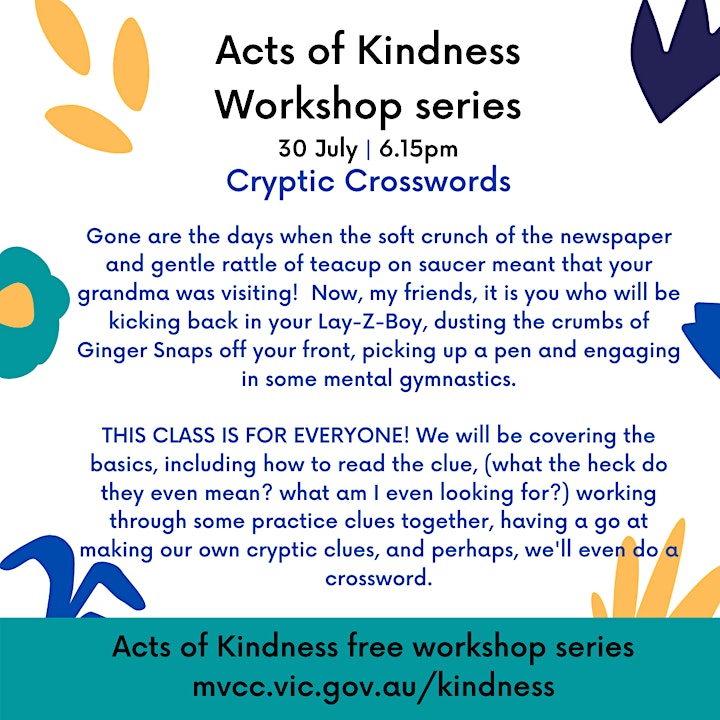 Gone are the days when the soft crunch of the newspaper and gentle rattle of teacup on saucer meant that your grandma was visiting—sit still! And stop fidgeting!
Now, my friends, it is you who will be kicking back in your Lay-Z-Boy, dusting the crumbs of Ginger Snaps off your front, picking up a pen and engaging in some mental gymnastics. And guess what? It turns out your grandparents were on to something, because cryptic crosswords are, as the young kids say, "fun AF".
What will we be doing?
This class is for everyone. We will be covering the basics, including how to read the clue (what the heck do they even mean? What am I even looking for?), working through some practice clues together, having a go at making our own cryptic clues, and perhaps, if there's time, we'll do a crossword.
What will I need?
To participate in this class you'll need: access to a computer and Zoom, a pencil and paper, an enquiring mind, a sense of humour in case we have technological issues, and a beverage of your choice (I find Earl Grey goes well with a crossword).
Who is this so-called 'expert', anyway?
Hi! I'm Tara. I write and edit words.
I've been doing crosswords since I was a little kiddo (no, I wasn't very cool at school, thanks for asking), and I thought I'd be DOOMED to complete cryptics by myself forever until, one day, I discovered The Good Copy's Crossword Club!
Finally, I had found my people. Now, I don't purport to be an all-knowing whiz-bang wunderkind but I just love doing crosswords so much that if you're kind of curious as to what all the fuss is about, I'd love to help you. Why don't we put the kettle on, bust out the bikkies and see just how good we are when we put our heads together?