Location
Maude Tennis Pavillion
1795 Steiglitz Road
Maude, VIC 3331
Australia
Refund policy
Contact the organiser to request a refund.
Eventbrite's fee is nonrefundable.
A deep dive into activating biological pathways to improve soil structure, nutrient status, and moisture retention.
About this event
Join Dr Christine Jones (Bio below)– renowned soil biologist – for a deep dive into activating biological pathways to improve soil structure, nutrient status, and moisture retention.
Learn how the influence of plant root exudates on soil structure and function can be enhanced by the adoption of management practices that maximise the power of photosynthesis. These practices include the establishment of species-rich communities, appropriate grazing management and the use of bio stimulants.
Explore the extraordinary symbiotic relationships that exist between plants and microbes and the role of soil microbial diversity in enhancing levels of stable soil carbon. Improvements in soil carbon can reduce reliance on high-analysis fertilisers, herbicides, insecticides, and fungicides; improve soil structure, aeration and water-holding capacity and optimise soil, plant, animal, and human health, water quality and farm profit.
This project is supported by Corangamite CMA, through funding from the Australian Government's National Landcare Program.
3 dates available - morning tea and lunch provided.
Activating soil health in mixed species crops and pastures
• Thursday 16 June 2022 at Irrellipe Hall, Irrellipe
• Friday 17 June 2022 at She Oaks (near Bannockburn)
Soil Health and Native Grasslands
• Sunday 19 June at The Potato Shed, Drysdale
Cost $30 to cover catering and venues
Places are limited so get in early to avoid disappointment.
Proposed Agenda:
9.00am: Registration
9.30am: Welcome, background and interests9.45am: Activating soil health 11.00am: Morning tea11.30am: Soil sociobiome – how plant diversity stimulates soil function and carbon sequestration.12.45pm: Lunch and networking1.30pm: Travel / move to field site2.00pm: Results from local soil testing. Practical steps to restoring soil and plant health3.30pm: Bringing it all together – Q & A and conclusions 4.00pm: Close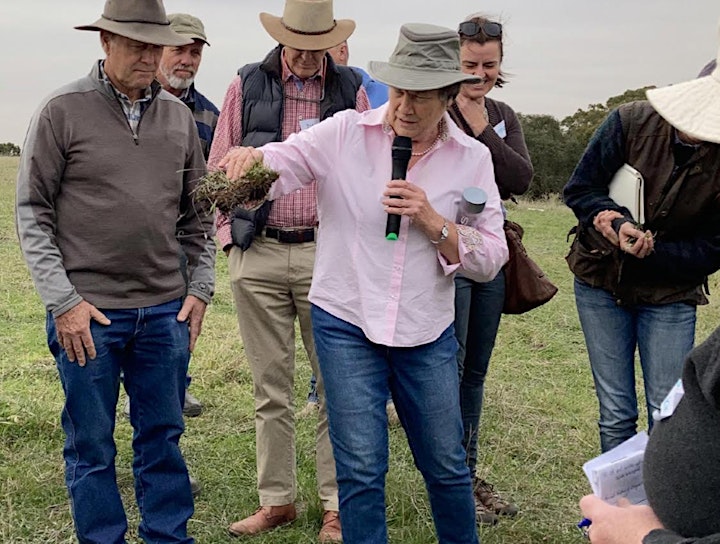 Dr Christine Jones Bio
Dr Christine Jones is an internationally renowned and highly respected groundcover and soils ecologist. She has a wealth of experience working with innovative landholders to implement regenerative land management practices that enhance biodiversity, increase biological activity, sequester carbon, activate soil nutrient cycles, restore water balance, improve productivity, and create new topsoil. Christine has organised and participated in workshops, field days, seminars, and conferences throughout Australia, New Zealand, South Africa, Namibia, Zimbabwe, Western, Northern and Central Europe, Central America, USA, and Canada and has a strong publication and presentation record.
Christine received a Community Fellowship Award from Land and Water Australia in 2001. The LWA Community Fellowship Program was designed to 'provide recognition to individuals with an outstanding track record in mobilising and inspiring the community to better manage their land, water and vegetation'.
In February 2009, Christine established the prestigious A & K Hill Green Agriculture Innovation Awards (GAIA) with generous support from Allan and Kay Hill, who viewed an Australian Broadcasting Commission 'Landline' program documenting her vision to improve landscape health and farm productivity through the regeneration of topsoil. The GAIA awards ran for five years.
Christine is a member of Arizona State University's 'Carbon Nation Team' and sits on the advisory board of 'The Carbon Underground'. These organisations recognise that farming and grazing practices designed to improve levels of soil biological activity through the active management of diverse yearlong green groundcover are key to the restoration of soil function, clean water and nutrient dense food.