Sales Have Ended
Ticket sales have ended
Thank you so much for your interest in our tree-planting festival but --- THIS EVENT IS NOW SOLD OUT --- The registration for this event is closed. Keep in touch for next year's planting and in the meantime, keep on supporting us or buy a t-shirt on: https://igg.me/at/activate2020/x#/ With your support, we will begin planning for 2021 with the aim of planting 100 000 trees ! Not everyone can contribute and that's okay but that doesn't mean you can't help. You may consider sharing this link to your Facebook page or sending to your friends in a message. The Activate team (activatetreeplanting@gmail.com)
Sales Have Ended
Ticket sales have ended
Thank you so much for your interest in our tree-planting festival but --- THIS EVENT IS NOW SOLD OUT --- The registration for this event is closed. Keep in touch for next year's planting and in the meantime, keep on supporting us or buy a t-shirt on: https://igg.me/at/activate2020/x#/ With your support, we will begin planning for 2021 with the aim of planting 100 000 trees ! Not everyone can contribute and that's okay but that doesn't mean you can't help. You may consider sharing this link to your Facebook page or sending to your friends in a message. The Activate team (activatetreeplanting@gmail.com)
About this Event
Thank you so much for your interest in our tree-planting festival but
--- THIS EVENT IS NOW SOLD OUT ---
The registration for this event is closed but you can try your luck and join the waiting list.
Keep in touch for next year's planting and in the meantime, keep on supporting us or buy a t-shirt HERE
With your support we will begin planning for 2021 with the aim of planting 100 000 trees !
The Activate team (activatetreeplanting@gmail.com)
• • GABBIN 2020 • •
ACTIVATE THE WHEATBELT invites you to join us in Gabbin for the weekend of JULY 3th to JULY 5th to help us plant 20,000 native seedlings and 6,000 sandalwood nuts to rejuvenate badly eroded land in the Wheatbelt.
This enjoyable weekend will consist of tree planting, live music and DJ's, dancing, community connection and education.
This is a drug free and family friendly event open to all ages, where everyone is welcome to come and help us restore biodiversity and reconnect to the bush landscape !
• • WHAT TO EXPECT AT THE FESTIVAL • •
At the event we will be hard at work planting trees during the day, with the motivation of DJ's and musicians to inspire us along in the field. At night things really come to life with a diverse range of musical acts to listen and dance to. All organic meals are provided while you enjoy serenity under the stars and warmth by the bonfire. You will be encouraged to have some great conversations, play some music if you're inclined, and make friends with like-minded people. This is a community effort where everyone is included and part of the Activate the Wheatbelt team.
Through the spirit of celebration and the physical planting of the trees themselves, Activate the Wheatbelt events get you back in touch with Mother Nature. We aim to encourage a hardworking and ethical community of people that support our environmental and societal causes. This is an opportunity to help repair our environment whilst meeting new friends and experiencing some of the rawest West Australian Bush festivals brought to you by members of the legendary Activate team.
• • THIS YEAR IS SLIGHTLY DIFFERENT THAN OTHER YEARS • •
This year, because of COVID-19 regulations, we are limiting the option of sleeping in the Communal hall and prefer that you camp in your own tent or car/van.
Note also there will be no bus travelling from Fremantle to Gabbin.
Rest assured, we will have strict protocols in terms of social distancing and hygiene in place and Hygiene Officers will be monitoring the camp and planting sites to ensure everyone stays safe. The number of tree planters is strictly limited and we will only allow people with tickets to join the plantings. There will be routine cleaning schedules in place for communal amenities and high-touch areas and planting equipment will be sanitised and restricted to the same user over the same weekend. We ask everyone to bring their own crockery since meals will be served from the house in "take away" form. Note also that this year we will not serve breakfast.
• • TICKETING • •
Price (including all fees) includes:
Tree planting equipment
Delicious organic, ethical and low waste food, made from scratch with love over the whole weekend (morning tea, lunch, afternoon tea, dinner). Produce is generously donated by local business and farms and prepared by the famous Kitchen Witches of the Hidden Pantry.
Workshops with environmental specialists and Noongar Elders Viv and Mort Hansen
Children's activities
Entertainment featuring DJ SETS, LIVE MUSIC, & JAM SESSIONS
Fully COVID-Safe campsite with showers, toilets and plenty of space to spread out.
--- NOTE THAT THE NUMBER OF TICKETS IS STRICTLY LIMITED, SO BOOK AS SOON AS YOU CAN ---
Under 10YO free
10-16YO $35
Concession $60
Adult (16YO+) $70
• • GOALS • •
At these annual events we aim to continue to plant trees and protect our environment and the species that live in it while growing our hard working and ethical thinking community of people. We also wish to encourage community based and environmentally friendly thinking with a direct-action orientated approach by connecting people who care and who relish putting their hands to work.
The Eastern Wheatbelt landscape where this planting will take place is largely cleared and prone to wind erosion. We will contribute to fixing a badly eroded area of the Lake McDermott catchment to prevent excess sediment and nutrient runoff. This is an initial part of a larger Coopers Creek restoration project which aims to rehabilitate the watercourse landscape by managing runoff through earthwork swales and mass plantings.
Hugh and Dee Morgan's two paddocks to be planted on this year are exposed and sandy, high in the landscape and are desperately in need of vegetation cover to prevent further wind-erosion and loss of top soil. These areas will not be farmed again once bio-diverse vegetation is planted. Hugh and Dee want to continue to re-vegetate cleared land on this second generation family farm to protect the landscape and encourage biodiversity.
On Sunday we will plant sandalwood nuts on the 60 hectares of re-vegetation from our 2017 planting, just North of Gabbin. This project is part of sandalwood legend Bob Huxley's (RIP) grand vision for a Mt Marshal Sandalwood plantation and will complete our WA State NRM project.
We look forward to planting trees with you this year !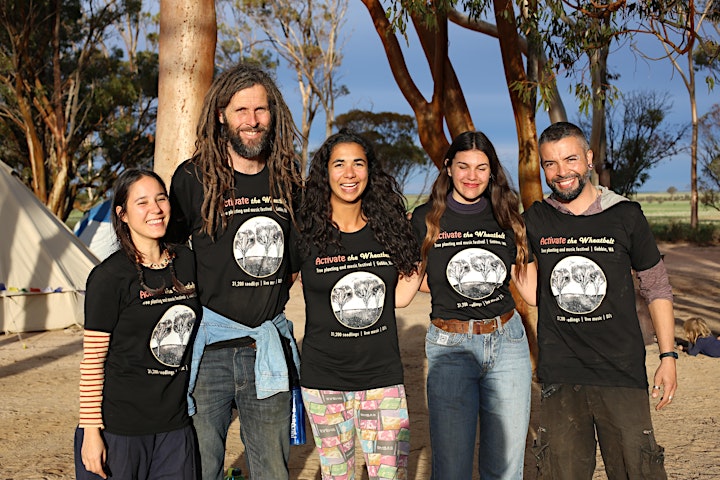 • • Our rough program of the weekend (TBC) • •
(yoga, kids activities, nature walks and workshops with our indigenous elders will be organically fitted within the program...)
FRIDAY
16.00-20.00: Arrival on site / tents set up
19.00: (onwards) light supper
20.00: Opening Ceremony / Welcome to Country / Introductions
SATURDAY
7.00 : Yoga (TBC)
< 8:00: your own Breakfast
8.30-9.00 Departure for planting site
9.00-10.00: Tree-planting inductions / OHS/ equipment distribution etc
9.30 to 17.30: Tree planting on site
10:30: Morning Tea
12.30: Lunch
15.00: Afternoon Tea / Kids Activities (TBC)
19.00: Dinner (back at hall)
Evening Entertainment live music
SUNDAY
7.00 : Yoga (TBC)
< 8:00: your own Breakfast
8.30-9.00: Departure for planting site
9.00 to 12.00: Tree planting on site
11.00: Morning Tea
12.30: Lunch
13.30: Clean up / Pack up
14.30: Closing Ceremony
[Please do not leave too early, contribute to pack up, and do not miss the closing ceremony]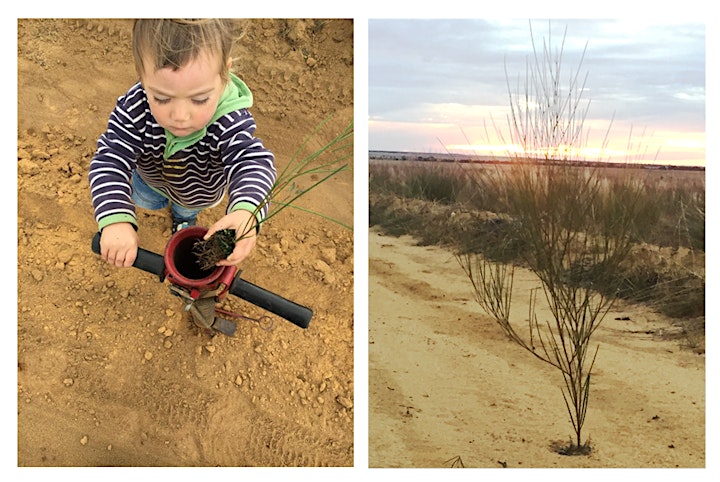 • • WHAT TO BRING • •
Tent / Caravan / Van /Car [note there is no power/water supply for vehicles]
Bedding, camping mattress, sleeping bags/swags/pillows/rugs.
Things to keep you warm and dry. Extra layers of clothing and spare footwear as it does get very chilly.
Rain jacket
Gumboots/Boots/closed in shoes to plant in. Preferably waterproof.
Hot water bottle (we have a dry space and fires outside, but it can get pretty cold at night).
Water bottle for hydration. Note that we will spend all day in the field.
Snacks and Breakfast.
Your own cup/plate/bowl/spoon/fork/knife (COVID-19 Regulations)
Torch.
Toiletries, towel.
Hat, sun cream, lip balm.
Bug repellent.
Musical instruments.
No dogs.
Your yoga mat (see program TBC)
A great attitude and awesome energy!
• • Refund policy • •
Your ticket is refundable up to 7 days before the event. We can issue a refund, but Eventbrite's fee is non-refundable and won't be included in the refund.
If the event is cancelled due to COVID19 or other government restrictions we will endeavor to issue partial refunds however, since many event costs have already been paid, full refunds will not be possible.
Thank you for your understanding.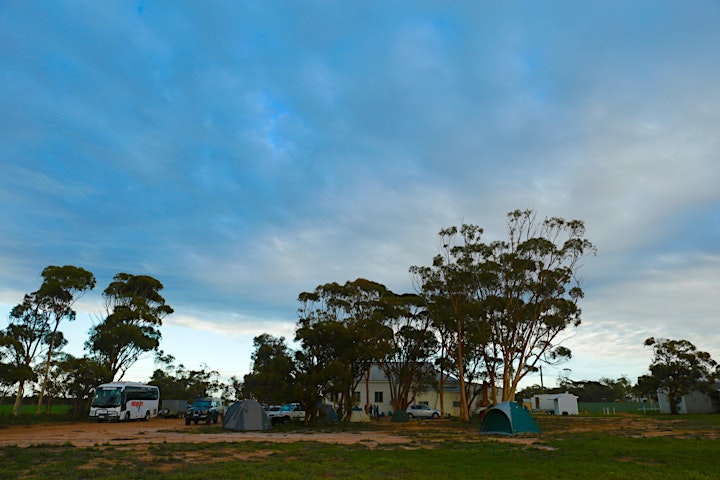 • • • • • • • • • • • • • • • • • • • • • • • • • • • • • • • • • • • • • • • •
If you have any questions leading up to the event, find us on: https://www.facebook.com/ActivateTheWheatbelt
or contact us on: activatetreeplanting@gmail.com
• • • • • • • • • • • • • • • • • • • • • • • • • • • • • • • • • • • • • • • •