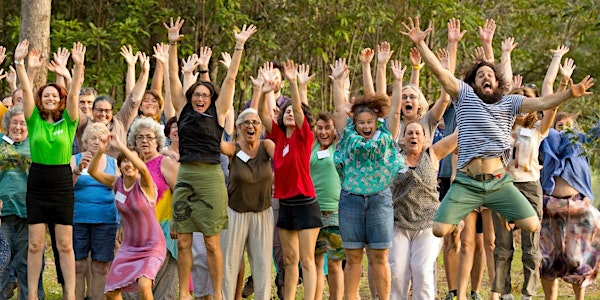 Activate Brisbane: solving the climate crisis through people power
Location
United Voice Meeting Rooms
27 Peel Street
South Brisbane, QLD 4101
Australia
Refund policy
Refunds up to 1 day before event
Eventbrite's fee is nonrefundable.
Description
A better future is not only possible, but necessary, and we must build it together. Come to Activate Brisbane to connect with others and learn how.
Right now, we are being thrown into climate chaos, caused by big coal and nature-wrecking corporations, the billionaires who profit from them and the politicians they have bought.
Enough is enough. It's time to take back power, and work together to create a world that's good for everyone and every living thing.
So join us on Saturday 24 & Sunday 25 August for a weekend of training and community organising at Activate Brisbane!
At Activate, you'll connect with other people from your community who care about protecting our living world, and learn the skills you need to make lasting change both locally and nation-wide.
What will happen at Activate:
You'll connect with like-minded people and learn from each other.

You'll learn about ACF's theory of change to build people power, change the story and fix the system – and how local groups fit into it and can help win big national campaigns.

ACF Community Organisers Isabella Morand, Emily Kain and Tom Grindrod will train you in:

How to run a local group with clear and effective roles to support each other, avoid burnout, create good strategy, and have fun!

How to have powerful and effective conversations.

How to build local power to grow our national movement for change.

We'll share:

Resources and connections to help you move forward.

Lunch, snacks, and lots of stories!
Come to Activate and you'll walk out energised, skilled and connected with others, ready to be part of powerful national campaigns and to run local campaigns of your own.
Tickets
EARLY BIRD PRICE: Ticket cost is $30 to cover our venue hire and catering costs. It's important that cost is not a barrier to participation, so please get in touch if you'd like a free ticket.
Is this training for me?
Have you jumped on board and got to work on this issue for the first time in the last year?

Are you part of a local ACF Community group and keen to skill up?

Have you been cheering from the sidelines, passionate about solving the climate and extinction crisis but not sure how to get involved?
If you answered 'yes!' to any of the above, join us at Activate!
Across Australia, 28 powerful ACF Community groups are working hard to build people power, change the dominant story of people versus nature, and fix the systems that are destroying life.
Together, we're building powerful, organised communities to create long-term change. We're taking on the big, structural challenges – the laws, policies, institutions, decisions and practices – to create a system that does right by people and nature.
The last 12 months have been massive for people power. Along with our friends and allies, ACF Community members came together and made climate damage a huge issue in the federal election. We knocked on thousands of doors, had tens of thousands of conversations, held events, met with decision makers, and built strong community bonds.
But the climate and extinction crisis was never going to end on election day, no matter the result. Our democracy works when we actively participate in it. We're building a movement of people, coordinated, passionate, pushing forward together, all over Australia - and it's time to keep building!
Testimonials
Need more convincing? Last year we held a similar training and launched four local groups across Brisbane. Three months after the training, we asked participants what had changed for them – here's what they said:
"I don't feel powerless anymore – not alone."
"Having the courage to step into places I never thought I'd step into."
"Realising that people power works!"
"Moving from feeling overwhelmed and fearful to motivated and hopeful!"
"Meeting like-minded people, seeing the resolve and determination they have and knowing that we have strength in numbers."
"A massive boost to my confidence that I can do this. The easy to understand skills that I now have. The network that I have built out of the really interesting, diverse and skilled people, both ACF staff and the other attendees."
Want more info? Call Isabella on 0477 744 000

Together, let's show up, speak out, and act for a world where our forests, rivers, people and wildlife thrive.