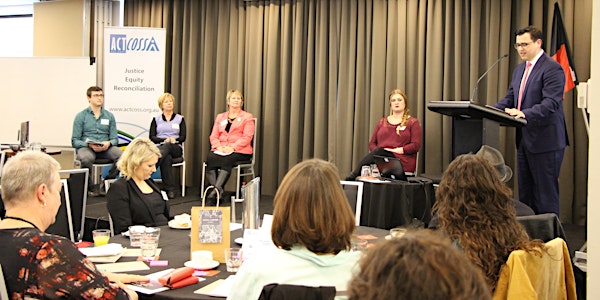 ACTCOSS AGM, Symposium & Awards: Megan Mitchell on children's rights
Event Information
Location
Ann Harding Conference Centre
Building 24, University Drive South
Bruce, ACT 2617
Australia
Description
ACTCOSS AGM, Symposium & ACT Community Sector Awards: Megan Mitchell on children's rights - 16 Nov

ACTCOSS' end of year event on Friday 16 November 2018 will combine our Annual General Meeting, a symposium and the ACT Community Sector Awards.

Sponsored places: We have a number of sponsored places for ACTCOSS Members experiencing financial disadvantage. Please contact us - actcoss@actcoss.org.au
Our event schedule is:

11am: Registration opens for AGM

11.30am-1pm: AGM and launch of ACTCOSS 2019-2022 Strategic Plan

1pm-1.30pm: Light lunch for AGM attendees


1.15pm: Registration opens for Symposium


1.30pm-5.30pm: Symposium on the theme of 'The Rights of Children and Young People: Raised Expectations – Raised Responsibilities'.
keynote by Megan Mitchell, National Children's Commissioner for the Australian Human Rights Commission

sector organisation presentations celebrating good practices in the ACT in responding early and well to the needs of children, young people, their families and communities, by:
-Chris Redmond (Chief Executive Officer - Woden Community Services)
-Paris McMahon (Young Thinker in Residence - ACT Human Rights Commission)
-Julie Tongs (Chief Executive Officer - Winnunga Nimmityjah Aboriginal Health and Community Services)

afternoon tea break

panel discussion hosted by Will Mollison from Families ACT on "Children's expectations – Adults' responsibilities", involving a diverse cross-section of young people sharing their experiences and expectations.
5.30pm-7pm: ACTCOSS and our sponsors will host the ACT Community Sector Awards, where we will acknowledge outstanding work done in the community sector by organisations and committed individuals. The awards ceremony will be preceded by drinks and canapes.

Transport & parking: Please find a map of the venue showing closest paid parking (in red, $11 per day), accessible parking (public in dark blue, light blue by pre-arrangement – contact holly.zhang@actcoss.org.au or 02 6202 7277 before Friday 9th November) and bus stops (in orange). You can also be dropped off right in front of the venue as there is a drop-off area with 15 and 30 minute parks (about 5 of each).

Date and time
Location
Ann Harding Conference Centre
Building 24, University Drive South
Bruce, ACT 2617
Australia