About this Event
This panel session will explore some of the roles citizen science can play both before and after a bushfire.
Dr Marta Yebra (Fenner School of Environment & Society, ANU)
Field sampling is the most direct way to collect information relevant for bushfire management applications. Field sampling is labour-intensive and sampling sites must be carefully selected to represent spatial variation in the target variable (for example fuel loads, moisture content or vegetation recovery). Sampling sometimes also need to be repeated over time to capture temporal variation in the variables. Consequently, the compilation of a database capturing broad-scale spatial and temporal variability is not feasible with the resources of a single organization or research group. This is especially true for a country as big and diverse as Australia. Remote sensing data provide the opportunity to retrieve information critical for bushfire management at fine spatial and temporal resolutions, but these data also require field samples for calibration and validation. In my talk, I will bring ideas on new opportunities for citizens to collect scientific data related to variables needed for the evaluation of remote sensing techniques simply and efficiently with the use of for example free applications on mobile devices (smartphones /tablets)
Professor Richard Lucas (Aberystwyth University, UK)
The presentation will provide an overview of Living Earth, an open system that generates land cover and evidence-based change maps from environmental descriptors retrieved primarily from Earth Observation (EO) data and according to the Food and Agriculture Organisation (FAO) Land Cover Classification System (LCCS). The approach has been applied to continental Australia through the framework of Digital Earth Australia's (DEA) Open Data Cube (ODC). We will also introduce the EARTHTRACK mobile application, which has been developed to support a) the retrieval of environmental descriptors with pre-defined units or categories from EO data by allowing measurement and recording of these on the ground and b) validation of the retrieved variables and derived land cover and change classifications obtained from EO data.
Simon Tedder (NSW Department of Environment)
The scale of the 2020 bushfires in south-east NSW has drawn substantial public attention to their impact on native wildlife and on the natural and cultural values in our National Parks and Reserves. With community pressure for assistance from NPWS and the State Government to coordinate licensed and 'pop-up' volunteer projects, I introduced citizen science practices and technologies to empower communities and coordinate efforts more efficiently. This challenge continues today, and how we can best build resilience and ecological integrity into the enormous amounts of good will the community has for our wildlife.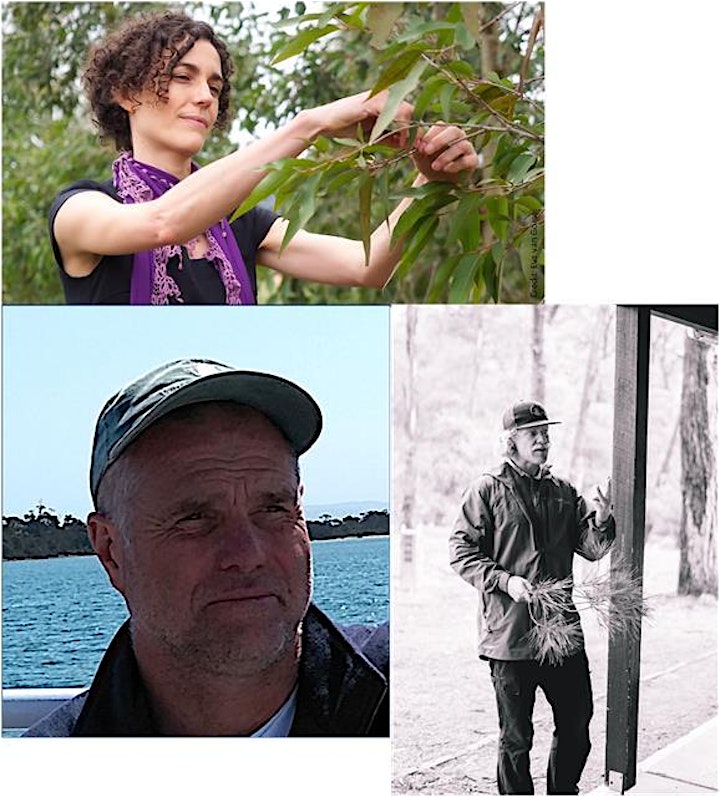 Dr Marta Yebra
Dr Marta Yebra is a Senior Lecturer in Environment and Engineering at the Fenner School of Environment & Society and Research School of Aerospace, Mechanical, and Environmental Engineering ), Mission Specialist of the ANU Institute for Space and Associate editor for Remote Sensing of Environment. Dr Yebra led the development of the Australian Flammability Monitoring System, the first continental-scale website providing information about landscape flammability for Australia from the space and it is now designing Australia's first satellite mission to help forecast vulnerable areas where bushfires are at highest risk of starting or burning out of control. She is also the Director of the ANU Bushfire Initiative which has identified short and long term solutions to early fire detection and suppression.
Professor Richard Lucas
Professor Richard Lucas holds a Sêr Cymru Research Chair within the Earth Observation and Ecosystem Dynamics (EOED) Research Group (RG), Department of Geography and Earth Sciences (DGES), Aberystwyth University. He has also held positions at the University of New South Wales Australia and the Australian Federal Government.Richard has expertise in quantifying and understanding the response of terrestrial and coastal ecosystems and environments to change (including that associated with climatic variation), through integration of Earth observation data from various sources. He has also developed innovative methods for extracting relevant information on terrestrial (including coastal) ecosystems at scales ranging from individual trees to the global. His research has also substantially advanced routine monitoring of land cover and change, the retrieval of forest biomass and structural attributes at regional to global scales and local to global characterisation, mapping and monitoring of mangroves. He currently leads the Living Wales project which is facilitating the development of national land cover monitoring to support national as well as international conservation and sustainable use of environments, and is being conducted alongside Digital Earth Australia's (DEA's) land cover and change mapping initiative.He studied Biology and Geography (1983-1986) at the University of Bristol, where he also obtained his doctorate (1986-1989) and, in 2017, completed an Advanced Diploma in Leadership and Management from the Australian Institute of Management, Sydney.
Simon Tedder
A graduate of University of Wollongong's Environmental Science program, Simon worked as a Bushcare Officer in local government before studying a Masters in Social Change and Food Security. AusAID deployments to work alongside marginalised indigenous communities dependent on mangrove wetlands in West Africa and with inspiring Indigenous rangers in the Kimberley, has since influenced his work with local communities in NSW. In recent years, Simon has worked for the NSW government Saving our Species program, fostering community stewardship of threatened beach nesting birds, spotted-tailed quolls and the glossy black-cockatoo. Today, as community engagement officer with NSW Government's Biodiversity & Conservation Division in south east NSW, Simon enjoys finding solutions to conservation challenges by working with stakeholders and community in innovative ways.