About this Event
Description
Acrylic paint is a wonderfully versatile medium. With it you can paint realistic landscapes, impressionistic portraits and abstract creations.
In this eight week course we will explore the ins and outs of acrylics in a step by step manner building confidence, skills and knowledge. The workshop will include hands on activities to help understand some principles and practical application of acrylics as well as incorporating some demonstrations.
A broad spectrum of techniques will be covered including:
Mediums - what they are and how to use them
Colour schemes - colour options
Brushes & application techniques
Supports
Blending techniques
Simple palette knife
This workshop is an eight week course, running every Wednesday morning from 9am to 12pm. The dates are as follows:
06/05/20: 9am to 12pm
13/05/20: 9am to 12pm
20/05/20: 9am to 12pm
27/05/20: 9am to 12pm
03/06/20: 9am to 12pm
10/06/20: 9am to 12pm
17/06/20: 9am to 12pm
24/06/20: 9am to 12pm
Materials are not included in this class, to view the materials list please click here.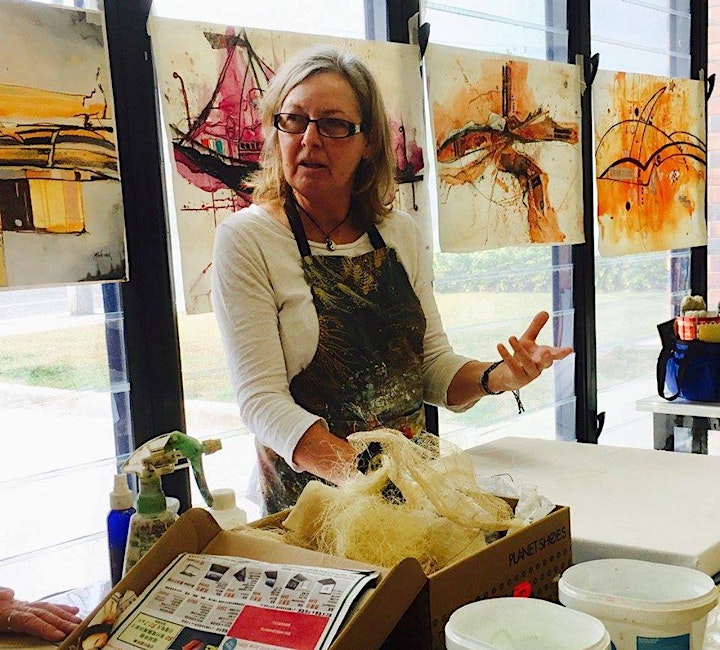 About the Tutor: Maryika Welter
Making art is a lifelong apprenticeship, fulfilling, fun and frustrating.
Experimenting and playing with different mediums has always been part of my Arts practice. From painting, print making, acrylics, fabrics, oils, water colour, pastels, mixed media, wall murals, commissions to 3 dimensional assemblages.
Curiosity drives me to discover the joy and excitement of the creative process, mostly through painting. Often the result is something unexpected or something that may be familiar or impressionistic. Colour, texture, collage and design are all part of the exploration process.
One of my disciplines is figurative life drawing. It is about really looking and seeing and gives me the freedom to express a form within a very limited time frame.
Workshop facilitating is how I get to share information. With a hands on approach through demonstrating techniques, product knowledge and practical application we can all develop and build skills that support our own individual style. There is so much joy in seeing participants grow and develop their very own visual language.
My Arts background experience and involvements comes from formal education in art colleges, residencies, workshops, judging art shows, community involvement on committees, curator, volunteer work, mental health industry, commercial ventures, cooperatives, public speaking and through exhibiting nationally and internationally.
Website: maryikawelter.com
MyArt Studio Workshop booking and cancellation policy
The 16 Duggan Street entrance to the classroom will be opened 15 minutes prior to commencement of the class. Students are responsible for their own artists materials unless otherwise stated. A materials list is available for each class and will be emailed to you once your booking is confirmed. Materials lists are also available on our website.Tea and coffee will be provided, and students have access to the kitchenette and toilet facilities. No parking facilities provided. Street parking is time limited and shopping centre parking is at your own expense. Classes with outdoor activities are attended at your own risk.
Fees
Please book into a workshop at least one month prior to its commencement if possible. This will secure your spot in the class and allow us to confirm tutor bookings. If there are insufficient number workshops may be cancelled.
Cancellation of enrolment by you
If you choose to withdraw from a course or workshop up to one month before its commencement, you will be charged a $25 administration fee. The remainder (minus Eventbrite fees) will be refunded. If you choose to withdraw from a course or workshop within 1 month of its commencement, you will be charged a $25 administration fee and the remainder (minus Eventbrite fees) will only be refunded if the position can be filled.
Missed Classes
Once a workshop has commenced there are no refunds. MyArt Studio cannot accept responsibility for changes to students' personal circumstances that prevent attendance. Classes missed are the student's responsibility and are non-refundable. Students are not entitled to a discount or 'make-up' class if they miss a class for any course they are enrolled in.
Cancellations of workshops by us
In the event of a class being cancelled due to insufficient enrolments, a full refund will be given.