Artist, Katrina McNicol, helps you achieve exciting results with Acrylic Pouring. This is a 1.5 day workshop for adults.
About this Event
Description
Acrylic pouring is a more recent method of painting that appears simple, but you need to know a couple of techniques, have all the right tools (even if they are out of the kitchen cupboard) and be prepared to experiment. This workshop specifically addresses the making of cells or lace and the tricks to making that happen. Pouring is also a great way to get marbleized effects, rich coloured glazes and add some fun to your painting process.
The way to best describe the approach to pouring applications is the concept of setting the stage to allow the products to interact with each other in unique ways, in other words, controlled chaos. You can create some really beautiful wisps and delicate swirls. This method of liquid pouring will make you question ever using a paint brush again.
One and a Half Day Workshop
Saturday 30 January 2021: 9:00am to 4:00pm
Sunday 31 January 2021: 9:00am to 12:00pm
Don't want to pay online? Give us a call on 07 4632 2727.
Some materials are included in this class price. Materials list to follow.
*** Murray's Art and Framing has a full selection of art supplies, if you need them for your materials list ***
Murray's Art and Framing and Myart Studio comply with the Government contact tracing requirements for more information go to:
https://www.covid19.qld.gov.au/updates/important-changes-to-record-keeping-for-contact-tracing
Participants will be required to sign in.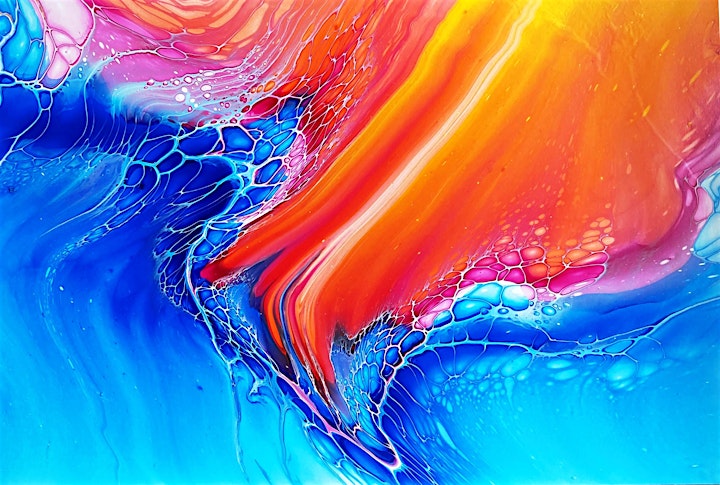 MyArt Studio Workshop booking and cancellation policy
The 16 Duggan Street entrance to the classroom will be opened 15 minutes prior to commencement of the class. Students are responsible for their own artists materials unless otherwise stated. A materials list is available for each class and will be emailed to you once your booking is confirmed. Materials lists are also available on our website.Tea and coffee will be provided, and students have access to the kitchenette and toilet facilities. No parking facilities provided. Street parking is time limited and shopping centre parking is at your own expense. Classes with outdoor activities are attended at your own risk.
Fees
Please book into a workshop at least one month prior to its commencement if possible. This will secure your spot in the class and allow us to confirm tutor bookings. If there are insufficient number workshops may be cancelled.
Cancellation of enrolment by you
If you choose to withdraw from a course or workshop up to one month before its commencement, you will be charged a $25 administration fee. The remainder (minus Eventbrite fees) will be refunded. If you choose to withdraw from a course or workshop within 1 month of its commencement, you will be charged a $25 administration fee and the remainder (minus Eventbrite fees) will only be refunded if the position can be filled.
Missed Classes
Once a workshop has commenced there are no refunds. MyArt Studio cannot accept responsibility for changes to students' personal circumstances that prevent attendance. Classes missed are the student's responsibility and are non-refundable. Students are not entitled to a discount or 'make-up' class if they miss a class for any course they are enrolled in.
Cancellations of workshops by us
In the event of a class being cancelled due to insufficient enrolments, a full refund will be given.
About the Tutor: Katrina McNicol
Katrina McNicol exercises her artistic alter ego "Nina" through the medium of acrylic paint pouring. Nina feels that fluid art is endlessly fascinating due to its changeable and somewhat unpredictable nature.
With two years and more than 470 paintings, Nina has studied techniques, recipes and combinations that have allowed a degree of control over the outcome while still intriguing her with element of chaos. This chaos factor will never allow true replication but every painting extends Nina's understanding of how the different elements interact.
Fluid art continues to give Nina a charge with the infinite possibilities for patterns, colour schemes and just what does the viewer see when they look at her work?