ACRV/ACFR Robotics Workshop Sydney

Friday, 21 August 2015 from 8:30 am to 4:00 pm (AEST)
Event Details
Robots are changing the way we live and work. The Australian Centre for Robotic Vision (ACRV) and Australian Centre for Field Robotics (ACFR) bring together Australia's top researchers in computer vision and field robotics principles and systems.
Robotic vision research at ACRV is developing the key enabling technology that will allow robotics to transform labour-intensive industries, disrupt stagnant markets, and ensure robots become a ubiquitous feature of the modern world. 
ACFR is dedicated to the research, development, application and dissemination of autonomous and intelligent robots and systems for operation in outdoor environments.
The ACRV / ACFR Robotics Workshop Series will explore these themes, the implications for industries, methods you can use to deploy robotics to take advantage of and respond to the sector opportunities with specific reference to business and examples of research collaboration. The agenda for the workshop can be downloaded here.
ACRV and ACFR
We invite you to join researchers from ACRV and ACFR to learn more about robotics and how industry sectors are gaining competitive advantage through robotics in a rapidly changing market. The Robotics Workshop Series will discuss and demonstrate the development of robotic systems and it is designed for industry leaders investigating introducing robotics into their businesses, and to create connections with Australia's leading robotics and computer vision researchers at ACRV and ACFR.
This workshop is free however registration is required. Complimentary lunch is provided.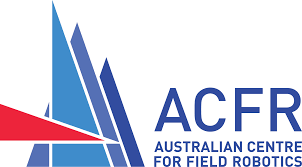 When & Where

The University of Sydney
Rose St Building
NSW 2006
Australia

Friday, 21 August 2015 from 8:30 am to 4:00 pm (AEST)
Add to my calendar
ACRV/ACFR Robotics Workshop Sydney