ACRI Melbourne event: Robert Macklin - Dragon & Kangaroo
Description
Robert Macklin - Dragon & Kangaroo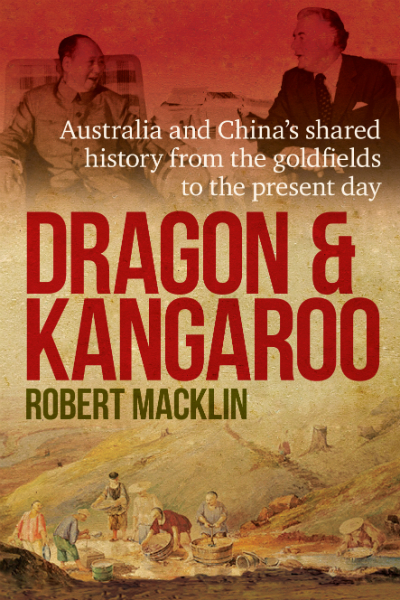 Following a successful event in Sydney, the Australia-China Relations Institute (ACRI) at the University of Technology Sydney welcomes author and historian Robert Macklin to discuss his book, Dragon & Kangaroo (Hachette, 2017) at Holding Redlich in Melbourne. Mr Macklin will speak to a Melbourne audience and be available to sign copies of his book.

Dragon & Kangaroo explores Australia and China's shared history. Chinese 'presence' in Australia extends from well before the time of Captain Cook, trading with northern Australia long before European settlement right through to the present day, with Chinese activities ranging from being the main customer for our iron ore, to their intelligence operations here.
Robert Macklin traces a new history of our two nations, beginning from pre-colonial times, to John Macarthur's 'coolie' shepherds, the only Chinese bushranger, Sam Pu, and the multiple atrocities committed against the Chinese in the gold rush, through to the present, canvassing our deepening economic bonds and Australia's role in the geopolitics of the South China Sea.
Mr Macklin will give a talk on Dragon & Kangaroo, followed by a discussion with Professor Bob Carr, ACRI Director, and a Q&A session with the audience.
Refreshments will be served following the event.

This event is proudly hosted by Holding Redlich.
Date: November 28 2017
Time: 6:00pm – 7:30pm
Venue: Holding Redlich, Level 8, 555 Bourke St, Melbourne, 3000
Registration is essential as seats are limited.
Copies of Dragon & Kangaroo will be available for purchase on the evening and Robert Macklin will be available to sign books after the event.
About the author
Robert Macklin
Robert Macklin was born in Queensland and educated at Brisbane Grammar School, the University of Queensland and the Australian National University. He began his journalistic career at the Courier-Mail and subsequently wrote for The Age and The Bulletin, and was associate editor of the Canberra Times until 2003. His 2016 biography Hamilton Hume revived national interest in Australia's greatest explorer, and the acclaimed Dark Paradise exposed the horror of colonial sadism in the penal colony of Norfolk Island. His history of Australia's Special Forces, Warrior Elite, is required reading in the fields of military security and intelligence. His bestselling biography of Rob Maylor, SAS Sniper, revealed in graphic detail the battles against Islamist fanatics.
Robert has won numerous literary prizes including, with Peter Thompson, the 2009 Blake Dawson Prize for Business Literature for their classic, The Big Fella:The Rise and Rise of BHP Billiton.
Robert is the author of 28 books including the biography of Kevin Rudd, four novels and a number of works of history. He is a graduate of the Australian Film and Television School and has written and directed documentary films in 33 countries in Asia and the South Pacific. Robert now lives in Canberra and Tuross Head and divides his time between his books and screenplays.