ACRI Chinese History Series: the Chinese and the White Australia policy
Description
The Australia-China Relations Institute (ACRI) at the University of Technology Sydney (UTS) presents the second event in our Chinese History Series. Dr Jayne Persian from the University of Southern Queensland will join Professor Heather Goodall from UTS and Daphne Lowe Kelly from the Chinese Australian Historical Society to discuss the White Australia Policy in Australian politics, and in particular her research on Arthur Calwell. Calwell became Minister for Immigration in Ben Chifley's post-war Labor government. He was the chief architect of Australia's post-war immigration scheme but has a reputation as a fierce enforcer of White Australia. The panel discussion will be chaired by Professor Bob Carr, Director of ACRI.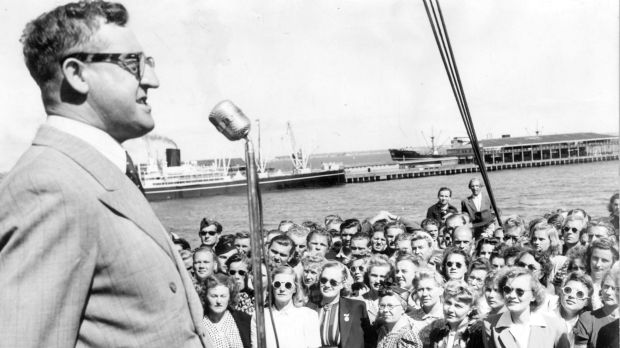 Date: Wednesday September 13 2017
Time: 6:00pm-7:30pm
Location: Australia-China Relations Institute, Level 18, UTS Tower Building 1, 15 Broadway, Ultimo NSW 2007
Registration is essential
About the panellists:
Jayne Persian
Jayne Persian lectures in history at the University of Southern Queensland. She is the author of Beautiful Balts: From Displaced Persons to New Australians (Sydney: NewSouth Publishing, 2017) and co-Chief Investigator on a 2016-19 Australian Research Council Discovery Project, 'Displacement and Resettlement: Russian and Russian-speaking Jewish displaced persons arriving in Australia via the 'China' route in the wake of the Second World War'. Primarily a historian of post-war Displaced Persons, she also maintains an interest in the history of Jehovah's Witnesses.
Heather Goodall
Heather Goodall is Professor Emerita of History in the School of Communications, Faculty of Arts and Social Science, University of Technology Sydney. She has published on Indigenous histories and environmental history in Australia and on colonialism and decolonisation in the 20th century in the eastern Indian Ocean. Her current research is focused on 20th century histories in the eastern Indian Ocean. Heather is finalising a book to be published by Amsterdam University Press in late 2018 called Beyond Borders: Indonesian Independence in the Eyes of the Region, which traces transnational interactions between India, Indonesia and Australia during the dramatic campaigns around decolonization at the end of the Second World War.
Daphne Lowe Kelley
Daphne Lowe Kelley is an Executive Committee member of the Chinese Australian Historical Society Inc. She is a New Zealand-born Chinese, whose father had to pay the poll tax in 1921. A graduate of Victoria University of Wellington and Wellington Teachers College, she has spent most of her adult life living and working in Australia and America. Daphne has been very active in the Chinese community in Sydney and played a leadership role in many Chinese Australian organisations. She is a founding member of the Chinese Heritage Association of Australia and served as president from 2003 to 2012. In 2011, Daphne was the recipient of the NSW Premier's Jack Wong Sue Award for Voluntary Service Beyond the Chinese Community.
Contact ACRI:
E: acrievents@uts.edu.au P: +61 2 9514 8953
W: australiachinarelations.org Twitter: @acri_uts