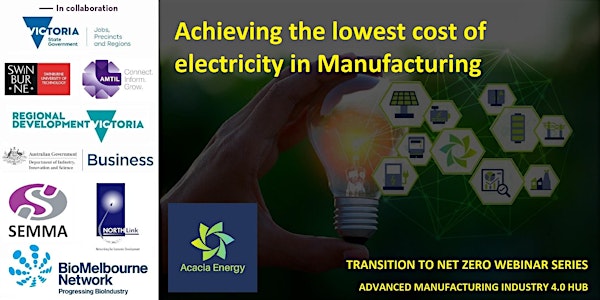 Achieving the lowest cost of electricity in Manufacturing
____________________________________________________________________________
About this event
With electricity uncertainty and costs on the rise in Australia, manufacturers find themselves in a unique situation of being able to take advantage of renewables and create a lower dependency on the grid. Having security of supply, as well as control of costs in this area will allow finance and operations professionals in the business to have certainty in an area which some manufacturers allocate up to 60% of cost to. Most businesses do not understand how to read their electricity bills or which renewables supplant the various sections of their bills. Simply put, without understanding the problem properly, businesses cannot make the right decisions to take control of electricity costs and reduce the use of fossil fuels. Reducing costs can help develop a competitive advantage, and in some cases, new revenue streams for the business.
Join fellow Manufacturing professionals and in less than an hour, discover how your organisation can:
Reduce electricity consumption costs,
Maintain critical operations through power outages,
Reduce network demand charges,
Reduce the carbon intensity of their operations.
In this webinar, Stephen Thomson, thought leader and energy expert from Acacia Energy, will discuss outlining the steps manufacturers can take towards a successful electricity strategy. What steps need to be taken to plan and then achieve the desired outcomes, and why you need to plan now for future growth.
Who should attend
This webinar is targeted towards Senior Executives, Senior leadership teams, Operations managers in Operations in any energy intensive business in a Victorian manufacturing or process related industry, including Food & Beverage, Meat processing, Dairy, Agri-business, Defence, Pharmaceuticals etc.