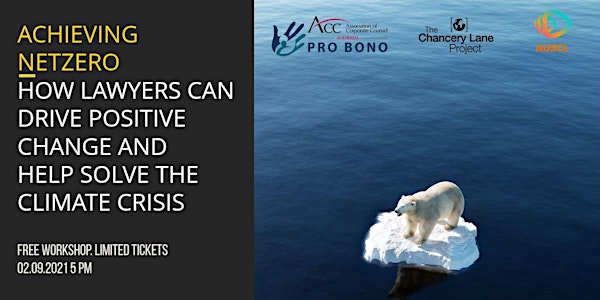 Achieving NetZero - How Lawyers Can Help Solve the Climate Crisis
This workshop is for every current & aspiring commercial lawyer who wants to see NetZero a reality & create a legacy for generations to come
About this event
Achieving NetZero
Does climate change worry you? Do you want to feel empowered to make a real difference?
If so join AUSCL, ACC Probono and APAC co-leads for The Chancery Lane Project for this inspiring and practical workshop on how lawyers can make a difference to climate change through their tools of trade - contract drafting and negotiation.
The Chancery Lane Project is a global pro-bono initiative of lawyers to rewire contracts and laws to tackle climate change with a mission to see every contract enable solutions to climate change.
Meet your speakers
Charlotte (Charlie) Turner is company secretary for White Box Enterprises and Associate Climate Risk Governance, co-lead APAC for The Chancery Lane Project.
Phoebe Roberts is Senior Associate (Climate Risk) at MinterEllison, Director of implementation and APAC Co-Lead at the Chancery Lane Project. Phoebe has a background in the procurement of major infrastructure and construction projects.
The workshop will be facilitated by:
Marina Yastreboff is President of the Australian Society for Computers + Law and member of the ACC National Probono Committee and Australian Probono Centre Inhouse Steering Committee.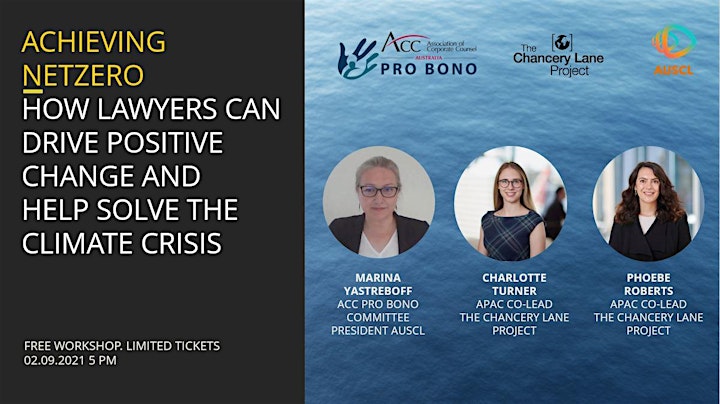 Organiser of Achieving NetZero - How Lawyers Can Help Solve the Climate Crisis
Inspire. Connect. Reimagine
The Australian Society for Computers and Law (AUSCL) is one of Australia's leading interdisciplinary think-tanks on issues arising at the intersection of technology, law and society. It is a registered Australian non-profit charity with a charter to advance education and advocacy. Our mission is to: Inspire new thinking and informed discourse, Connect professionals across disciplines and together Reimagine the future.