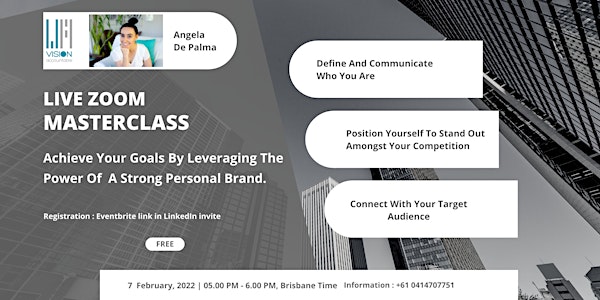 Achieve Your Goals By Leveraging the Power Of A Strong Personal Brand
Creating new opportunities and getting paid more, does not happen by accident, rather by design.
About this event
Are you a professional, entrepreneur and an emerging or established leader who is an expert in your field, with the goal of becoming more visible?
Are you in a career change and need to reinvent yourself?
Are you an established expert looking to evolve your services or goals and need to refresh your image, in the minds of your customers.
Do you want to become:
more well known for your expertise
sought after
get paid more and
create new connections, opportunities and clients
Is advancing your career or business an ongoing goal?
If the answer is yes, it is time for you to create and or refresh your personal brand.
As we know, it is a review driven marketplace. When we make buying decisions we stalk the profiles of our short-listed suppliers, to help us feel confident to sign on the dotted line.
This is true from selecting a coach, consultant, therapist, real estate agent, yoga studio, marketing consultant and or any type of professional.
Employers and recruiters also do the same when they are hiring.
In fact you name it, and someone is out there online, checking you out.
No matter what business we run, there are people behind the brand.
And given that every market is saturated, people buy from people known to them, that they like and trust.
To be in the running you need to be online and have a digital presence. A profile is not enough. It needs to be constructed strategically to align with your goals and target audience. And then managed as an ongoing process.
Thoroughly building your Personal Brand online, to showcase your expertise, integrity and authenticity is one of the most important investments you can make in your career.
When built from the ground up, it is a transformational process. It helps your clients easily identify themselves as the beneficiaries of your services and products.
The personal branding work happens before the marketing phase.
If you are interested in learning more about personal branding including:
What a personal brand is
Why it is important for your career and or business success
What the elements of a personal brand are
How to build your personal brand foundations, piece by piece
Which website platforms and software are important, if you are a newbie
JOIN this Masterclass on Personal Branding for Professionals, Business Owners, Emerging and or Established Leaders and experts.