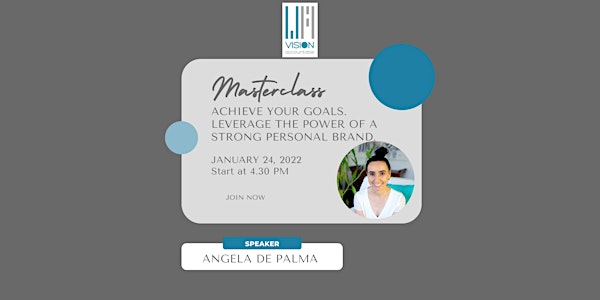 Achieve Your Goals By Leveraging the Power Of A Strong Personal Brand
Achieve Your Goals. Leverage the Power Of A Strong Personal Brand. This masterclass covers the 7 Steps to Successful Personal Branding.
About this event
Achieve Your Goals By Leveraging the Power Of A Strong Personal Brand
Are you a professional, entrepreneur and an emerging or established leader looking to grow your reach and career?
Are you in a career change and need to reinvent yourself?
Are you an established expert looking to evolve your services or goals and need to refresh your image, in the minds of your customers.
Do you want to become:
more well known for your expertise
sought after
get paid more and
create new connections, opportunities and clients
Is advancing your career or business an ongoing goal?
If the answer is yes, it is time for you to create and or refresh your Personal Brand.
The work of building your personal brand is like the construction phase of building a house. Before you start building you create and design the plans, and then you start to build the foundations. Each layer builds on the previous one, to create a solid, sustainable structure.
There are lots of aspects to think about, decisions to make, and things to implement based on your vision, goals and needs.
You can't invite friends to stay until the rooms have been finished, which includes finishes, decorating and furnishings.
As in the personal branding process, before you push yourself and your expertise out into the marketplace, inviting customers to consider your services, it is wise to have all of the aspects in place. That way, when they arrive, they can identify your services, as the solution to their problems, easily.
This requires thought, research and strategic implementation, in order to create a seamless fit between your services and the problems you solve for the people that you serve.
Putting in the strategic work and creating something on point, is a win win for you and your customers. It builds trust and confidence on both sides. It is well worth the effort and time it takes to build or rebuild solid personal branding foundations.
If you are interested in learning more about personal branding including:
What a personal brand is
Why it is important for your career and or business success
What the elements of a personal brand are
How to build your personal brand foundations, piece by piece
Which website platforms and software are important, if you are a newbie
JOIN this Masterclass on Achieve Your Goals By Leveraging the Power Of A Strong Personal Brand for Professionals, Business Owners, Emerging and Established Leaders.