Description
"The only thing that stands between you and the good you desire is a PARADIGM.
Your life is being run on a program."
~~ Bob Proctor
In the Common Denominator of Success, Albert E.N. Gray says "You are the person you are because you have formed the habit of being that person".
Old habits keep giving us the same results year in, year out.
If you want to change your results, you have to change, not only your opinion of yourself but the place where your results are formed - your mind!
This means you must understand how paradigms are dictating your life and getting in your way.

Choose to FEEL EXCITED about 2018 and hit the ground running with BIG GOALS you never dreamed of having by learning A COMPLETELY DIFFERENT WAY of operating to get there.
BOOK NOW FOR EARLY BIRD TICKETS. Limited Seating.
What is a Paradigm?
A Paradigm is a multitude of habits, beliefs and old ways of thinking stored in your subconscious mind.
Paradigms are responsible for almost every single thing you have in your life right now.
Think of your income, how you spend your time, whether you're doing what you truly love, the people in your life.
Paradigms are causing you to live the same way day after day, week after week, getting the same results – not realising how close you are to a breakthrough.
You can find your Paradigms masked in:
The result is keeping you STUCK, locked in a box … starved of your dreams and ambitions.
Paradigms:
Affect your USE OF TIME and stop you from doing what you love to do
Affect your BANK ACCOUNT, controlling what you believe you can achieve financially without you even knowing it.
But the key to freeing yourself from these Paradigms, or mental programming, is awareness and understanding of them.
Change your paradigm and you're on your way to real and true FREEDOM!
When you change your paradigm what you're doing is upgrading your mental programming in a similar way you'd upgrade the software on your computer.
If you want to operate at optimal levels you need to upgrade your mindset to more effective programming.
You never learned any of this in school.
This Masterclass are far more valuable than your computer software because this is your mind, it's your life!
We want to get you thoroughly dissatisfied with where you are because even if you're at the top of your game you can get better!
Much of the material in this Masterclass comes directly from the world-class program Thinking Into Results; a powerful process based on 50 years intensive research into the science of personal achievement – what really makes successful people successful.
In addition we will be diving deeper into this material, in different ways.
The system is developed by world-renowned success expert Bob Proctor. It is the most powerful process ever created for quickly and permanently transforming any goal, dream or desire into reality.
This Is NOT A Motivational Speaking Event.
This IS A MASTERCLASS Where You Will Learn How to Identify and Change Your Paradigms so that you can Achieve More with Less Effort and Live a More Successful and Fulfilling Life.
It may be a big thing to say but there's no information more important than this to understand your life. This information gives you the tools at the core of how your mind and life works.
There are universal laws that govern the creation of everything – and you will learn these laws at the Achieve More With Less Effort Masterclass … and not just about them, not the theories but how to practically apply these laws in the achievement of your goals.
You are creating your life right now. You may as well know HOW you are doing that and start creating WHAT YOU TRULY WANT instead.
You'll enjoy fun, laughter & good food with like-minded forward-thinking people while you learn new life-altering concepts and how to think differently to get the new results you're truly capable of.
Create a limitless life, career and business.
Your Time is Now.
Make a Decision.
Invest in Yourself.
BOOK NOW FOR EARLY BIRD TICKETS.
Masterclass Event Dates & Times:
Friday Evening December 8th 6pm - 9pm
Saturday December 9th 9am - 5pm
The first event to be held at the new Upstairs Gunthers Lane!
Look forward to seeing you there!
Janet
---
"My whole experience with Janet has been surreal.
The timeliness of our first meeting could not have been better. I needed a boost, and Janet's course and influence on me has been nothing short of miraculous.
It has given me the courage and energy to chase my dreams. It has given me a new way of looking at my own thinking, and has heightened my performance on every front; work, home and health.
For those of you who really want to make dramatic change for self improvement, get on board!"
~~ Nathan Pearce, Panorama Business & Financial, Bathurst NSW
"While working with Janet I achieved so many things I'm not sure where to begin.

Working for 26 years in construction was not my dream and yet I did it every day 7 days a week 12 hours a day. I gave all of myself to the business. I blocked my true desires and dreams out of my mind and told myself that if I had a good job that was all I needed.

I was so unhappy, broke and miserable doing what everyone else said I should be doing. I was always taught to put others first and never ever think of yourself.

That's until I met Janet and did the Thinking Into Results sessions.
In four years I have transformed my life, I now live the life of my choice. Every minute of every day is mine. My choices, my life.
My life is now one of amazement. I have learned to love everything that comes to me and have learned to accept myself as a great man.
My true purpose has been shown to me - I am living the life that I choose.
Go big or go home. Life is a gift so let's live in the present.

If you want to change your life and live the dreams then join with Janet today. She helped me find my true self and my true life's purpose, and for that I am forever grateful. Thank you.
~~ Dale Humphries,
Founder & Owner Wattle Grove Speckle Park, Oberon NSW

"Allow yourself to go for it!!!"
~~ Cheryl Keogh
Executive Officer, Accessible Living Options, Bathurst NSW

"

In 8 months I have become a totally different spirit inside of the same body and I cannot wait to continue to learn, grow and master myself...
~~ Danni Evans, Danni Evans Photography, Bathurst NSW
"I have absolute certainty that what I want will eventuate because it has so far...
~~ S. Wells, Business Development Manager, Oberon NSW

"I'd found previous personal growth seminars, clinics, DVDs, CDs and books said a lot, but none of them did a lot. The difference with Thinking into Results is that it does a lot.
I'm so thrilled because I used to have so many questions but no answers, and because this program is so structured and so straightforward, it answered my questions and gave my thoughts structure.
The big difference for me too is the encouragement from Janet – I loved our sessions, she created life in the material for me, supported me into remarkable achievements and showed me how to apply the principles so I can continue creating my happy life.
~~ V. Ford, Orange NSW
"I have seen and felt improvements in my life since Day 1 of the program...
~~ Kaye Moore, Tarana, NSW
"Thinking into Results gave me freedom...
~~ F. Jones, Dubbo NSW
Click Here For More Testimonials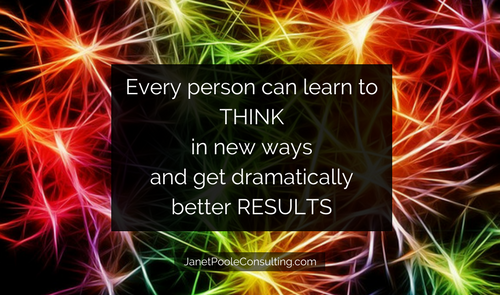 My name is Janet Poole and I believe we all deserve to live a life of freedom on our terms.
I believe it's about time you Unleash Your Potential and BURST THROUGH your Limited Beliefs that have been holding you back.
It's Time you understood exactly how your results are created!
Since publishing my bestselling book, I have been helping businesses and individuals embrace change, achieve peak performance and make their wildest dreams a reality.
I teach Bob Proctor's proven methodology to spark dramatic change in your performance and your results.

Bob Proctor is considered one of the world's best teachers on human potential and growth. Many would say he is the best.

The teachings are based on over 150 years of real-world experience and remarkable success.

When working with me you'll discover how to create permanent change and break through roadblocks without trying hard. You'll discover true greatness is achieved without apparent effort.
I believe in finding better ways to grow your business and live a better life... and then to share those ideas.
I believe the greatest things are achieved with a light heart and for that reason I facilitate all my sessions with that in mind.
I teach my clients how to use their free will because I strongly believe you deserve freedom to do what you love and what you're good at, no matter where you're at in your life.
My quest for the truth led me to over 25 years studying the mind, quantum physics, personal development and leadership through various avenues, and I continue to study daily.
I love the adventure of life - it can be a magnificent trip. One of my great pleasures, other than good coffee, delicious food and a good laugh, is a meaningful discussion about life.
---
A note from Janet about this information:
The life altering content you will experience at this Masterclass has not been made up by me.
I am passing on this information to as many people as I can so we can all move towards a more prosperous future together.
If this is a mindset and a lifestyle you can relate to, reserve your spot for this Masterclass NOW.
I look forward to seeing you there!
Janet Poole
Multiply your effectiveness...
Grow a hugely Successful Business...
Enjoy Thriving Relationships in your Personal & Professional Life...
Earn more... Achieve bigger Goals...
Travel More...
Become an Inspirational Leader in Your Field...
Discover Your Passion...
Become motivated to serve others and so much more.

Be Remarkable.