Description
If you are actively involved in a city farm or community garden, join us in Perth on Saturday 1 October
...as we celebrate 20 years of networking
city farms and community gardens around Australia
During the day we will:

outline what the Australian City Farms & Community Garden Network (ACFCGN) is and what we have been doing
network with other city farms & community gardens from around Australia and in particular around Perth
use an open space process for discussion circles and workshops
tour Murdoch University Community Garden
run the ACFCGN AGM to elect the new team and choose next year's projects.
Refreshments during the day:
Simple vegetarian lunch, afternoon tea and evening pizza supplied by ACFCGN. BYO drinks for the evening.
Bookings essential by Tuesday 27 September to help us with catering and make sure that our venue is big enough to cater for the number of bookings.
No tickets will available at the door.
PROGRAM DRAFT
Program may have last minute changes closer to the event...
10:15 Arrive
10:30 Acknowledgement to Country (10min)
10:40 Welcome from the President of ACFCGN and introduce existing team (10min)
10:50 Introduction to the Network - Russ Grayson ACFCGN's media liaison and co-founder of ACFCGN (10min)
11:00 Networking the city farms/community gardens — round robin introduction to farms and gardens present (30min)
11:30 Group discussion about ACFCGN - world cafe process (45min)

what needs and functions could a national network organisation perform (15min)
how best can ACFCGN support farms and gardens (15min)
reality check - what are those things that would be the most productive activities to work on in the next year? (15min)
11:45 Planning the open space setup for discussions or workshops (15min)
In this session farmers and gardens are welcome to bring their discussion ideas of workshop skills they would like to share… previous discussions and workshop have been..

how to encourage new membership
how to work with conflict
how to manage pests in the garden
sharing of compost and wormfarming techniques
biointensive gardening
how to get a community garden going
ACFCGN network discussions
…etc
Allocate spaces and timing...
----------------
12:00 Open space session 1 — 25 minutes
Change
12:30 Open space session 2 — 25 minutes
---------------
1:00-2:00 - Lunch provided by ACFCGN
---------------
2:00 Open space session 3 — 25 minutes
2:30 - Choose between a tour or workshop...

tour of Murdoch University or
Love Food but Hate Waste Workshop sponsored by Murdoch University Community Garden
---------------
3:30 AFTERNOON TEA
-----------------
4:00 ACFCGN AGM

catch up on what we have been doing over the last year — ACFCGN President
financial report — ACFCGN Treasurer
review ACGCGN committee roles and teams
any amendments to the Rules of Association
election of the new committee
discussion of major tasks for 2016/17
nominate people to help out with teams eg mapping, communications and membership.
------------------
5:00 Close AGM
-------------------
5:30 Pizza night — celebration of 20 years of ACFCGN
-------------------
GETTING THERE:
Murdoch Community Garden is located within the Environmental Technology Centre. There will be signage at the eastern end of Discovery Way, and entrance to car park. If you get lost, ring John 0416949033.
Drive :
Murdoch University is accessed from South Street
turn into Murdoch Drive, and then right into Discovery Way
take first left and after approximately 1 km you will see car park on your left.
If you are driving and using online maps :
enter Discovery Way Murdoch University
press directions
follow route
refer to map below
follow red dotted line to Murdoch Community Garden car park and entrance.
Public transport :
Go to transport.wa.gov.au
Enter your location
Enter destination (bus stop number 25642)
Enter arrive before 10 am Saturday October 1
Press 'Plan your journey'.
Follow instructions and get off at stop number 25642.
Refer to map below, Follow red dotted line to Murdoch Community Garden car park and entrance.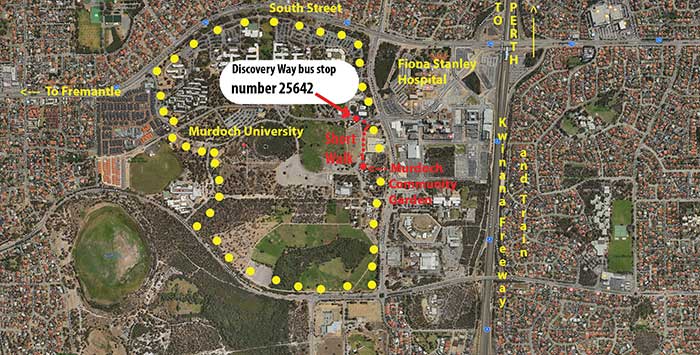 Public transport from Fremantle :
9.27 am, Catch bus number 999 from Fremantle Stn Stand 7 (Stop Number 10434).
The bus will enter Murdoch University at approx 9.50 am.
Get off at stop 25647 on Discovery Way.
Walk east (direction bus was travelling) and take first road to right, referring to map.
Walk approx 1 Km and enter Murdoch Community Garden car park, referring to map.
Public transport from Perth city :
9.22 am, Go to Elizabeth Quay Station platform 2 (stop number 99612)
catch Mandurah train
9.38 am, Arrive Murdoch Station Platform 2 (Stop number 99652)
Walk to Murdoch Station Stand 4 (stop number 23710) - takes about 3 minutes max.
9.52 am, Catch bus number 998
9.54 am, get off at stop number 25642
refer to map
walk back the way the bus came approximately 100 m and take first turn to right
walk approx 1 km and you will see Murdoch Community Garden car park on your left.
Our Host...
A big thanks to Murdoch Community Garden for hosting this event.
Download flyer...
Download flyer pdf poster — 302kB.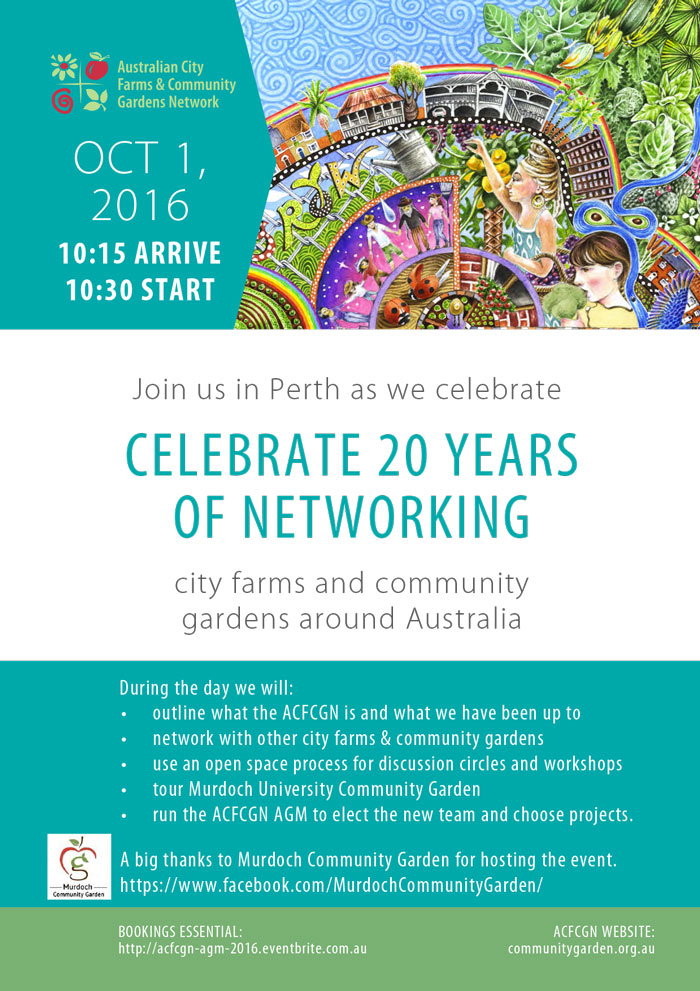 DETAILS...