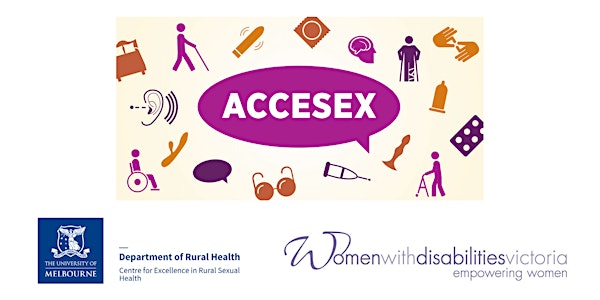 AcceSex Workshop hosted by Women with Disabilities Victoria & CERSH
The Centre for Excellence in Rural Sexual Health and Women with Disabilities Victoria invite you to attend their virtual AcceSex workshop.
About this event
What is AcceSex?
AcceSex is a workshop focusing on creating more inclusive and accessible reproductive and sexual healthcare services and community programs for women with disabilities.
This is a single session workshop for community and health workers when working with women with disabilities around sexual and reproductive health. We'll get into the nitty gritty of the challenging issues around consent, sexual health, abortion and communication.
This workshop is open to community services and health workers such as disability workers, nurses or doctors, sexual health workers, advocates, violence response workers, allied health or anyone who works with women with a disability.
We know from research that women with disabilities experience poorer sexual and reproductive health outcomes than non-disabled women. We also know that services and staff are not as accessible to women with disabilities as they could be. And staff often lack the confidence to meet the access needs of women with disabilities.
The staff from Women with Disabilities Victoria will provide their expertise and guide the group discussions around these topics. The aim is to use your expertise in service delivery to help shape what accessibility can look like for your service. As well as reflecting on how attitudes towards disability can shape the care women with disabilities receive.
What information will be included in an AcceSex workshop?
● Disability, gender and intersectionality
● Reproductive coercion, sterilisation, contraception and consent
● Disability inclusion and best practice skills
● Practical ways to make your service and professional practice more accessible
● Peer-to-peer knowledge sharing session via break out groups
FAQs
Q: Will this even be recorded?
A: Yes, this event will be recorded. It will be distributed to those who registered post event. Breakout rooms will not be recorded. If you are concerned about privacy please keep your camera off during the workshop.
Q: Is this event/venue accessible?
A: Yes, please let us know your access needs. We will need sufficient time for booking interpreters or captioning services. The slide pack can be sent out to event registrants before the event upon request.
Q: Am I eligible for this training?
A: This training is only open to workers in the state of Victoria, Australia.
Q: How will I know if my registration has been confirmed?
A: Your registration is confirmed once you have received your ticket via email. If you do not receive your ticket please check your spam folder.
Q: How can I find the Zoom link to the workshop?
A: The Zoom address will be listed on your ticket.
To discuss this event in more detail please contact Zoe Dorrity at zoe.dorrity@wdv.org.au