ACCELERATE at The Start Society

Wednesday, 21 October 2015 from 12:00 pm to 2:00 pm (AEDT)
Event Details
The Start Society is pleased to announce our next in the series of Wed Tech Entrepreneur Open Lunches with
- Sebastian Eckersley-Maslin - well know for his CEO founder role at Blue Chilli as well as being well on the way to creating 100 startups. That is him on the right of the photo in the orange shirt. He also has his own fund and has won a string of awards including 
2013 Ernst and Young Entrepreneur of the year

2013 Deloitte 7th fastest tech company Asia Pacific fast 500

2013 ShoeString top technologist of 2013

2012 BRW 3rd most innovative company of 2012

2012 General Assembly 

Startup 

Brand of the year

2012 City of Sydney Business of the year finalist

2011 Winner Australian Anthill 30 under 30

2010 Winner Australian Anthill 30 under 30

2010 Australian Anthill top innovative companies

2010 IEAust Engineer of the Year nominee

2008 Winner Australian Anthill 30 under 30

2007 Winner UNSW Top Post Graduate Researcher
Seb will share some of his substantial experience on ACCELERATING for tech entrepreneurs and we will follow up with the usual ask me anything format so bring your best questions!
12:15 for a 12:30 start, BYO lunch.
More format details at http://thestartsociety.com/welot
More events at http://thestartsociety.com/events
More about Sebastien Eckersley-Maslin CEO BlueChilli
Sebastien Eckersley-Maslin is the founder and CEO of Venture Technology firm BlueChilli. BlueChilli builds, grows and invests in tech startups, with an audacious goal of building a portfolio of 100 new tech startups by 2016.
BlueChilli gives startup founders a complete digital team to build their technology, support through Sydney, Melbourne and US startup incubators, and training via a six-month accelerator program. Startups that complete the accelerator program and have technology platforms engineered by the BlueChilli product development team are eligible for matching seed funding through the $10M BlueChilli Venture Fund. Corporate innovation partners include Westpac, University of Technology Sydney, ZenithOptimedia and Charter Hall Securities.
Under Eckersley-Maslin's leadership, BlueChilli was named BRW's 3rd most innovative company of 2012 and 7th fastest growing tech company in Asia Pacific by Deloitte.
Eckersley-Maslin was awarded top post-graduate researcher at UNSW for a technology that lands unmanned aircraft on warships. He commenced his engineering career as a weapons engineer with the Royal Australian Navy where he was deployed to Iraq. Eckersley-Maslin has been recognised as Ernst and Young Entrepreneur of the Year and is three-time "30-under-30" winner. He is a board member of the Sydney chapter of the Awesome Foundation, and represents the Australian tech startup industry in lobbying at State and Federal government levels.
LONG VERSION
Sebastien Eckersley-Maslin
BlueChilli
While in the Royal Australian Navy as a Weapons Electronics Engineering Officer (including operational tours in Iraq and Afghanistan), Sebastien Eckersley-Maslin created his first successful online business. He sold 199QUERY, his online question answering SMS company, to a competitor in 2008.  At the same time, via his Masters in Engineering, he worked on a patented project to autonomously land unmanned aircraft on ships which earned him top post graduate researcher at UNSW in 2007.
After leaving the Navy, Sebastien participated in a documentary where his task was to setup an international business in just four weeks. Flying to six different international cities in just 12 days, he successfully set up the company and sold the distribution to a local operator.
Sebastien launched BlueChilli in 2010, having grown frustrated by what he viewed as an economy in need of investment into ventures outside the mining sector. Through his revolutionary venture technology concept, Sebastien has redesigned the business model for the early stage investment and development of technology start-ups with the goal of investing in 100 startups by 2016.
BlueChilli builds and invests in online start-ups, providing technical solutions to entrepreneurs who have identified a commercial need but don't know how to realise it technically. The business model combines the software development and creative capabilities of a digital agency, with the business development capabilities of a start-up accelerator, the community and mentor driven education and training capabilities of an incubator, and the capital management of a venture capital company. BlueChilli provides the technology, framework, discounted services and founder training in exchange for a carried interest in each company built for start-up.
A systemised and streamlined process for software development called ChilliSource™ allows the business to re-use up to 75% of code and still maintain unique IP for each project, thereby minimising upfront costs and increasing the probability of success.
With a mandate to empower entrepreneurs, Sebastien's leadership has seen BlueChilli invest in 39 start-up businesses over its first 24 months of operation.
BlueChilli currently has offices in Sydney and Melbourne and is on average investing in two new businesses per month, with plans to expand into three key markets overseas. Sebastien is also extending the business's reach into the corporate sector, leveraging BlueChilli's platforms to provide large organisations with quick, scalable, business technical units at a high profit margin.
Sebastien has received many awards, including E&Y entrepreneur of the year in 2013, three time Anthill 30 under 30 recipient, most inspirational engineer nominee for IEAust and top post graduate researcher at UNSW in 2007 for his patented technology in landing UAVs autonomously on warships.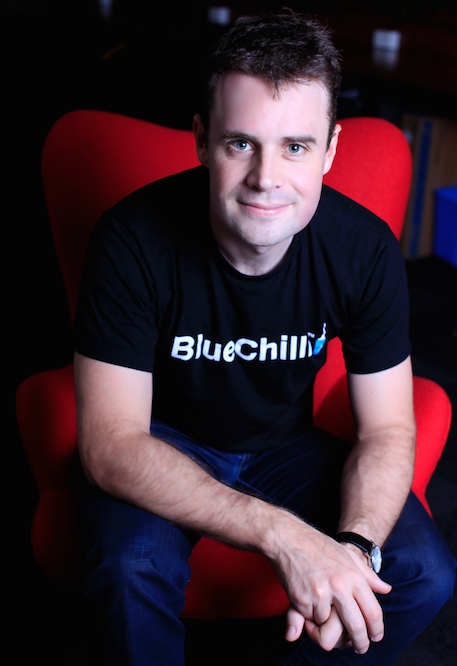 When & Where

iCentral by The Start Society
Level 3
234 Sussex St
SYDNEY, NSW 2000
Australia

Wednesday, 21 October 2015 from 12:00 pm to 2:00 pm (AEDT)
Add to my calendar
Organiser
The Start Society is an independent grassroots advocate, industry body and service provider to tech startup entrepreneurs. StartSoc is a social enterprise run by volunteers. We are run by founders for founders to help tech startup entrepreneurs and their enabling ecosystem to start, learn, connect & grow businesses for wealth creation and/or social impact.
You may also like -