ACBC WA & CCCA (Perth Branch) Ping Pong Friendship Games
Join Deputy Premier Hon. Roger Cook and Consul General for the PRC in Perth, Mr Long Dingbin at the ACBC-CCCA Ping Pong Friendship Games
About this event
The Australia China Business Council Western Australia (ACBC WA) and the Chinese Chamber of Commerce in Australia CCCA (Perth Branch) invite you to compete in the 6th Annual Ping Pong Friendship Games on Friday, 27 August 2021 .
Don't miss out on this fantastic opportunity to meet fellow members, family and friends in a relaxed and friendly environment and immerse yourself in this cultural experience. All skill levels welcome!
We are looking for teams of 4 (be creative in your team names!) – but you can register and be put into a team if you don't have 4 team members – just register early.
Competition
• DATE: Friday, 27 August 2021
• TIME: 10:00am - 11:00am exhibition match, 11:15 am - 4:00 pm competition commences (light lunch supplied at break)
• LOCATION: Top Spins Table Tennis Club - 19 Golding St, West Perth WA 6005
Register as a Spectator
If you are not keen to play, you can register as a spectator. Come down and cheer your fellow members.
EVENT SPONSOR

Separate Members Networking Drinks happening after the Competition:
JOIN ACBC-CCCA FOR OUR AUGUST NETWORKING DRINKS, KINDLY HOSTED BY SRK CONSULTING
TICKETS STRICTLY LIMITED - REGISTER EARLY HERE (please note this is a separate event to Ping Pong)
SRK is an independent, international group providing specialised consultancy services. Among SRK's clients are many of the world's mining companies, exploration companies, financial institutions, EPCM and construction firms and government bodies.
Formed in Johannesburg in 1974, the SRK Group now employs some 1,400 staff internationally in over 45 permanent offices in 20 countries on 6 continents. A broad range of internationally recognised associate consultants complements the core staff. In Australia, SRK employs some 100 people in offices located in Brisbane, Melbourne, Newcastle, Perth and Sydney.
Watch this space for more details!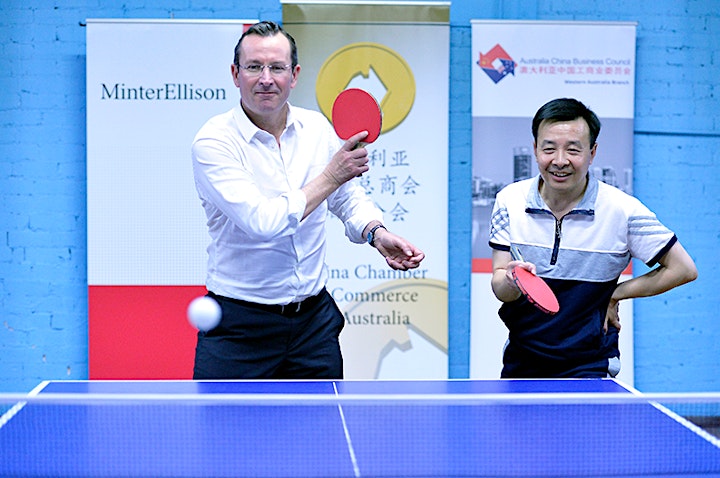 WA Premier McGowan and Consul-General Lei of the PRC in Perth after their friendly match at the 2017 3rd Annual ACBC WA & CCCA (Perth Branch) Ping Pong Friendship Games
Organiser of ACBC WA & CCCA (Perth Branch) Ping Pong Friendship Games