ACBC WA & CCCA (Perth Branch) Ping Pong Friendship Games -Adult Competition
Description
FREE Youth and Adult Competition
Open to all ACBC WA and CCCA (Perth Branch) Members, Family and Friends
The Australia China Business Council Western Australia (ACBC WA) and the Chinese Chamber of Commerce in Australia CCCA (Perth Branch), invite you to compete in the 4th Annual Ping Pong Friendship Games on Friday, 28 September 2018 (youth (7-15 years) and adult competitions).
Don't miss out on this fantastic opportunity to meet fellow members, family and friends in a relaxed and friendly environment and immerse yourself in this cultural experience. All skill levels welcome!
The games consist of round robin matches, where you will need to win each game to advance to the next round.
Please note the adult matches are played in doubles. We encourage you to be creative with your team names!
Please note for insurance purposes as a player you will be automatically signed up as a member of Table Tennis WA.
Adult Competition
DATE: Friday, 28 September 2018 (during school holidays)
TIME: 1:15pm – 1:30pm start (light lunch supplied) Trophy presentations at conclusion of games
LOCATION: Table Tennis WA, 12 Gerard St, East Victoria Park, Western Australia
Please join us after the Adult Competition from 4:00pm at the Balmoral Hotel, 901 Albany Hwy, Victoria Park for a drink!

Register as a Spectator
If you are not keen to play, you can register as a spectator. Come down and cheer your fellow members.
Click here to go to the youth competition.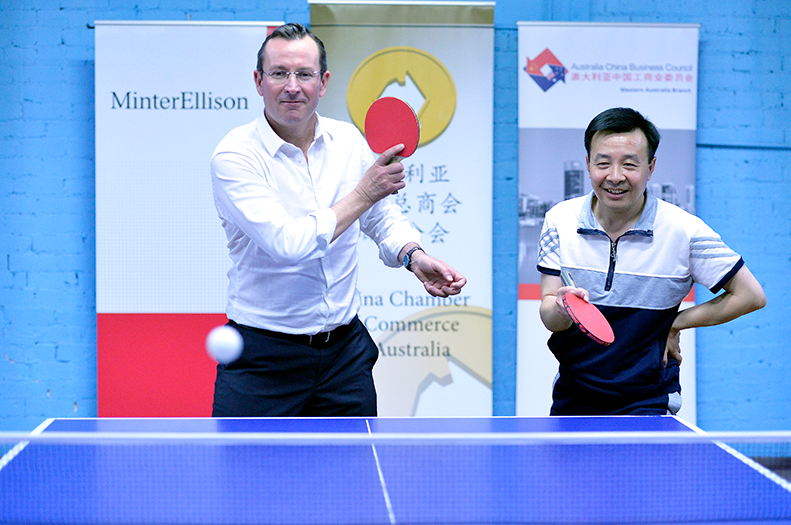 WA Premier McGowan and Consul-General Lei of the PRC in Perth after their friendly match at 2017 3rd Annual ACBC WA & CCCA (Perth Branch) Ping Pong Friendship Games
EVENT SPONSOR