ACAA | 年会推迟-ACAA Trivia Night

Saturday, 6 June 2020 from 6:00 pm to 9:00 pm (AEST)
Event Details


概要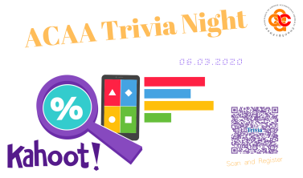 转眼2020年已经过去了1/6。澳大利亚中华会计师协会(ACAA)年会由于一些客观原因迟到了!但是这一年一度的会员相聚的重要活动一定会重磅回归。澳大利亚中华会计师协会(ACAA)已成立了三年。在这三年里我们结识了屏幕前的您,与您共度了一次又一次难忘的活动。为了回馈您一直以来对澳大利亚中华会计师协会(ACAA)的支持,我们诚挚地邀请您参加在悉尼胡桃里音乐餐厅举办的"ACAA Trivia Night" 大爬梯,让我们欢聚一堂,来一起迈向更加辉煌、美好的未来!


鸣谢

                                                                                (排名不分先后)
特别感谢本次活动的赞助商们,因为你们的大力支持,活动得以顺利举行!澳大利亚中华会计师协会(ACAA)全体工作人员向您们致敬!


活动详情
• 时间:2020年3月6日,星期五18:00至21:00
• 地点:Market City Shopping Centre, shop 1b/9-13 Hay Street Next to Market city light rail way, Haymarket NSW 2000
• 入场券:会员入场费-AUD28 (凭会员优惠码线上登记购买) 非会员入场费-AUD58
• 着装要求:Kahoots colour:Something in Red/Blue/Yellow/Green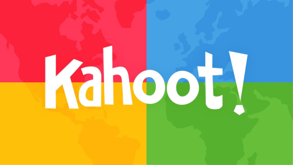 此次活动ACAA特邀请 Ariel Photo Studio 工作室的摄影师给到场嘉宾现场拍摄ACAA Trivia Night全家福照,大家记得按照dressing code要求准备服饰哦!转发照片积赞赢大奖,此次活动特等奖 iPhone 11手机,大家可要有备而来哦!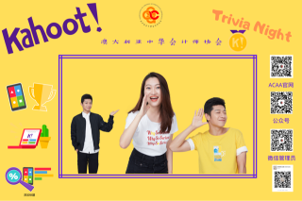 活动介绍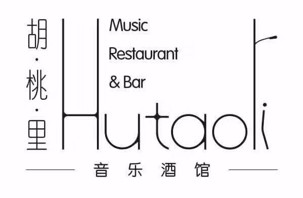 本次"ACAA Trivia Night" 大爬梯我们将在悉尼胡桃里音乐餐厅举行。此次活动到场的嘉宾可以在享受美食的同时,欣赏由胡桃里音乐餐厅准备的精彩乐队表演。不仅如此,我们精心准备了以"Trivia"为主题的趣味小活动。

• 协会小知识
• 数学的奥秘
• 超强会计师
• Emoji猜猜猜电影
• 四大歌后你唱我猜
• TAX知多少
• 四大小秘密
PS:游戏积分是换取对应礼品的关键
晚宴最后我们还会评选出 ACAA Kahoot!King and Queen

晚宴前预热:
• 协会新一年委员会成员见面会
• 优秀委员会志愿者颁奖,积极会员颁奖
• 赞助企业答谢
• 全员集体照

除此之外,参加活动的小伙伴们都将获得ACAA红包一个!并且到场来宾有机会获得 iPhone 11 手机一部。还有女生们最喜欢的医美护肤使用券,以及其他神秘大礼! 期待与您度过一个难忘的夜晚!
活动流程
18:00-18:30 Check In、Kahoot!第一轮小游戏、趣味摄影、
18:30-19:00 欢迎演讲、2019年度积极会员、优秀委员会委员及志愿者颁奖、赞助企业答谢
19:00-19:15 会员全家福照
19:15-21:00 大口吃肉大口喝酒,刺激的多轮Kahoot!精彩游戏,舞台乐队演出,拿礼品拿到手痒

提示
• 活动前入会的小伙伴们可以仅花AUD28购买入场券呢!立享价值AUD58的"ACAA Trivia Night"入场券折扣,而且也可以免费参加一系列ACAA2020年各项线上线下折扣,包括ACAA的热门项目Mentoring Program!心动不如行动,您还在等什么!

• 当他参加活动的小伙伴切勿忘记提前下载Kahoot!app到你手机。

胡桃里音乐餐厅始建于2014年,致力于将音乐、文艺、川菜馆、红酒吧融于一体,以酒吧、餐厅、咖啡馆的全新融合模式,打造一站式娱乐新体验,是比酒吧更具文化氛围的夜生活新地标。 酒吧时段,是胡桃里的精髓所在,不仅有打动人心的歌手现场演唱,更有国际艺术流派大咖在这里大放光彩。胡桃里无论是作为午后暖茶到丰盛晚宴的去处,亦或是深夜微醺的休闲场所,它都是在悉尼生活的华人们的不二之选。
---


To Sponsors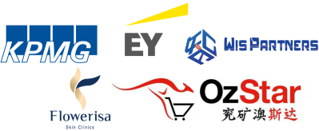 (names are not listed in order)
Great thanks to the sponsors of this event, because of your strong support, the event was successfully held! All staff of the Chinese Association of Chinese Accountants (ACAA) appreciate your great support
Activity details
Time: March 3, 2020, Friday 18:00 to 21:00
Location: Market City Shopping Centre, shop 1b/9-13 Hay Street Next to Market city light rail way, Haymarket NSW 2000
Ticket: Member - AUD28  (purchase with Member code)   Non-member - AUD58
Dress code: something in red, something Chinese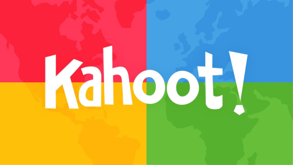 ACAA invited the photographers of Ariel Photo Studie Studios to take pictures of the new year's family for attendees.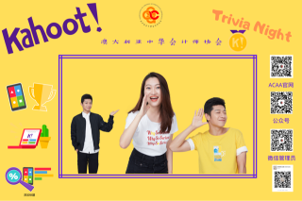 Event Overview
Guests attending this event can enjoy the delicious food while enjoying the wonderful band performance prepared by Hutaoli Music Restaurant. More than that, ACAA also prepared the interesting 'Trivia' activities. 
People who attend the event on the day will receive the ACAA red envelope. Also, attendees will have the opportunity to get an iPhone 11 phone. Besides,  beauty salon vouchers and other mysterious gifts will be given to lucky attendees!
Looking forward to having you at the event!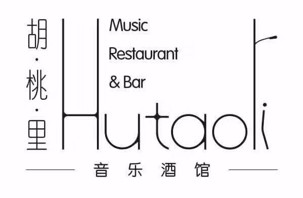 Agenda
18: 00-18: 30 Check-In, Kahoot Round 1, fun-costume photography)
18: 30-19: 00 Welcome speech, 2019 active members, outstanding committee members and volunteers awards
19:00-19:15 Members' Family Photo Shooting
18: 30-21: 00 Dinner, Kahoot Round 2, Hutaoli Music Show
Tip
If you register and become ACAA member before the event, you can get the ticket for only AUD28 instead of AUD58. Besides, you can also join the upcoming ACAA 2020 online and offline events with discounts, such as ACAA's popular project Mentoring Program!
The event "ACAA Trivia Night" will be held at Sydney Hutaoli Music Restaurant on 7 February 2019. The Sydney Hutaoli Music Restaurant is dedicated to integrating music, art, Sichuan cuisine restaurants, and red bars. It uses the new fusion model of bar,restaurant and cafe biracial to create a one-stop entertainment and new experience. A new landmark for a more cultural nightlife. In four years, Hutaoli has landed in 7 overseas countries including Sydney and Milan, covering 300 cities in China including Shenzhen, Beijing, Guangzhou, Nanning, and more than 490+ stores, becoming a new entertainment landmark in the eyes of consumers.
Save This Event
When & Where

Hutaoli Music Restaurant& Bar
Market City Shopping Centre, shop 1b/9-13 Hay Street Next to Market city light rail way
Haymarket, NSW 2000
Australia

Saturday, 6 June 2020 from 6:00 pm to 9:00 pm (AEST)
Add to my calendar
Organiser
澳大利亚中华会计师协会 (Association of Chinese Accountants Australia,以下简称ACAA) 于2016年9月在悉尼正式成立。ACAA由智盟会计师事务所(Wis Partners) 创办合伙人梁智圆先生倡议领导,得到多位在财经领域有多年专业经验的人士拥护,共同组建。
澳大利亚华人众多,从事会计、财经、金融工作的专业人士日渐增长,在各领域的重要性愈见突出。ACAA 顺应行业发展孕育而生,旨在凝聚广大的华人专业人士,创造高质有效的技术,学术,文化,经验交流平台,帮助华人实现在财经领域的职业发展目标,提升华人专业人士在业界综合素养,打造华人会计师品牌。
加入ACAA会员请登陆我们的网站www.acaaustralia.org,填写会员申请表。