About this Event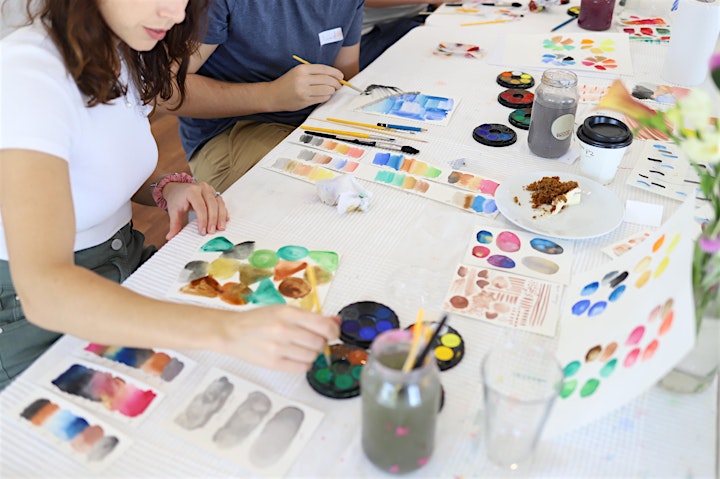 When: Saturday November 14th, 1pm - 4pm
Price: $110 per person (plus Eventbrite booking fee)
What you'll get: paper, paint and other materials if you wish; images and botanical materials for inspiration; an information sheet to take home; tea, coffee and snacks to energize you throughout the class.
What you need to bring: a can-do attitude and an open mind. We'll provide all the materials, but feel free to bring your own if you have something you'd like to practice with.
About the Workshop: Join gallery director and practicing abstract artist Madeline Young for a relaxing 3 hour workshop of abstract watercolour painting. This workshop is designed to be a stress-free session of learning and experimentation for beginners as well as those who have some experience. Join with like minded people in an inspiring and intimate setting and take some time out for yourself.
Madeline will be guiding you through some basic abstraction techniques to get you warmed up to create your own pieces. This class focuses on the process rather than the outcome. We'll start with some basic watercolour techniques followed by some composition and mark-making exercises with plenty of time at the end to experiment with your new-found skills.
See pictures from one of our past Watercolour Workshops here.
"This workshop was great. Even though I'm experienced in using watercolours, I had never learnt the basics and this workshop actually taught me some very useful techniques such as how to set out a square of all the colours you can make with your palette. Maddie was an awesome teacher and created a really nice environment for us to work in."
IMPORTANT INFORMATION: Due to the nature of these workshops we cannot refund your ticket if you cancel within 7 days of the event. The Corner Store Gallery reserves the right to cancel this workshop due to unforeseen circumstances or if minimum tickets sales are not met. In the event of cancellation your payment will be fully refunded.
About Madeline
Madeline Young is the director of The Corner Store Gallery and a practicing artist and designer. She has a Bachelor of Fine Arts and over 15 years experience of teaching art and craft workshops and classes. To find out more about Madeline's creative life visit her website.