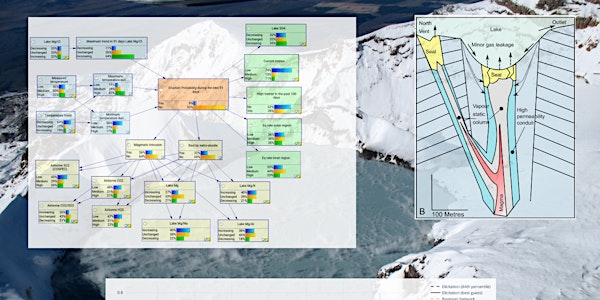 ABNMS June Webinar - Automated volcano eruption forecasting
Automated eruption forecasting at frequently active volcanoes: application to Mt. Ruapehu, Aotearoa, New Zealand
About this event
As societies live and play closer to volcanoes there is a growing requirement for volcano monitoring agencies to provide quantitative information on the likelihood and impact of volcanic hazards that can be understood and utilized by landowners and managers, infrastructure managers, civil/federal aviation authorities, local people, and tourists. In addition, national health and safety legislation increasingly requires dynamic assessment of risk for employees, their subcontractors, and communication of the changing risk to other potentially affected parties. Eruption forecasting underpins such quantitative information and risk assessments.
Operational Scientist Yannik Behr will be telling us all about a Bayesian Network model to forecast the probability of eruption for Mt Ruapehu, Aotearoa New Zealand in collaboration with the New Zealand volcano monitoring group (VMG). Since 2014 the VMG has regularly estimated volcanic eruptions at Mt Ruapehu that impact beyond the crater rim. The Bayesian Network model structure was built with expert judgement based on the conceptual understanding of Mt Ruapehu and with a focus on making use of the long eruption catalogue and the long-term monitoring data. The model parameterisation was partly done by data learning, complemented by expert elicitation and is now implemented as a service to automatically calculate daily forecast updates.
The event will be run over MS Teams and a link will be emailed to registered participants prior to the day.