About this Event
Are you passionate about asset based community development, active citizenship, story-telling, community arts, social change? 
Join Peter Kenyon from Bank of Ideas and Dimitrios Papalexis in Sydney this July for a 3h Masterclass to explore the power of
Asset Based Community Development (ABCD) & Community Arts.
It is becoming more evident that we need to move away from the traditional deficit model of customer segmentation, needs analysis and silos and move towards a focus on assets, strengths, gifts and citizen driven communities.
Join this Masterclass to:
discover the power of social capital and local, 'bottom up' and asset based approaches to help bring about positive economic, social and environmental change within our communities;
explore a range of innovative strategies, tools and methodologies to inspire people, activate citizenship and strengthen communities;
discover the power of community participatory arts, 'out of the box' thinking and creative communication to help bring social change;
The Masterclass will include an experiential activity and culminate into a Q&A session where you will have the opportunity to ask questions about your community engagement and initiatives.
Panel
Peter Kenyon, Bank of I.D.E.A.S
Dimitrios Papalexis, SoulGen 
Johanna De Ruyter, Moving Communication 
Liza Moscatelli, Mosca Media 
Panel Moderator: Tirrania Suhood, In Collaboration 
Tuesday 23rd of July 2019
6pm to 9pm
Location: Level 4, 52-58 William St, Woolloomooloo NSW 2011
Masterclass Facilitators
Peter Kenyon (Director, Bank of I.D.E.A.S., Australia)
Peter Kenyon is a social capitalist and community enthusiast. Over the last two decades he has worked with over 1500 communities throughout Australia and overseas seeking to facilitate fresh and creative ways that stimulate community and economic renewal. He is motivated by the desire to create healthy, caring, inclusive, sustainable and enterprising communities and local economies. Peter is convinced that one cannot develop communities from the top down or from the outside in. It requires communities to build from the inside out, and for their members to invest themselves and their ideas, assets and resources in the process. Peter created the Bank of I.D.E.A.S. (Initiatives for the Development of Enterprising Action and Strategies) in 1991 to promote such a paradigm shift and assist with the necessary facilitation, ideas and skills. Peter's consulting work has resulted in assignments in 59 countries and all states of Australia. From 2004, Peter has spent part of each year working in a range of Middle East and/or North African countries assisting with the development of national youth policies and strategies. Peter is a faculty member of the ABCD Institute at Northwestern University, Chicago, USA.
Dimitrios Papalexis, BA., Grad.Dip.Couns., MCC
Dimitrios is an Author, Performing Artist, Master Trainer and Community Developer. He has lived in three different countries, speaks 4 languages and has worked in different government organisations and community programs. He has extensive experience in mental health, disability, community development, multi-culturalism, sector development and strength based community projects and initiatives. Dimitrios has been awarded with a Do it Differently Grant from Bayside Council and South Eastern Local Health District SESLHD for his project Everyone has a Story. He has been working with ABCD and Community Arts in various countries including Greece, Brazil, India and Australia. Dimitrios loves community development and the creative arts and he combines his experience and passion in story-telling, arts, psychodrama and ABCD to facilitate change and growth for individuals and communities.
Contact abcdfamtour@gmail.com or 0400354939 for more information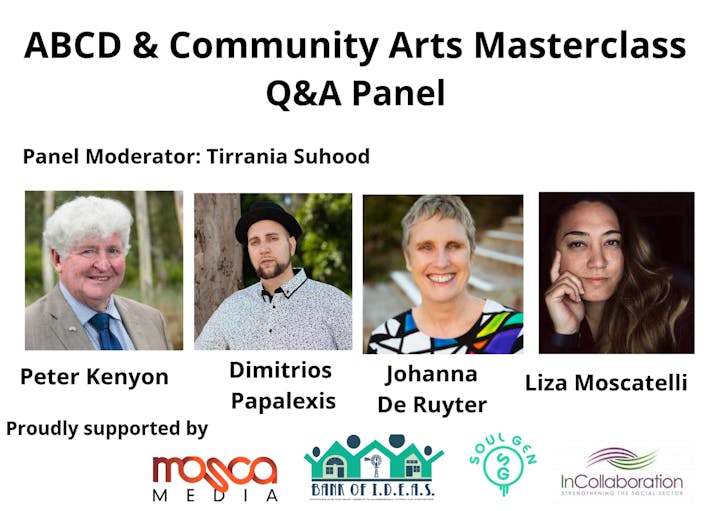 Q&A Panel