AALTEN: Tai Chi for Memory - Instructor Training Workshop with Dr Paul Lam
Sales Have Ended
Registrations are closed
Ticket sales have closed. Please contact workshops@taichiproductions.com
Sales Have Ended
Registrations are closed
Ticket sales have closed. Please contact workshops@taichiproductions.com
About this Event
TAI CHI FOR MEMORY
An easy, mind-body program especially useful for people with memory loss, Alzheimer's, or similar conditions
Studies have shown tai chi improves memory and brain health. Dr Paul Lam's team merged medical research and traditional Chinese medicine with tai chi to create an easy-to-learn program. It is especially useful for people with memory loss, Alzheimer's disease, or similar conditions. It is also designed to prevent these conditions
Caring for people with memory loss is challenging for carers and family. This mind-body program engages everyone for a quality time together. It will improve most aspects of health including balance, immunity and relaxation, and can be practiced and enjoyed by anyone.
Read more about this program at the Tai Chi for Health Institute website: "How Does Tai Chi for Memory Work?"
Reasons to come
Learn this program personally from Dr Lam
Learn how to empower many people with memory loss to better quality of life
Useful tool for caregivers
Learn how to gently encourage and empower even the most debilitated participants
Deepen your understanding of tai chi
Experience the synergy of Qigong and two powerful tai chi styles
Physical and occupational therapists can use it as a therapeutic tool for your patients/clients and the same time improve your health and wellness.
About Dr Paul Lam
Dr Paul Lam, a family physician and the Director of the Tai Chi for Health Institute, is a world leader in the field of tai chi for health improvement. Dr Lam has been studying tai chi for over forty years and is proficient in different styles. His Tai Chi for Health programs have empowered millions of people to improve health and wellness.
Health departments and Arthritis Foundations around the world recommend his tai chi programs for fall prevention and improving health, including the Centers for Disease Control and Prevention (www.CDC.gov). Over 30 medical studies have proven his programs to be effective for health.
He is one of the most sought-after and respected tai chi teachers having trained thousands of instructors. Apart from his best-selling instructional tai chi DVDs and online tai chi programs, he has also written several tai chi books including "Teaching Tai Chi Effectively", "Tai Chi for Beginners and 24 Forms", and his own memoir, "Born Strong".
How Can the Workshops Benefit You?
Over 500 medical studies have shown tai chi improves muscular strength, flexibility and fitness; as well as improves relaxation, balance, immunity and other health benefits. The full extent of benefits tai chi can deliver are much more than studies can show! Such as empowering you to develop inner peace, inner strength and leading to more happiness and fulfilment.
Dr Lam incorporates his medical knowledge, tai chi experience and positive psychology to enhance all Tai Chi for Health programs. At the completion of the workshop you will learn your respective program, understand its inner meanings, find a clearer path to progress and gain more enjoyment from your practice and teaching.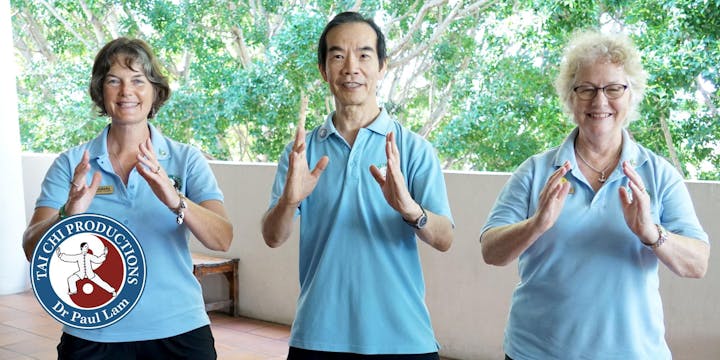 Instructor Certification
With prior preparation and if you meet the requirements, you can be eligible to be certified as an instructor for this program. It would be especially useful for health professionals to learn it for yourself and clients.
Almost anyone can benefit from learning this program for self development, self care or to share with others.
An application form and questionnaire will be sent to you after you register. You will gain much more from the workshop by studying the resource material prior.
Preparation
Prepare by working with the Tai Chi for Memory program as much as possible prior to the workshop. This is essential for instructor certification It will also enable you to gain the maximum benefits and enjoyment from this workshop.
You can get the program material through either:
Enrolled participants will receive a 20% discount code for the instructional material with their confirmation email.
It is also required for instructor training to read and learn from the "Teaching Tai Chi Effectively" book by Dr Lam. This book is also available in Kindle format through Amazon.
Venue
Hanami
Magnoliaplein 11,
7121 AM Aalten, Netherlands
Schedule
9 AM to 5 PM daily
Note: Please come scent-free in consideration to those with perfume allergies.
Workshop Fee
Early Bird before 1st June 2019:
From 1st June 2019:
Closing date: 16th August 2019.
N:B: A $50 administration fee will apply for cancellations at least one month prior to the workshop. No refunds afterwards.
Payment Information
Payment methods available online:
Credit card (PayPal Guest Checkout; PayPal account not needed). On checkout, click on VISA/MasterCard/Amex/etc logo, then click on "Pay with a Card"
Instructor Updates
Current instructors can request Tai Chi for Health certificate updates with advance notice and submitting a written assignment at least one month prior to the workshop. Administration fees apply.
Cost for Updates:
Enquiries:
workshops@taichiproductions.com
+612 9533 6511 (Australia)
Local Contact:
Donny@hanami.nl
+31619460268 (Netherlands)