Description
Austin Maynard Architects - Mills, the Toy Management House
Come and see this amazing extension to a single-level weatherboard terrace where only the original facade and front two rooms remain. Architect Andrew Maynard, will explain the design process and lead you through the house.
The brief was to design a light-filled home that could hide the mess typically made by a small child, so Austin Maynard Architects devised a floor that was a giant toy box. At 450 millimetres deep, it not only provides vast storage and a play space, but also seating for adults at a comfortable height.
Perforated metal has been used throughout to control sunlight and increase air flow, blurring the lines between inside and outside. The glass walls of the living space are offset from the perforated facade, which creates a comfortable outdoor space that feels as though it is within the skin of the house.
Though the site is small, the architects have maximised natural light and air to all spaces. Like all of Austin Maynard's buildings, sustainability is at the core of the Mills House.
Mills is a complex home, full of ideas, however there are 2 core elements.
1. The floor is a giant toy-box.2.The rear facade filters and softens the strong sunlight that had previously dominated the backyard.
The floor is the cupboard.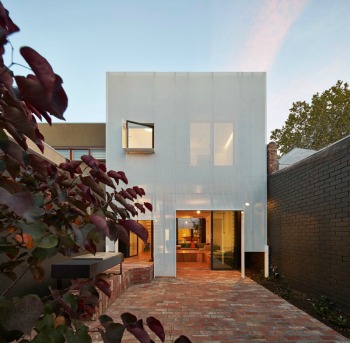 Photos Peter Bennetts
Instructions
Please arrive at the start point NO EARLIER than 10 minutes prior to the scheduled start time. The project will be opened for an hour and a half from 12noon to 1.30pm with the architect explaining the design process and leading you through the house. You are welcome to come anytime within the hour and a half. This event is not wheelchair accessible, children under 12 not permitted and no pets allowed. Tickets are non-refundable.
Booking Instructions for AAA Members
Enter your AAA membership number (Including the 3-letter prefix) to the promotional code box and an additional ticket type for members will be shown.

Organizer of AAA Self Drive tour: At home with the Architect (VIC)