Description
Welcome to the Jungle House by Clinton Cole
In September we will be opening Welcome to the Jungle House situated in Darlington, an inner-city heritage conservation area typified by late Victorian row terrace housing and post-industrial warehouse conversions.
A two-storey shop top house in disrepair and close to collapse originally occupied the 90sqm triangular site. The original spackled rendered masonry façade had cultural and streetscape significance to the local heritage conservation area and its necessary reconstruction was managed under strict heritage controls. A black photovoltaic panel array signals the new addition to the original northern façade, harnessing sunlight throughout the day, acting as a billboard for the sustainability attributes of the architecture and starkly contrasting the original rendered heritage facade.
Design Statement exerpt by Clinton Cole, director of CplusC Architectural Workshop, "Le Corbusier famously said almost 100 years ago, that 'A house is a machine for living in'. If we are to survive the next 100 years a house must be 'a machine for sustaining life' and it must promote those values in its architectural expression to the public who largely consume architecture through the media where image is everything.
The rooftop is constructed of steel planter beds which provide deep soil for native plants and fruit and vegetables. The garden beds are irrigated from the fishpond providing nutrient rich water created by the edible silver perch (fish).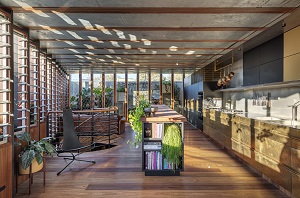 Instructions
Please arrive at the start point NO EARLIER than 10 minutes prior to the scheduled start time. The project will be opened from 11am to 12noon with the design process being explained. You are welcome to come anytime within the specified time. Event is not wheelchair accessible, children under 12 not permitted and no pets allowed.
Tickets are non-refundable.
Booking Instructions for AAA Members
Enter your AAA membership number (Including the 3-letter prefix) to the promotional code box and an additionalticket type for members will be shown.