Please join us for AAA's 'At Home' event visiting a residential project in Manly by Marston Architects, going inside with the architect.
About this event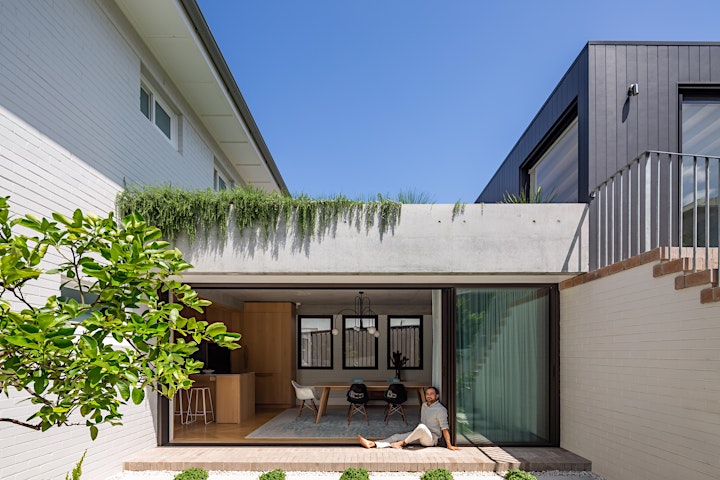 At Home with Marston Architects
We will be visiting the suburb of Manly and opening an amazing house by Marston Architects.
This project was centred around the need to better relate an existing 1930s building to its site and encourage better use of external spaces. The site has it main street frontage and a rear lane which is located 4m above the street level. The original home was built into a high retaining wall with no access to the rear garden other than via a side stair.
At some point in time, a further addition was built which made the relationship between the inside and outside worse. It was decided to remove the poorly constructed rear addition and replace it with a high quality build which included a new dining area at ground level with a roof garden over, a new rumpus room accessed via a new internal stair , a laundry and double garage accessed via the rear lane.
The northern side of the site was devoted to outdoor usable area and includes a large courtyard at the ground level and a pool at the upper level with access between these two spaces via a new brick staircase.
Don't miss out on seeing this home.
Numbers are limited, so book early.
Instructions 
Due to Covid-19, we follow all current NSW Government health requirements and have reduced the number of attendees allowed on the day, so please book early. 
All attendees will be reminded to practise social distancing of 1.5metres from one another on the day and you will be asked to use the hand sanitisers on entry to the house and masks may be required.
You are welcome to come anytime within the specified time. Event is not wheelchair accessible, children under 12 not permitted and no pets allowed. Tickets are non-refundable. 
Image - photographer Simon Whitbread
Booking Instructions for AAA Members
Enter your AAA membership number (Including the 3-letter prefix) to the promotional code box and an additional ticket type for members will be shown.