MSD and AA Visiting Schools Melbourne presents: Stelarc
About this event
EMBODIMENT, ALIVENESS AND AGENCY: ZOMBIES, CYBORGS AND CHIMERAS
We inhabit an age of Circulating Flesh, Fractal Flesh and Phantom Flesh. Organs are extracted from one body and inserted into other bodies. Hands from a cadaver can be attached to the arms of an amputee and be reanimated. By Fractal Flesh is meant bodies, bits of bodies and brains spatially separated but electronically connected, generating recurring patterns of interactivity at varying scales. Phantom Flesh proliferates. Phantom not as in phantasmatic but rather experienced as phantom limbs. We simultaneously function as physical bodies offline and Phantom Flesh online. The body in excess has become a contemporary chimera of meat, metal and code. What it means to be human is perhaps not to remain human at all. In this age of body hacking, gene mapping, prosthetic augmentation, organ swapping, face transplants and synthetic skin, what it means to be a body and what it means to be human and what generates aliveness and agency becomes problematic.
Stelarc's performances incorporate Prosthetics, Robotics, VR, the Internet and Biotechnology. He has performed with a Third Hand, a Stomach Sculpture and Exoskeleton, a 6-legged walking robot. Fractal Flesh, Ping Body and Parasite explore online remote and involuntary choreography using a muscle stimulation system. Stelarc has surgically constructed an ear on his arm, that will be electronically augmented and internet enabled. Reclining StickMan is a 9m long robot that is algorithmically actuated and can be remote controlled. In 1996 he was made an Honorary Professor of Art and Robotics, Carnegie Mellon University and in 2002 was awarded an Honorary Doctor of Laws by Monash University. In 2010 he was awarded the Ars Electronica Hybrid Arts Prize. In 2015 he received the Australia Council's Emerging and Experimental Arts Award. In 2016 he was awarded an Honorary Doctorate from the Ionian University, Corfu. His artwork is represented by Scott Livesey Galleries, Melbourne. www.stelarc.org
Presentation & Q&A
Date: Monday 12 July, 2021
Time: 18:15 - 19:30 AEST* Melbourne (UTC +10)
Venue: Singapore Theatre (B120), Basement Glyn Davis Building
Venue: Online - ABP Zoom webinar (link will be provided in confirmation and reminder emails)
Please note:
The event will be held in‐person at the Melbourne School of Design and streamed online via Zoom webinar - please select your preferred ticket type.
Gaining a ticket to this event does not guarantee you a seat to the event. Please arrive 15 minutes early to avoid disappointment. Please ensure that you have your mask with you when you attend any University events. Social distancing will be encouraged and if you are unable to physically social distance you will need to wear your mask. Due to COVIDSafe event guidelines and reductions to capacities at our venues, tickets to this event are limited. Please let us know if you are unable to attend so we can release your ticket to other interested parties.
With Thanks, ABP Events Team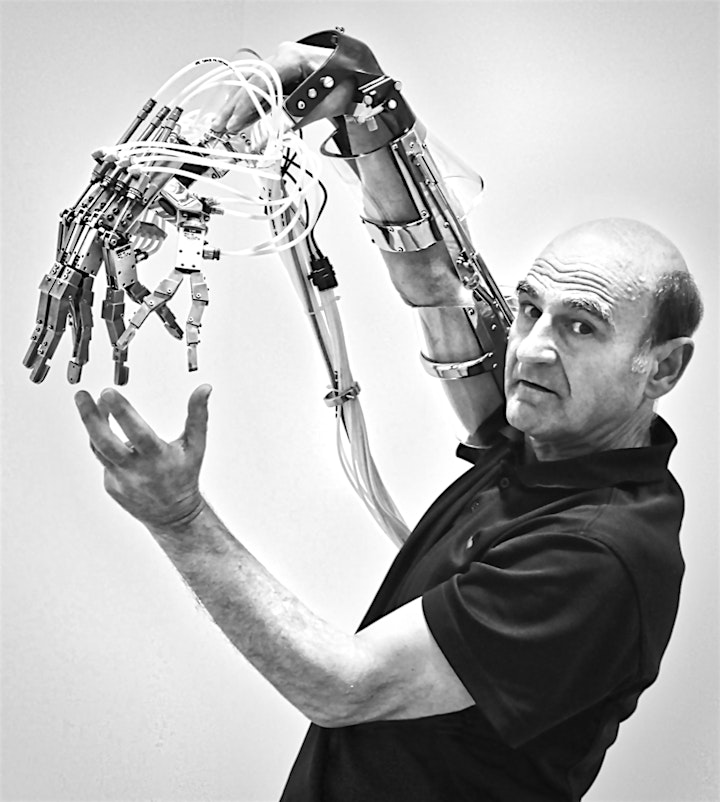 Extended Arm, Stelarc
Photographer: Dean Winter
Scott Livesey Galleries
Organiser of AA Visiting Schools Melbourne - STELARC
The Faculty of Architecture, Building and Planning, incorporating the Melbourne School of Design (MSD), is a creative and people-oriented built environment faculty in Australia's leading research-intensive university.
We're passionate about activating the next generation of built environment professionals, providing a world-recognised education which inspires and enables our graduates to create and influence our world.
We teach across the built environment fields, making us unique among Australian universities, and part of a select group worldwide. This mix of expertise enables us to prepare our graduates to design solutions for an unpredictable future.
Our staff and students are busy visualising exciting and relevant ways of programming our cities. Melbourne, ranked as the world's most liveable city, is a fantastic city in which to become and be an expert in the built environment fields.
Researchers and industry practitioners teach our programs and are leaders in public conversations about our cities and regions, shaping policy development and transforming Australian practice.
The Faculty of Architecture, Building and Planning hosts the Bachelor of Design, a comprehensive range of built environment graduate programs, the Melbourne Sustainable Society Institute (MSSI) and Australian Urban Research Infrastructure Network (AURIN).
The University of Melbourne established an Architectural Atelier in 1919 and one of the first Bachelor degrees in Architecture in 1927. Our lively culture of exploration manifests in our classrooms, studios and research enquiry, complemented by lectures, forums and exhibitions. Our cultural diversity is one of our strengths: students and staff have come to Melbourne from over 50 countries. We have a strong alumni body who hold leadership roles across Australia and the world.
The University of Melbourne and Eventbrite collect your personal information to manage your registration and to contact you regarding this event. Your information may also be used by the University and Eventbrite for analysis, quality assurance and planning purposes. For further information please visit the University of Melbourne's website and Eventbrite's Privacy Policy.