A Wizards Quest - The Foundation - 8+ hrs of wise tools & fun games to inspire a quest to create, make and investigate a child's dreams
About this Event
Is your child(ren) prepared to go on a quest of discovery both on the outside world with tools to navigate the inner world too?
In a world full of negativity this quest helps provide some light and balance
Fun life skills playful 2 x 1/2 days for Wise Wizard Kids .Gift your child at the start of the holidays with an experience that will sow them with tips and tools to apply and use during the holidays that has benefits for the whole family.
Saturday Dec 12th 1pm-5pm
Sunday Dec 13th 2pm-6pm
Over these two days children will be supported with Wise tools of transformation in supporting their own chosen quest and will be learning about the importance of the integration of
* Mindset & Nereoscience
* Play & Creative and Intuitive Expression
* Visioning , Leadership & Goal setting
* Strengths of kindness, persistence, resilience ,courage ++
* Emotions
* Mindfulness
* Stress management & Relaxation and breath techniques
* Ceremony and Celebration(Cacao intention ceremony & Celebration )
Apart from the valuable expereince your child(ren) will take away , their own leadership staff, posters to support their journey, kindness rocks, A quest map, two inspired professional photos as well as a signed copy of Andrew's two published children's rhyming books with 'Top Tips for Wise Kids' in the Wise Kids Series.(books that benefit the whole family) Also a parent handout will be given on tips to support them after the two days. Plus lots more
Participants will also have an opportunity to express their wisdoms and insights with eachother in developing connection and a sense of community. The parents will be invited to join the Wise Kids FB Community afterwards
Part of the event will include the young Wise Wizards ceremony on the shores of the Mary river after we leave at 6pm as a symbolism of stepping into the quest in which families will be invited to attend . More details given on registration.
Please note on registration your child will recieve a welcoming letter with two fun preparation challenges to complete before attending the day.
I have been teaching for 25 years and its my passion to create space for children to step into their strengths and passions . Also its my own Quest to creating a Wise Kids World Academy and this is part of it.
I will have the amazing mother, childrens workshop facilitator Sabine and cacao ceremony leader Sabine Gaber join us over the two days . Plus we will have other special quests to share their talents in upskilling your children.
Please note this event is a covid safe event and we will be following the upto date guidelines at the time.
Join me and Sabine to help support and empower your child and the next generation 🙂
kind regards
Andrew Holt
FAQ
Are there ID or minimum age requirements to enter the event?
Ages 6 to 11/12 years old
What can I bring into the event?Healthy snacks and waterbottle, hat , sturdy shoes for the walk
How can I contact the organiser with any questions?
1) Email : aholty@gmail.com
2) Facebook messenger Andrew Holt Educator Author
3) text or phone 0427509206 ( After School hours)
What's the refund policy?
No Refund - However their place can be transferred to a future workshop.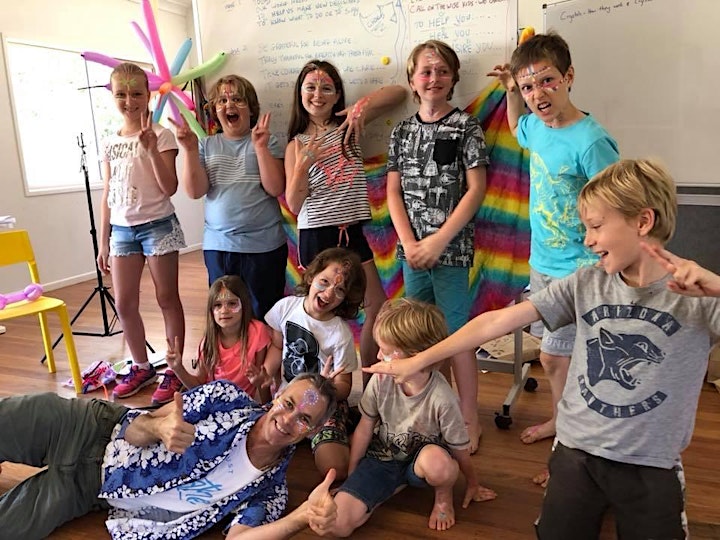 Photo from one of eight Wise Wizards Quests ran in the past