AIESEC Alumni Australia and AIESEC welcome you to this series of A-Talks designed to challenge and inspire you during this pandemic.
About this event
This joint initiative aims to provide value to both the AIESEC Alumni community and AIESEC. It is also an opportunity for the alumni to show their financial and moral support for AIESEC during the pandemic.
This series is part of the broader A2A initiative to encourage closer ties between the AIESEC Alumni Association and AIESEC.
Topics to be covered in this series (co-branded with AIESEC in Monash as "Youth Leadership Experience Workshops"):
(Scroll down for more details about the session and our amazing speakers)
1. Design Your Life - Priority Management - Done. Recording available.
2. Business Communication in Virtual Environment - Done. Recording available.
3. Mind Your Mojo - Self-management - Done. Recording available.
4. Culture Building & Team Empowerment - Done. Recording available
5. Personal & Business Branding - 28/09/2020
Update: All workshops times have been updated, please register for all of the workshops you are interested in.
If the webinar times are not convenient for you, please register anyway and you will be sent a copy of the recording afterwards.
The future of this global movement lies in its grass roots. 100% of the proceeds for this series will go directly to support the LC in Monash University. This is a pilot initiative in order to allow for the AIESEC Alumni community to support AIESEC at a local level. Look forward to future initiatives as we try to apply a similar model more widely around the world.
Introducing our webinars for the series and amazing guest speakers: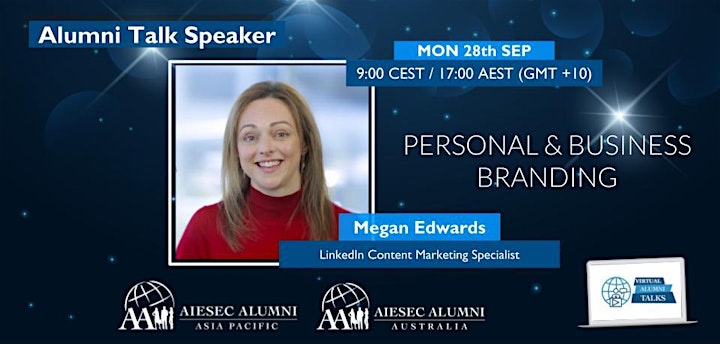 Megan Edwards is a Melbourne-born LinkedIn strategist and content marketer of over 20 years, who began her marketing career back when print advertising was the dominant communication channel. She helps businesses of all sizes build a LinkedIn presence to support their business goals, with akey focus on personal brand, lead generation and authority. A lifelong wordsmith and educator, her passion is making it simple for anyone to leverage the power of LinkedIn and create great content.
Join us and Megan at our "Personal & Business Branding" webinar to learn how to better utilize LinkedIn as a platform for branding, both for personal and business-related purposes.