A survival guide to supplying automated warehouses
Event Information
Location
Locations in description
Australia
Description
The future of warehouses is now!

As a supplier, are you ready?
Do you understand the operational requirements of supplying into increasingly data driven supply chains and automated warehouses? Would you like to better understand the benefits, challenges and urgency of ensuring your business is up to date 'now'?
Today's consumers are even more demanding requiring excellence across the entire supply chain in both the B2B and B2C markets. This requires strong leadership and ensuring that your business is up to date with current best practice requirements. Waiting to update your knowledge, systems and capabilities is no longer an option in a globally competitive marketplace.
This free workshop will give you the knowledge you need to ensure that you are able to supply into modern data driven warehouse environments with confidence.
This workshop will cover:
Awareness – Do you understand what is happening in the marketplace?

Opportunity – Is your supply chain a competitive advantage?

Challenges – What are the supply chain gaps in your business that can be improved now?
This workshop is designed for Entrepreneurs, Company Directors and Executives who want to take action today on ensuring they are keeping up with the demands of modern supply chains today.
---
Presenter

GS1 Australia has a long history of working with Industry when it comes to automated warehousing and delivery requirements. For over 40 years, GS1 has assisted companies to do business better through the development and implementation of global supply chain standards. GS1 is a neutral, not-for-profit organisation that provides global standards for efficient business communication.
---
Locations
North Melbourne
Tuesday, 10 April 2018
8:30am - 1:00pm
NorthLink Technology Enterprise Centre
Building 1, Suite 4, La Trobe University
2 Research Avenue
Bundoora VIC 3083
South Melbourne
Wednesday, 11 April 2018

8:30am - 1:00pm
GS1 Australia
8 Nexus Court
Mulgrave VIC 3170
Albury
Thursday, 12 April 2018

8:30am - 1:00pm
Ai Group Office
560 David Street
Albury NSW 2640
Sydney
Tuesday, 8 May 2018

8:30am - 1:00pm
Inner West Council
Petersham Service Centre
Level 3, 2 Fisher Street
Petersham NSW 2049
Parramatta
Wednesday, 9 May 2018

8:30am - 1:00pm
NSW Business Chamber
Level 12, 100 George Street
Parramatta NSW 2150
Sunshine Coast
Wednesday, 6 June 2018
8:30am - 1:00pm
The Lakehouse Sunshine Coast
15 Freshwater Street
Mountain Creek QLD 4557
Gold Coast
Friday, 8 June 2018
8:30am - 1:00pm
Location TBC
---
This is a free event hosted by the Department of Industry, Innovation and Science Entrepreneur's Programme in collaboration with Food Innovation Australia Limited (FIAL).
FIAL is an industry led, government funded initiative focused on collaboratively growing the share of Australian food in the global marketplace.
This event is designed to benefit small and medium Australian businesses from the Food and Agribusiness industry sector.
If you have any questions about this event or any future events, please contact EPLearningEvents@industry.gov.au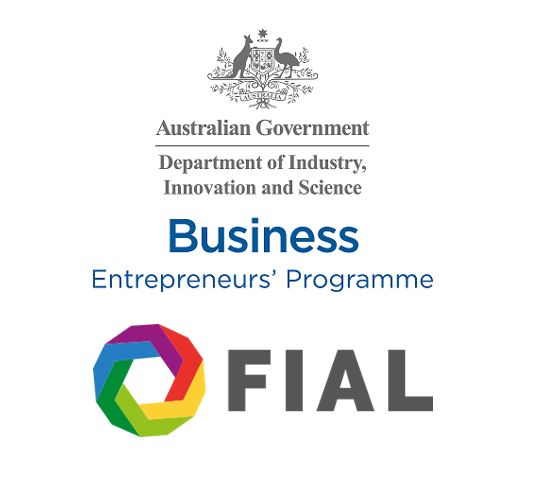 Location
Locations in description
Australia