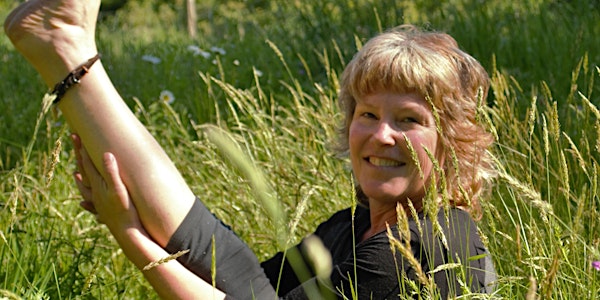 A Somatic Journey to Sacred Centre through Movement, Breath and Sound with...
Description
A Somatic Journey to Sacred Center through Movement and Sound


The Nedlands Yoga Centre is honoured to host Gwen Siciliano GSY Teacher Practioner in perth March 2020

​

Gwen was a Registered Nurse Practitioner up until a career ending injury in 1986 when an overmedicated 140kg patient fell on her crushing her to the floor and leaving her with a spiral spinal fracture. Gwen was unable to walk and in chronic pain for years. This was the second time Gwen had broken her back, the first time was two years prior and involved a mislanded backflip on a ski run (and some tequila). It took a second message from the universe until Gwen realised she needed to start her Yoga journey. Pain only became manageable when she discovered Restorative Yoga and was erased through the body of work she did with James Knight, founder of Gentle Somatic Yoga. Gwen now regularly teaches sold out classes and workshops in Vancouver Island. Gwen is visiting family in Perth so we will have the rare opportunity to bathe in her wisdom over the weekend of March 20-22 at the Nedlands Yoga Centre. This series is for Yoga teachers, Medical Practitioners, Pain Sufferers seeking relief and self regulation tools plus students alike. Workshops may be booked in isolation or as a weekend healing immersion series.
Friday March 20 6-830, $60 including a candle to take home
Be held in a blissful and nurturing sacred container where you are free to simply be as you are intuitively guided into deep relaxation through gentle movement and sound. Bring an altar item (sacred objects, e.g. gem/crystal, photo/image that speaks to you, flowers, etc.) and your favorite pillow/blanket, along with yourpersonal restorative intentions for yourself.
Saturday March 21, 11am-1:30pm, $50
Introducing Somatic Movement Flows to inspire and enhance your Yoga practice. 11:00 am Intro and Overview of GSY 11:15 am Exploring GSY flows and andiculation 1:00 pm Integration with Sound Healing
Sunday March 22 11am - 4pm, $75
Introducing new Somatic Movement Flows to inspire and enhance your Yoga practice. Participants will have an embodied experience that will not only help them, but can also be shared with their family members, friends, clients and students. Learning laboratories for review, Q&A and integration following each session. 1:00 am Exploration GSY + Learning Lab 1:30 pm Break 2-4 pm Exploration GSY with use of props. 4pm Integration with Sound Healing
Weekend immersion of all three events may be booked for $150
Organiser of A Somatic Journey to Sacred Centre through Movement, Breath and Sound with Gwen Siciliano