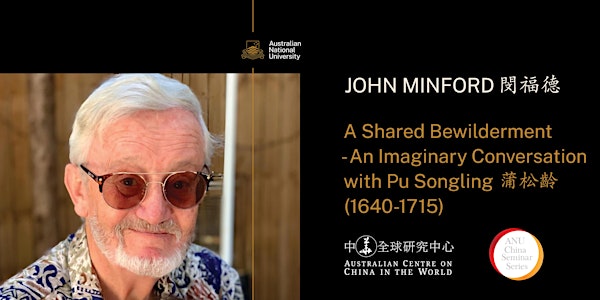 A Shared Bewilderment - An Imaginary Conversation with Pu Songling 蒲松齡
Location
Seminar Room, Building 188, Fellows Lane
The Australian National University
Acton, ACT 2601
Australia
Join us for a hybrid (online and in-person) seminar on Pu Songling's "Strange Tales from a Chinese Studio".
About this event
For the past three centuries, Pu Songling 蒲松齡 (1640-1715) the author of Strange Tales from a Chinese Studio 聊齋誌異has cast a dizzying, hallucinatory spell on his reader, drawing them into the spiritual, emotional and erotic depths of the Chinese Realm of Fantasy. Written in a highly eloquent, witty and allusive form of classical Chinese, his Tales explore in great detail the richly sensuous under-world and dream-world of the traditional Chinese literatus.
Please visit this link for the full abstract.
About the Speaker
John Minford 閔福德 was Professor of Chinese at ANU from 2006 to 2016. His first collection of 104 translations from Pu Songling's Strange Tales from a Chinese Studio appeared in Penguin Classics in 2006. He is now living in retirement in rural New Zealand, where he is reworking his draft translations of the remaining 400 tales, which were first done in France in the early 1990s.
The ANU China Seminar Series is supported by the Australian Centre on China in the World at The Australian National University's College of Asia & the Pacific.