Description
APPI's Death Culture series presents…
A NIGHT WITH A TRUE CRIME AUTHOR
Friday 24 June 2016
7:30pm – 8:30pm (with time for questions and book signing afterwards)
Join us for an informative talk with Amanda Howard, the true crime author of 16 books on the subjects of torture, executions and death and hear about her interviews with some of the world's most horrifying serial killers.
THIS EVENT WILL CONTAIN GRAPHIC IMAGERY, PLUS WILL HAVE A 'SHOW AND TELL' ELEMENT. PLEASE BE AWARE OF THE GRAPHIC CONTENT BEFORE PURCHASING TICKETS. STRICTLY FOR 18 YEARS AND OLDER.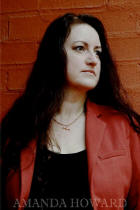 About Amanda...
Amanda Howard is a true crime author, fiction writer and serial killer expert. Her writing experience is based on an ongoing degree in criminology and psychology, as well as writing sixteen books on a wide range of true crime cases. She has also interviewed some of the world's most heinous serial killers over two decades and has collected a vast pool of information on various types of killers, their motives and rituals.
Amanda has appeared in many critically acclaimed international documentaries regarding famous serial killers, including Jack the Ripper, The Backpacker Killer, David Birnie as well as acted as a criminal consultant on many more. She has authored many journal articles on serial killers as well as being a guest on crime shows on radio, online, television and in-print. Amanda has worked as a consultant for many current affairs and news programs in Australia regarding vicious crimes, juvenile murderers, serial killers and sex offenders.
Following on from her successful career as a non-fiction author, she has coupled her knowledge of serial killers with a love of ancient history to develop a series of novels following the life of a police detective who is an international expert on ritual crimes and ancient societies. She has also written a number of short stories and novellas.
http://www.amandahoward.com.au/