Location
Swinburne University of Technology
AGSE Building, William Street
Level 2, AGSE202 Lecture Theatre
Hawthorn, VIC 3122
Australia
The Australian Leadership Index's National Conversation about Leadership in Australia
About this event
OVERVIEW
The Australian Leadership Index (ALI) is the authority on leadership in Australia. Supported by the Graham Foundation, ALI is a unique national survey that provides a detailed, ongoing picture of leadership for the greater good across all sectors.
WHAT IS THE STATE OF LEADERSHIP FOR THE GREATER GOOD IN AUSTRALIA?
Join A/Prof Samuel Wilson, Dr Melissa Wheeler and Dr Vlad Demsar as they discuss the rise and fall of leadership for the greater good and introduce the new Australian Leadership Index. This presentation will showcase some of the results of the new Index and reveal how this research can be used by leaders across all sectors to foster a new culture of leadership for the good in Australia and will conclude with how attendees can get involved.
PANEL DISCUSSION ABOUT THE FUTURE OF LEADERSHIP FOR THE GREATER GOOD
This presentation will be followed by a panel discussion between leaders in the public, business and not-for-profit sectors about the prospects and future of leadership for the greater good in Australia, highlighting key trends and priorities for 2022 and beyond.
PANEL
Sarah Downie , CEO Shared Value Project
Stephen Atkinson, Director Melbourne REOS Partners
Prof Bruce Thompson Head, Melbourne University School of Health Sciences
Christine Kotur Leader in Residence, Leadership Victoria
SCHEDULE
5.30 – 6.00 Arrival
6.00 – 6.45 Introducing the new index
6.45 – 7.30 Panel Discussion
7.30 – 8.30 Networking, Drinks and Canapes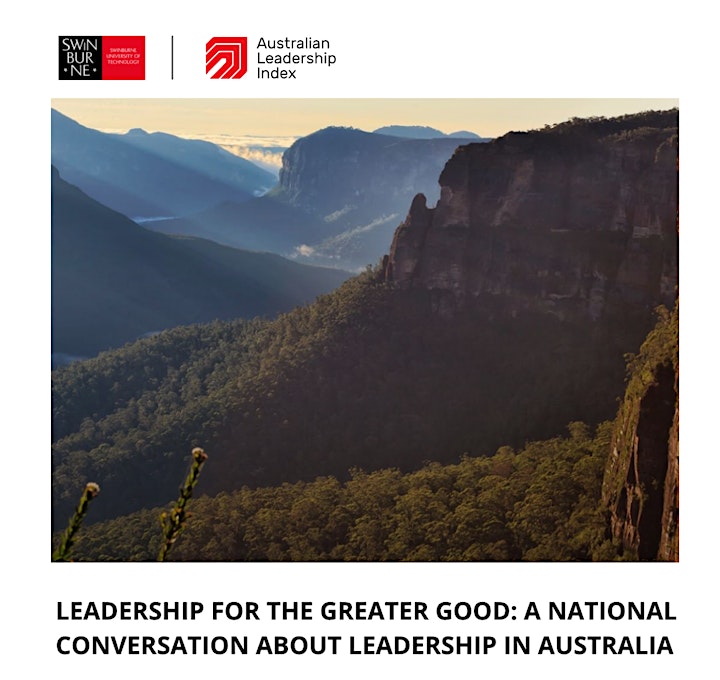 Our new report titled 'Leadership For The Greater Good: A National Conversation About Leadership In Australia' is now available for download via our website.
It provides insight into how Australians view leadership across the government, private, public, and not for profit sectors.
ACKNOWLEDGEMENT & UNDERSTANDING
By registering to this event, you acknowledge and give consent that your email address will be added to the Australian Leadership Index Newsletter Database. In addition, you acknowledge and consent that photos will be taken on the day and your image may be used in future promotion of Australian Leadership Index events. If you do not consent, please let the photographer, and event organiser know. Thank you.
IMPORTANT INFORMATION ABOUT ATTENDING
To ensure the safety of all attendees, we ask that you check the government's latest advice concerning COVID-19 closer to the event, and follow these measures for the duration of the event: 
VACCINATIONS
To comply with the Victorian Chief Health Officer  directions, Swinburne will require attendees of this event to be fully vaccinated and will be asking for proof of vaccination status on entry on the day.   You can show proof of your vaccination by presenting a physical copy or PDF of your vaccination certificate, or by setting up your vaccination ID via the Service Victoria app or your digital wallet.  If you aren't fully vaccinated against COVID-19 or aren't able to provide proof of your full vaccination status on the day, we will not be able to grant you entry into the event. If you are medically exempt, please remember to bring verification of your exemption.
FAQS
WHAT ARE TRANSPORT/PARKING OPTIONS FOR GETTING TO AND FROM THE EVENT?
Please Note: Glenferrie Road will be closed from 9pm, Friday 24 June to 5am, Monday 11 July
Parking Guide: The off-street car parking locations are; Wakefield Street, Hawthorn Town Hall and Linda Crescent. Generally, all on-street parking surrounding Swinburne University is time restricted to 1P, 2P or similar.
Trains & Trams Alamein/ Belgrave/ Lilydale Line Glenferrie Train Station is less than a 5 minute walk .
Check out ptv.vic.gov.au for more public transport information, including timetables, fares, route information and the Journey Planner, or call PT Victoria on 1800 800 007
CONTACT THE ORGANISER WITH ANY QUESTIONS?
Kristy Horne, Australian Leadership Index.
Email: khorne@swin.edu.au, or call +61 3 9214 5961 or +61 409 938 840.