Izy "Irene" Debut Album Launch w/ L. Flora and Dom Bird
About this event
Coming in hot from the release of their new album "Irene", the beautifully honest, lithe, yet raw neo-soul outfit 'Izy' (pronounced eye-zee) are joining us in Brisbane once more. These three gifted musicians come from strong musical lineages and we would love to share an evening with you, sitting in the pocket with them.
Izy is a collection of slinky raw grooves, vocal harmonies, and subtle jazz guitar to deliver futuristic soul music with old-soul sensibilities. Echoes of D'Angelo, Prince and Curtis Mayfield resonate as inspiration however with uniquely individual sensibility. Indisputable quality of dedication, honesty and diversity is clear in their music and a captivating positive energy surges through their presence on stage.
Together Ryo, Warrigo and Maru are potentially North Queensland's first neo-soul export. The three were all part of musical families from different continents who connected and bonded through playing music together before relocating to Melbourne in 2019. Heritage is important to 'Izy' and they bring these musical and cultural influences together proudly. In Izy's own words, "This album is a tangled culmination of interpersonal relationships; love, society and land. We three are super blessed to share stories and when we connect, we amplify and respond to each other, which makes it easy to create music and get our message across for our family and our community."
We are lucky enough to have 'L. Flora' in support for the evening. This hometown favourite have also just released a new heavenly EP as they slide from strength to strength. The charming neo-soul, R&B inspired outfit have been busy crafting a refined sound to their own powerful and smooth beat.
Dom Bird, a fixture in championing music from Australia and particularly our beloved Boomtown through the label 'Beats Of No Nation', will be spinning for you to get the room just right.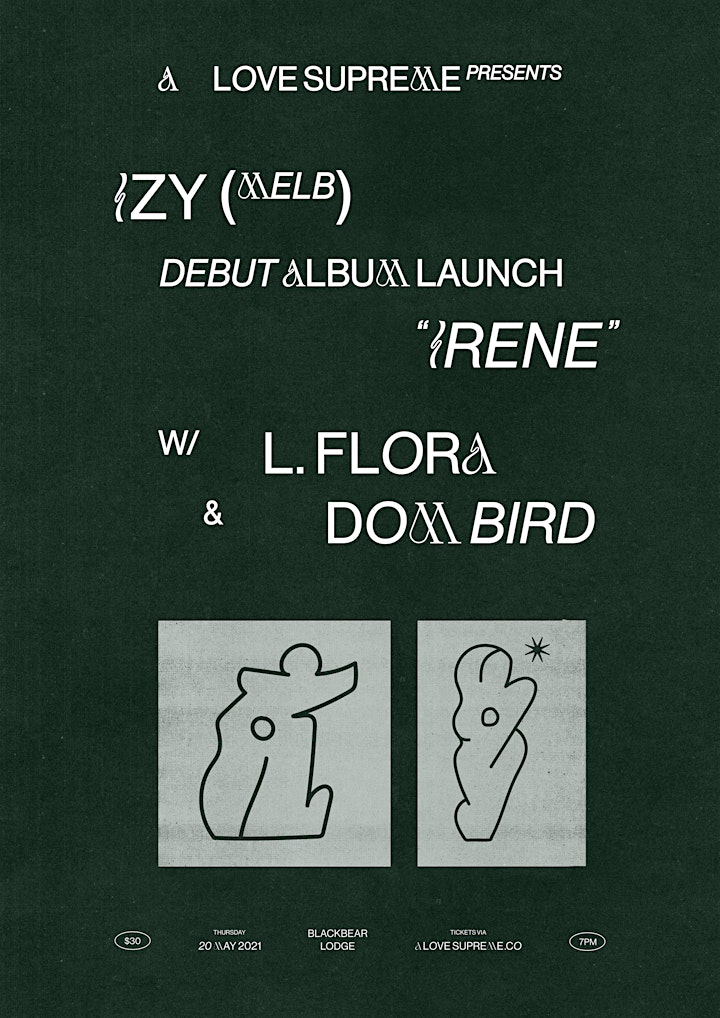 Organiser of A Love Supreme presents... IZY debut album launch with L. Flora & Dom Bird