Description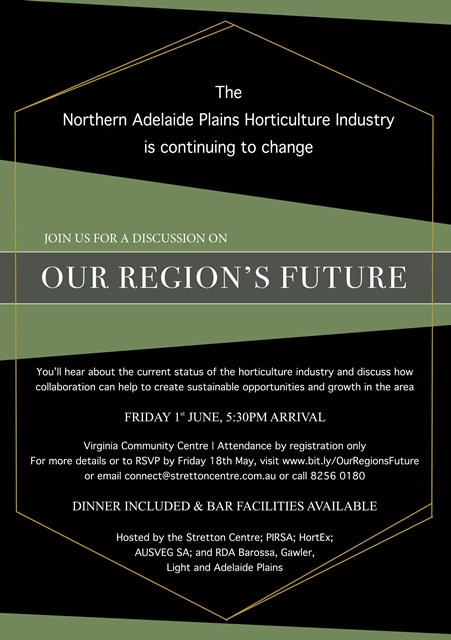 Help shape the future of the Northern Adelaide Plains horticulture industry.
The Northern Adelaide Plains is one of the largest horticulture regions in South Australia, but there are currently a number of challenges facing the region.

Horticultural producers and supporting businesses are invited to attend this event and be a part of the conversation. Let's talk about where you'd like to see the region in the future, and what we can do to ensure the region continues to grow.

Presenters will share the results of a recent survey conducted amongst growers in the region and talk about how the Northern Adelaide Plains is benchmarked against other regions. There will also be opportunities to discuss how producers and businesses in the region can work together to overcome some of these issues, and achieve a productive and prosperous future.

Dinner and soft drinks included. Bar facilities available. Plus ones are welcome.

RSVP by Friday 18th May at www.bit.ly/OurRegionsFuture or by contacting the Stretton Centre at connect@strettoncentre.com.au or calling 8256 0180.

Please note this is a limited seating event, only those who have registered will be able to attend.

The event is proudly hosted by the Stretton Centre; PIRSA; HortEx; AUSVEG SA; and RDA Barossa, Gawler, Light and Adelaide Plains.