A Cosmic Perspective: Searching for Aliens, Finding Ourselves
Are we alone? Throughout history humans have wanted to know whether there is life beyond the Earth and whether any of it is intelligent.
About this event
We want to know where we came from, how we fit into the cosmos, and where we are going. 
Since the middle of the twentieth century we have had tools that permit us to embark on a scientific exploration to try to answer this old question. We no longer have to ask the priests and philosophers what we should believe about extraterrestrial life; we can explore and discover what's actually out there. Our tools are getting ever better. We have discovered extremophiles in the most unexpected places on this planet and we have discovered that there really are far more planets than stars out there. We haven't yet found life beyond Earth, but there is currently a debate about the detection of Phosphine in the clouds of Venus, and whether this might imply biology. There is a vast amount of other potentially-habitable real estate to explore beyond our solar system, and there are many plans to do just that. The 21st century will be the century in which we will find some answers, this will be your century.
As we look up and look out, we are forced to see ourselves from a cosmic perspective; a perspective that shows us as all the same, all Earthlings. This perspective is fundamental to finding a way to sustain life on Earth for the long future.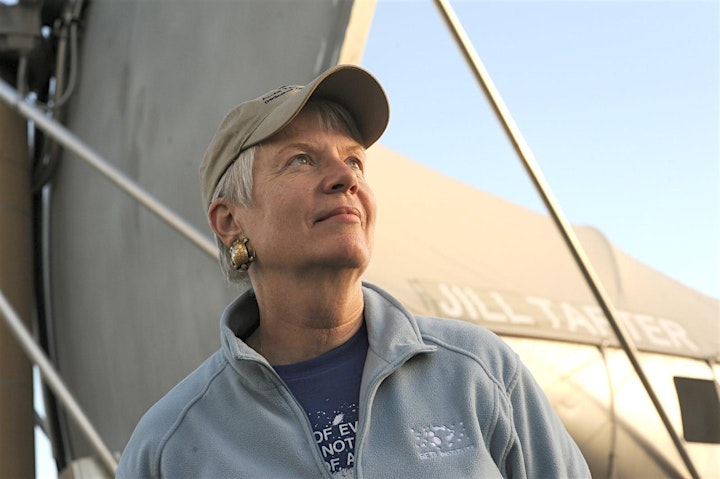 About the Speaker:
Jill Tarter is the Emeritus Chair for SETI Research at the SETI Institute in Mountain View, California and serves as a member of the Board of Trustees for that institution. Tarter received her Bachelor of Engineering Physics Degree with Distinction from Cornell University and her Master's Degree and a Ph.D. in Astronomy from the University of California, Berkeley. She has spent the majority of her professional career attempting to answer the old human question "Are we alone?" by searching for evidence of technological civilizations beyond Earth. She served as Project Scientist for NASA's SETI program, the High Resolution Microwave Survey and has conducted numerous observational programs at radio observatories worldwide. She is a Fellow of the AAAS, the California Academy of Sciences, and the Explorers Club, she was named one of the Time 100 Most Influential People in the World in 2004, and one of the Time 25 in Space in 2012, received a TED prize in 2009, two public service awards from NASA, multiple awards for communicating science to the public, and has been honoured as a woman in technology. She was the 2014 Jansky Lecturer, and received a Genius Award from Liberty Science Center in 2015. She served as President of the California Academy of Sciences 2015-16. Asteroid 74824 Tarter (1999 TJ16) has been named in her honour. In 2018 she was recognized with the Maria Mitchell Women in Science Award and the Sir Arthur Clarke Innovator's Award, and in 2021 she was elected to the American Academy of Arts and Sciences. Since the termination of funding for NASA's SETI program in 1993, she has served in a leadership role to design and build the Allen Telescope Array and to secure private funding to continue the exploratory science of SETI. Many people are now familiar with her work as portrayed by Jodie Foster in the movie Contact. Her biography Making Contact was written by Sarah Scoles and published in 2017
Important Information
COVID Restrictions:
Due to COVID restrictions in person attendees will be required to sign into the event on arrival.In order to be granted entry to University of Sydney campuses, you must meet the following conditions of entry:
You are not showing any symptoms of COVID-19;
You have not had contact with a person who has been confirmed with COVID-19 in the past 14 days;
You have reviewed the NSW Government list of COVID case locations, and if you have visited a relevant location have complied with Government instructions particularly as related to testing;
You have not returned from overseas, or any other location the subject of a current NSW Public Health Order in the past 14 days;
You have not been tested for COVID-19 and are awaiting results;
You will follow any relevant COVID-19 Safety Plan requirements advised to you and any reasonable directions of your University host, security staff and/or emergency services.
Getting to the venue
Venue directions:
The Messel Lecture Theatre is located within the Sydney Nanoscience Hub (SNH).
Access to the SNH is from Physics Road. Walk around the eastern end of the Physics Building you will see the SNH in front to your right (SNH is located across the courtyard directly behind the Physics Building). Refer to the red arrow on the map below.
At the eastern end of SNH there is a wide staircase which leads up to doors which take you to the lobby outside the Messel Lecture Theatre.
The Messel Lecture Theatre is an accessible venue. Lifts are situated through the entry doors which are located across the courtyard from the Physics Building.
Doors will be open from 3.30pm for a 4pm start.
Parking and public transport:
We encourage in person participants to use public transport as parking at the University is limited.
Carpark and public transport locations around campus are indicated on the map below. Casual parking is available, but is limited.
Parking rates are $4 per hour up to a maximum charge of $24 for 24 hours, seven days a week.To pay, locate a parking meter and pay by cash or pay by credit card using the free and easy to download CellOPark App. Credit card payment is now only accepted through the CellOPark App. Benefits to using the App include up to the minute payment function and you do not need to display a ticket on your dashboard.
Please note that the following carparks are permit holders only and do not allow casual parking: The New Law Building basement, Charles Perkins Centre basement, Abercrombie Business School basement, Western Avenue Underground and Margaret Telfer.
Further information:
Please contact stibbs.lecture@sydney.edu.au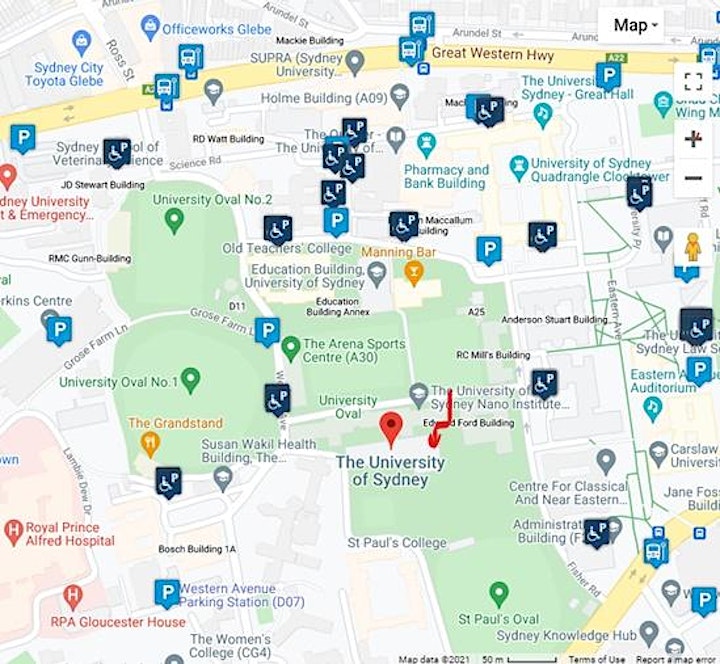 Image credits:
Jill Tarter courtesy of Dr Jill Tarter
A boy watches the Milky Way in the sky over the Tatacoa Desert, department of Huila, Colombia courtesy of LUIS ACOSTA/AFP/Getty Images
Organiser of A Cosmic Perspective: Searching for Aliens, Finding Ourselves
The Sydney Institute for Astronomy (SIfA) is a national and international leader in Astronomy and Astrophysics through cutting edge theoretical and observational research and the application of new technology for the next generation of instruments and telescopes. As well as being a research leader, SIfA is committed to excellence in postgraduate training and research-led undergraduate training.
In support of this philosphy the Professor Walter Stibbs Lectureship commemorates the achievements of Professor Stibbs by bringing a distinguished astronomer of international standing to the University of Sydney each year to present a scientific colloquium on astrophysics to the School of Physics, plus present a public lecture so the general community can meet and engage with the latest in astronomy research. The Walter Stibbs Lecturers also meet with astronomy students in the School of Physics to hear about the students' research and provide advice.