Description
Welcome to the Harborin checkpoint. You are one of 21 lottery winners who have won a year's supply of food and cleaning products *and* the opportunity to be one of five lottery winners selected into superior homes in the Better Tomorrow District (Section B, Sub-Sector C1). Please present your entry tickets and passports to the checkpoint officials to commence the selection process.
Alternatively you are one of five selection officials and sector guards who are responsible for ensuring the smooth processing of all 21 winners. These lottery winners received their tickets through purchasing them, heroic efforts or stellar work for the nation. Only five lottery winners can progress to a better life with improved healthcare, better education and safety against the plague in a higher class sector. The others must return to their plague-ridden and poverty-stricken sector.

AGE LIMIT: MA 15+ due to mature themes.
SETTING: Mistshrewdon. A dystopian world of film noir fashions and overbearing bureaucracies, entirely populated by a race of winged and horned humans who refer to themselves as gargoyles.
AFTERNOON TEA: There will be a light afternoon tea available for both characters and players.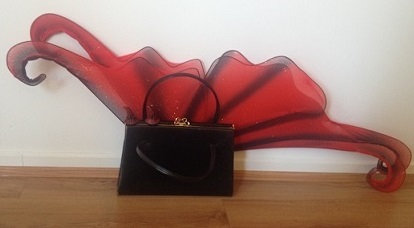 COSTUMING: You aren't required to come in vintage (1930s - 1950s) costume or to wear wings and prosthetic horns but you are more than welcome to do so and many others will. You can gain some costuming inspiration on our Pinterest page.

CHARACTER CREATION: All characters are written by the organisers. You can choose any character from the cast list that will be shown on the order form. Examples include:

Permit Inspector with a family back home.
Corrupt guard who gets a cut from detainment.
Soldier who has been granted the opportunity to move after heroic efforts.
Soldier's lover who is a researcher with a lower level CDC branch.
You will receive information on the character, several secrets and goals, and a culture packet to help define what this mysterious world is like. You will also receive the information you require to either process lottery winners or to try to succeed in being processed.
GAME STYLE: All lottery winners will be given a set of information pertaining to their character back stories as well as relevant props needed to succeed (i.e. identity cards, reference letters, resumes). They need to downplay their flaws while pointing out their strengths in order to win a new life for themselves and those close to them. After all, there are only five places and yet lottery winners can also bring along other members of their nuclear family (or closest relatives if they don't have a nuclear family). They will need to compete among themselves, assist each other, succeed in several short interviews and successfully fill out (short) forms or provide appropriate paperwork while under pressure from those who seek to find flaws in their histories and reason to turn them back.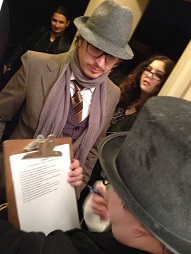 Selection officials are tasked with finding the right people for "Better Tomorrow" according to bureaucratic rules and principles, while dealing with the prickles of conscience. Guards are there to deal with any misbehaviour, tease out secrets and otherwise maintain the law. Both officials and guards cast their vote to select the five people who will be allowed entry. Both selection officials and guards might face punishment from their superiors if undesirable elements are allowed into the sector (such consequences will only be revealed after the choices are made).
Finally the Game Organiser / Keeper will portray a documentarian as part of a film crew eager to document this wondrous occasion. While we will film the event to make a short Youtube clip, we will edit out any participant who doesn't want to be a part of the short clip.
What is a LARP: LARP is an acronym for a Live Action Role Playing game. You are not yourself at a LARP. You are portraying someone else. You go by a new name, present a new personality and have all new motivations while moving through a setting that has been designed by someone else. Perhaps you are a brave warrior in a fantasy town under siege, a medieval villager trying to cope with the plague or perhaps you are a grieving widow trying to identify your husband's murderer. In this case you will portray either a lottery winner desperate to move into a better sector or an official eager to select only the very best. You can learn more here: https://arc-adelaide.com.au/what-is-larp/.