7th Australian Biology of Tephritid Fruit Flies Conference
About this Event
This free two day conference will host a range of topics from experts in Fruit Fly Research from Australia and Overseas.
Further details will be available shortly and will be emailed to ticket holders.
We hope to see you in Shepparton.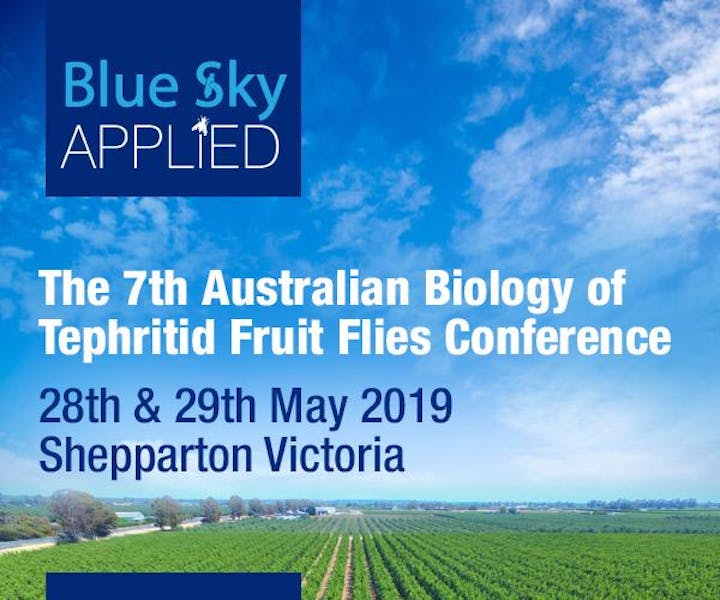 The Goulburn Murray Valley Regional Fruit Fly Project, warmly invites national and international Fruit Fly Researchers to participate at the 7th Annual Conference at Shepparton, in May 2019. Our theme is Blue Sky Applied and we welcome all abstract submissions to encapsulate this theme.
Deadline for Abstract Submission is 22nd March 2019
Submit abstracts to Jen Whitney at gmvfruitfly@moira.vic.gov.au
Abstract Format: Word Document, maximum 250 words (regular presentation) or 150 words (short talk). Include (Co-)authors/supervisors: names and affiliations. Maximum of 4 keywords.
Venue: Riverlinks Eastbank, 70 Welsford St, Shepparton Vic 3630
All information about transport, accommodation, restaurants and maps can be found at this link – http://visitshepparton.com.au
You will need to make your own transport and accommodation arrangements.
Further enquiries or special requirements, contact Jen:
0400 643 748 (Australia) +61 400 643 748 (international)
Abstract Submission Deadline
22 March 2019
Email to: gmvfruitfly@moira.vic.gov.au
UPDATE: POSTERS WELCOME
Poster abstracts to: gmvfruitfly@moira.vic.gov.au
Poster abstract deadline: 12 April 2019