7th Australian Biology of Tephritid Fruit Flies Conference
7th Australian Fruit Fly Conference on May 28th and 29th 2019 Riverlinks, Eastbank Centre, 70 Welsford St Shepparton Victoria.
About this event
This free two day conference will host a range of topics from experts in Fruit Fly Research from Australia and Overseas.
Further details will be available shortly and will be emailed to ticket holders.
We hope to see you in Shepparton.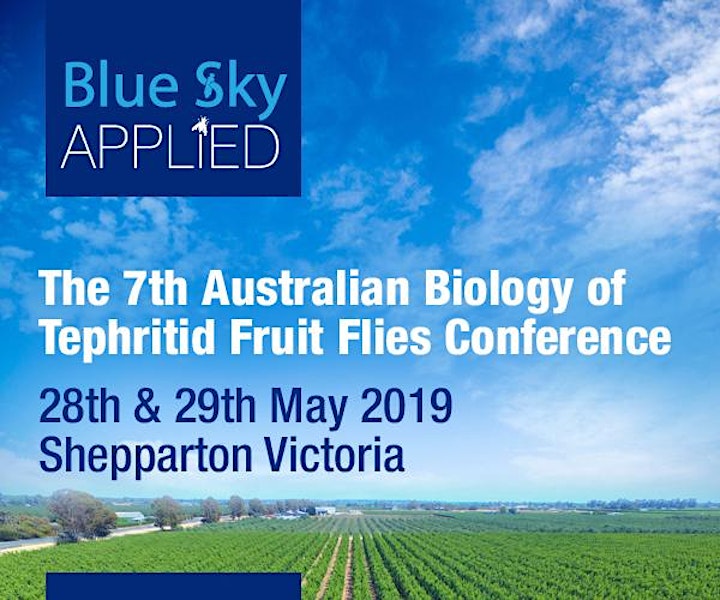 The Goulburn Murray Valley Regional Fruit Fly Project, warmly invites national and international Fruit Fly Researchers to participate at the 7th Annual Conference at Shepparton, in May 2019. Our theme is Blue Sky Applied and we welcome all abstract submissions to encapsulate this theme.
Amended Deadline for oral and poster abstracts - 12th April 2019
Submit abstracts to Jen Whitney at gmvfruitfly@moira.vic.gov.au
Abstract Format: Word Document, maximum 250 words (regular presentation) or 150 words (short talk). Include (Co-)authors/supervisors: names and affiliations. Maximum of 4 keywords.
Venue: Riverlinks Eastbank, 70 Welsford St, Shepparton Vic 3630
All information about transport, accommodation, restaurants and maps can be found at this link – http://visitshepparton.com.au
You will need to make your own transport and accommodation arrangements.
Further enquiries or special requirements, contact Jen:
0400 643 748 (Australia) +61 3 400 643 748 (international)
Abstract Submission Deadline
12th April 2019
Email to: gmvfruitfly@moira.vic.gov.au
UPDATE: POSTERS WELCOME
Poster abstracts to: gmvfruitfly@moira.vic.gov.au
Poster abstract deadline: 12 April 2019
POSTER GUIDELINES
Size: 84 cm x 117 cm - Portrait orientation
Structure:
Title
authors and affiliations (speaker's name underlined)
Introduction (background, motivation, purpose of research)
Materials & Methods
Results
Discussion
Conclusion and future plan
References, acknowledgements
Appearance:
Font size of body text should be easily legible for someone standing 2m away and 5m for main title
Avoid long lines of text and fonts that are too small
Separate each part by columns to facilitate viewers comprehension
Assigning headings for each logical block or enclosing them with a box, will help viewers understand the logical flow
Use a clean, simple design with no more than two fonts; bold and italic can provide variation
Ensure photos are sharp and clear when the poster is at full size
Display
Posters will be on display throughout the conference and will be discussed during a specific poster session
Set up - Tuesday morning (28th) 8.30am-10.30am
All speakers are asked to be present in front of your poster during the poster session
All posters should be removed after the poster session ends
Posters remaining after the conference close will be discarded
ABSTRACT SUBMISSIONS FOR ORAL & POSTER PRESENTATIONS CLOSE
12th APRIL 2019
Email to: gmvfruitfly@moira.vic.gov.au
CALL FOR ABSTRACTS IS NOW CLOSED.
Stay tuned for further conference updates - coming soon.
CONFERENCE UPDATE_26 Apr-19
All abstract submissions have been accepted and presenters will receive the conference program next week.
If you are presenting, please ensure that you have registered for the conference!
Organiser of 7th Australian Biology of Tephritid Fruit Flies Conference