Stand Up Paddle Boarding and Kayaking with Paula and Martine
About this event
The sight adorns our many waterways and inlets. You have seen all ages participating in SUPn or Kayaking and thought 'I'd like to give that a go'! Now is your time to try something new or join the crew if you would like to paddle with others. 
Register here for our newsletter https://beachessocialgroup.com/joinus
If the numbers attending seem low- don't be guided by the numbers here as its also promoted on Facebook, Eventbrite and Meetup as well as many regulars just show up- come along and meet
Stand Up Paddling ( SUP) and Kayaking can be as low key and relaxing or as energetic as you like. For those that wish, you may be introduced to some SUP Yoga movements also! 
Details:
-Day      Sat mornings 
-Time     830am on the water (includes SUP/ Kayak hire, safety brief, warm up/limb mobility) 
- Park off Duringan St Currumbin, behind Saltwater Cafe or surrounds 
*  Meet at the tree waterside look for Martine and Paula
* SUP and Kayak hire from Currumbin Boatshed Bait and Tackle
2 Thrower Dr, Currumbin QLD 4223
(07) 5525 0338
https://goo.gl/maps/PsSfpmSV3PgqwgQ97
- Cost $20 for 90 min
- Attire - Swimwear (lightweight sun protection tshirts/shorts if you wish), hat, sunnies - not expensive! wear your sunscreen. There is nowhere to secure or leave valuables, suggest leave personal items, towels etc in your vehicles. Keys may be left in JV's vehicle.
- Hydration - If you wish to bring your water bottle suggest have a tie or hook on it to secure to your board, or wear a light waist water bottle carrier. 
- Safety  - You should be self reliant in the water eg. Be able to float on your back and tread water for ten min and Swim 50m. Flotation devices will be available with the SUP/kayak hire for those that require. 
Pending the tide and which way we paddle we will stop for a swim. Guidance will be provided for beginners to SUP.
Please feel free also to view the intro YouTube clips
If anyone wishes we can adjourn to Saltwater for breakky or coffee afterwards. 
Looking forward to seeing you on the water ! 
The all round fitness that's fun.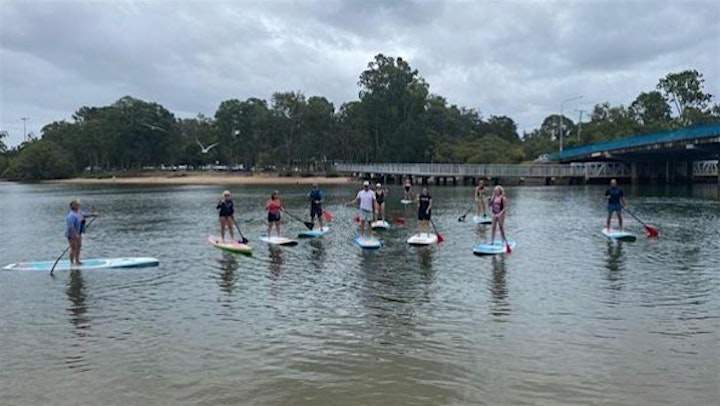 Organiser of 730am Saturday CURRUMBIN Paddleboarding or Kayaking Currumbin Creek