Event Information
Refund Policy
Refunds up to 30 days before event
About this Event
TICKETS
Early Bird & First Release - SOLD OUT
Second Release - SOLD OUT
Final Release - SOLD OUT
DOOR SALES AVAILABLE FROM 4.00PM
▀▀▀▀▀▀▀▀▀▀▀▀▀
P̷ L̷ A̷ N̷ E̷ T̷ X̷ I I I
▀▀▀▀▀▀▀▀▀▀▀▀▀
At the forefront of intersecting music, visuals and dance, PLANET X provides Perth a truly world-class event... all within an inner city location.
// ENTER THE LEISUREPLEX ONCE MORE
// 10 HOURS OF DANCE
// 3 UNIQUE INTERSECTING SPACES
// A PHENOMENAL ARRAY OF SELECTORS
………………………………
Featuring (in alphabetical order):
ANDY GARVEY ¬ Sydney
BEN FESTER ¬ Sydney
ERIS DREW ¬ Chicago
HELENA HAUFF ¬ Hamburg
HYPER REELIST ¬ Melbourne
MAMA SNAKE ¬ Copenhagen
OCTO OCTA ¬ NYC
YOUNG MARCO ¬ Amsterdam
………………………………
With local support from:
a1rc0n / Alienboy / Allstate / Dripbay / Basic Mind / Girlname / Henny / Jack Hewitt / Megan Lester / Mike Midnight
Plus dance performance and installations by:
Ash Traylia / Autonomove / Boyname / Gendermess
………………………………
This November 30, on the eve of Perth's hot and dry; Birak/First Summer - we open our arms to the warm embrace of a familiar unknown, anew. For a third time, we take the big dive down into the immense party atmosphere of the LEISUREPLEX. We have an accumulated knowledge of what to expect from past encounters, so naturally, we must loosen the tether and dive deeper than we have before.
This new bundled PX trilogy will be completed with a formidable cast of selectors and artists. From first time down under debuts, to returning visits, we invite you to let potential discovery be your compass as we enjoy an eclectic display of formative dance music. We hope to provide you with a welcoming space for expression with freedom from judgement. And a place to talk, relax and unwind. We live in a great community. Here is something... we hope strives to envelope it's essence
Within the walls of our accessible and unique LEISUREPLEX™ we will provide you with a sensory vehicle of escape. Engage with others and enjoy your time and space under visual and aural installations. The LEISUREPLEX is a fully licensed space with various booze and food options. An enjoyable experience awaits you.
//
PLANET X is dedicated to safety and inclusivity. Equality is non-negotiable. We have a zero tolerance policy to discrimination, harassment and harmful behaviour of any kind. We will be working to ensure the safety and enjoyment of every guest in attendance.
PLANET X is wheelchair accessible. For any accessibility questions or concerns, please contact PLANET X directly.
//
We wish to acknowledge the traditional custodians of the land we are meeting on, the Noongar Whadjuk people. We wish to acknowledge and respect their continuing culture and the contribution they make to the life of this city and this region. We pay our respects to them and their cultures; and to elders both past and present.
//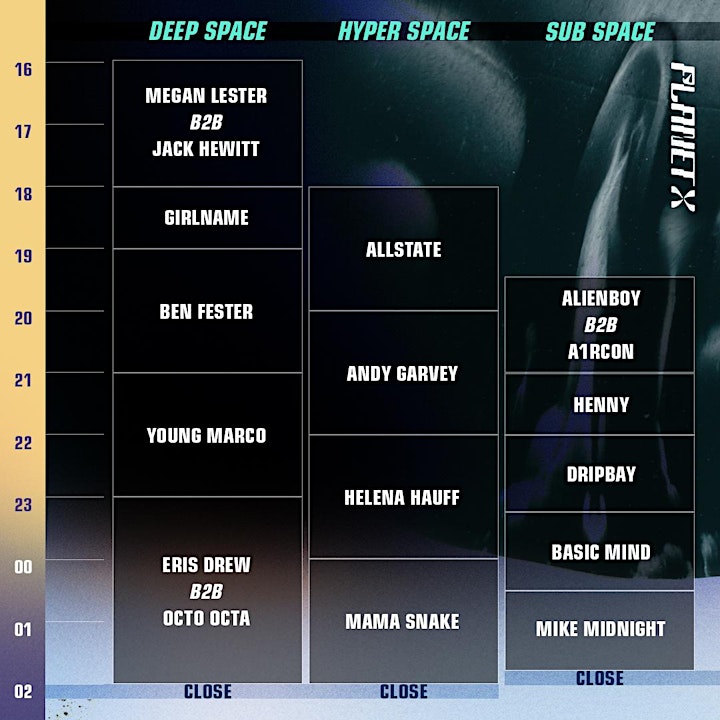 Performers
Date and Time
Location
Refund Policy
Refunds up to 30 days before event