Multiple Dates
7+ Ways to Write More Effective Email training workshop
Description
Over 80% of business communication is now handled via email, replacing many phone and face-to-face conversations. Email has largely replaced face-to-face and phone conversations but it has no clear signals, no eye contact, no body language, no feedback.
But there are ways to write clear, concise and actionable email that maximises your chances to get attention, engage your reader and motivate them to the action or outcome you desire.
This is of our 3 Email Mastery programs and you can attend one or two or all three on the same day or come along to one per month.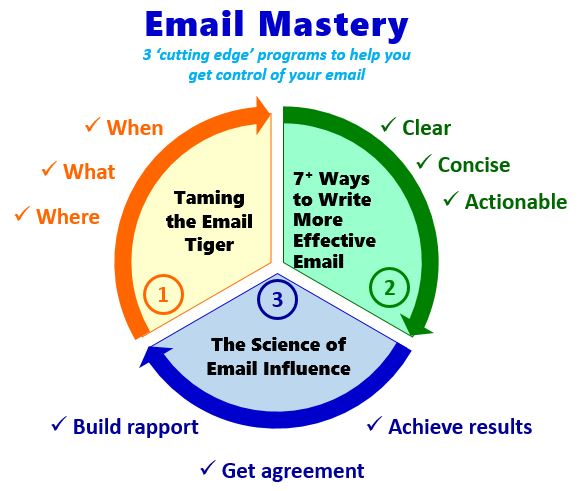 ---
7+ Ways to Write More Effective Email

10:30am-12:00pm
This presentation looks at 7+ ways to write clear, concise, actionable email that allows you get what you want from every email you send.
When to email and when NOT to email
The Challenge of Communicating in the Age of Speed
Focus on your desired outcome
The 3 elements of an effective subject line
How to automate your e-mail follow-ups
The power of the Inverted Pyramid structure
Why you should write email backwards
Reasons to use Delay Delivery for your messages
Understanding these 7+ ways will help you to get attention, engage your reader and motivate them to take action on your outgoing email.
"Your class was an eye-opener for me. I am currently adopting your procedures and adapting as fast as my habits can change. Once again thanks for a wonderful lesson." Steven Ng, Project Manager, CFA
---
Our other workshops
Check the schedule of dates for this workshop by clicking the blue 'Select a Date' button at top right of this page. See details about our other workshops (also on the same day) by clicking the links below;
Taming the Email Tiger (8:30am - 10:00am)
The Science of Writing Customer-focused Email (1:00pm - 2:30pm)
---
Presenter: Steuart Snooks

---

---
Who else has enjoyed from our workshops?
Here is a list of some of our past clients;

Australian Institute of Management
Bartercard
BMW
Catholic Church Education (QLD)
CEO Institute forum groups
Commonwealth Bank
Consolida8 Accountants (Brisbane)
Dana Australia
Deakin University
Essendon Football Club
Federation Training
Fitzroy High School
Fulton Hogan
Institute of Management Consultants
Institute of Mercantile Agents
Institute of Surveyors
Invesco
Kangan TAFE
Kennards Hire
KPMG
Law Institute of Victoria
Local Government – 19 Victorian councils
Medicare Local - Gippsland
Medicare Local – Western NSW region
Melbourne Airport Corporation
Melbourne University - Academic Staff
Melbourne University Rural Health Academic Centres
Mercedes Benz
Monash University – Academic Staff
Nelson Wine Company
Nestle
Outdoor Media Advertising
RDC Accountants (Adelaide)
Royal Children's Hospital (Melbourne)
Royal District Nursing Service
Royal Flying Doctor
Royal Melbourne Hospital
Show Technology
State Government – 16 agencies
Sydney Adventist Hospital
Symbion Healthcare
Symbion Pharmaceuticals
The Executive Connection (TEC) Business Groups (Aust-wide)
The Good Guys
The Gordon Institute
Wallenius Wilhelmsen Logistics
West Gippsland Catchment Management Authority
---
What do others say about our workshops?
"I would like to thank you for the training workshop 'Taming the Email Tiger' and the extra coaching session in the afternoon. After returning to the daily tasks, the tips that we learned from you immediately made a difference to the productivity levels in our workplace."
Cindy Diver, Admin. Officer, Royal Flying Doctor Flying Service
"Yesterday was a lightbulb moment for me, as I finally realised I had been struggling under the crushing weight of email overwhelm for years! The two key take-aways for me were 1) limit your email viewing to 3 times per day and 2) use your Calendar as the basis for your to- do list, not your email. When I went back to the office, it was like a brand new working experience for me. Today began just as freshly. So thank you!"
Lisa F., Senior Consultant, Leadership & Organisational Development, Monash University
"Thank-you for a great workshop yesterday. I picked up so many invaluable tips and have begun implementing them already in both my work and personal email. Please see the attached screenshot: Inbox cut down from 5,700 to 0, and it's only 9:30 in the morning! I've also set up folders to start implementing the 4D methodology to keep it at zero while I work through the backlog".
Josh Townley, Regulatory Affairs, Ego Pharmaceuticals
---
A skeptic is converted - "this has indeed changed my life"
"I must say I was less than enthused to go to yet another training when I have so much work to do at my desk. I listened to you talk about this being life changing and how my emails would disappear. Managing two inboxes and with them generating most of my workload I sat fidgeting in my seat quite annoyed that you had no idea about my work; this surely couldn't apply to me.
Making me more annoyed was the way you kept closing the screen behind and ensuring we closed our laptops so I couldn't check my emails and do work whilst you're doing your presentation, as in other training.
So now a week later; I sit here at the end of the day with time to allocate an appropriate response and provide constructive feedback. I have still been busy all day but my work is not mounting up uncontrollably. I apply the two-minute rule a few times a day and drag other emails into a slotted time to deal with it. Maybe not today but certainly as it needs prioritising. My emails are at zero at the end of the day EVERY DAY!
The fact that I am now telling you that this training has indeed "changed my life" is like eating humble pie. But kudos to you and a well-deserved pat on the back.
My calendar is now my priority - I have control of my work - I have started to leave on time - I have left my work at work giving me work life balance. Thank you.
Kat Campbell, Central Enrolment Officer, Cardinia Shire
---
"Please find below a snapshot of the very positive feedback we received about your program. Overall people loved it and found it very useful. There were no improvements to be made, in fact, I've received lots of emails asking for more sessions to be run.
Well presented, fast paced and presenter always managed to keep everyone's attention and a few humorous parts.

Practical suggestions in managing email

The presenter was fantastic and his presentation was very clear and concise

Practical tips were provided. People were able to ask questions specifically relevant to them and receive an answer

The course provided very useful, constructive tips with managing emails – things I could put into place as soon as I returned to my desk

Learning of the management tools available

The concise and practical tips for improving email management. The lively and inspirational speaker

I would highly recommend this course to any person within the organisation including management

A great course that I would recommend to colleagues. Practical examples given with easy to follow steps. Thank you.

It was good to learn that you can create a "filing cabinet" and move folders in to that from the inbox. The time of the course was just right, going into it, I thought 1 and a half hours was a bit long, but it proved to be more detailed than I expected

An excellent use of an hour and a half. Concise and practical."
Amy Hollings, Organisational Development Project leader, Yarra Ranges Council
"I have been using the 4 d's and e-mail time slots. Cleaned up my inbox. Does feel that there is less to do since there are not 20 things floating in my mind since they are not managed."
Rudi Greyling, Business Development Manager, Colterlec
"Yesterday I did some GP practice visits and before I could even ask I received unsolicited feedback that your workshop was the best thing they have ever done. Some comments were:
It was an awesome presentation

I didn't know how much I didn't know

Fabulous presentation

The best thing I've ever done

Already using some of the tips

So liberating

I emptied my Inbox and it feel fantastic

I became really aware of how distracting the email notifications are and how much they took me off track

Some of the tips can be applied across other business areas for example the 'do not disturb zone'. We have created it around the practice nurse doing the 'recall letters' for the doctors. Some silly mistakes had previously been made so now they will be able to totally focus on the task
And more of the same…"
Deb Le Cerf, Program Officer Practice Support, Medicare Local
"Prior to the course, I'd have months of emails in the inbox and the constant message telling me that it is over the limit, now I currently have 48 items which will soon decrease again."
Kathryn Berry, Training Administrator, Federation Training
"Thanks for a brilliant training session yesterday. I have been wanting to do your training course for the past 6 months as I heard about it though a previous staff member who raved about it! Thanks once again, great information and very well executed!"
Customer Service Administrator, The Gordon Institute
---
Got any questions?
Just contact me direct if you have any questions about these workshops - whatever I can do, I'm here to help!
Steuart Snooks | Phone: 1300 789 468 or Mobile: 0413 830 772 Email: steuart@solutions4success.com.au

---