Description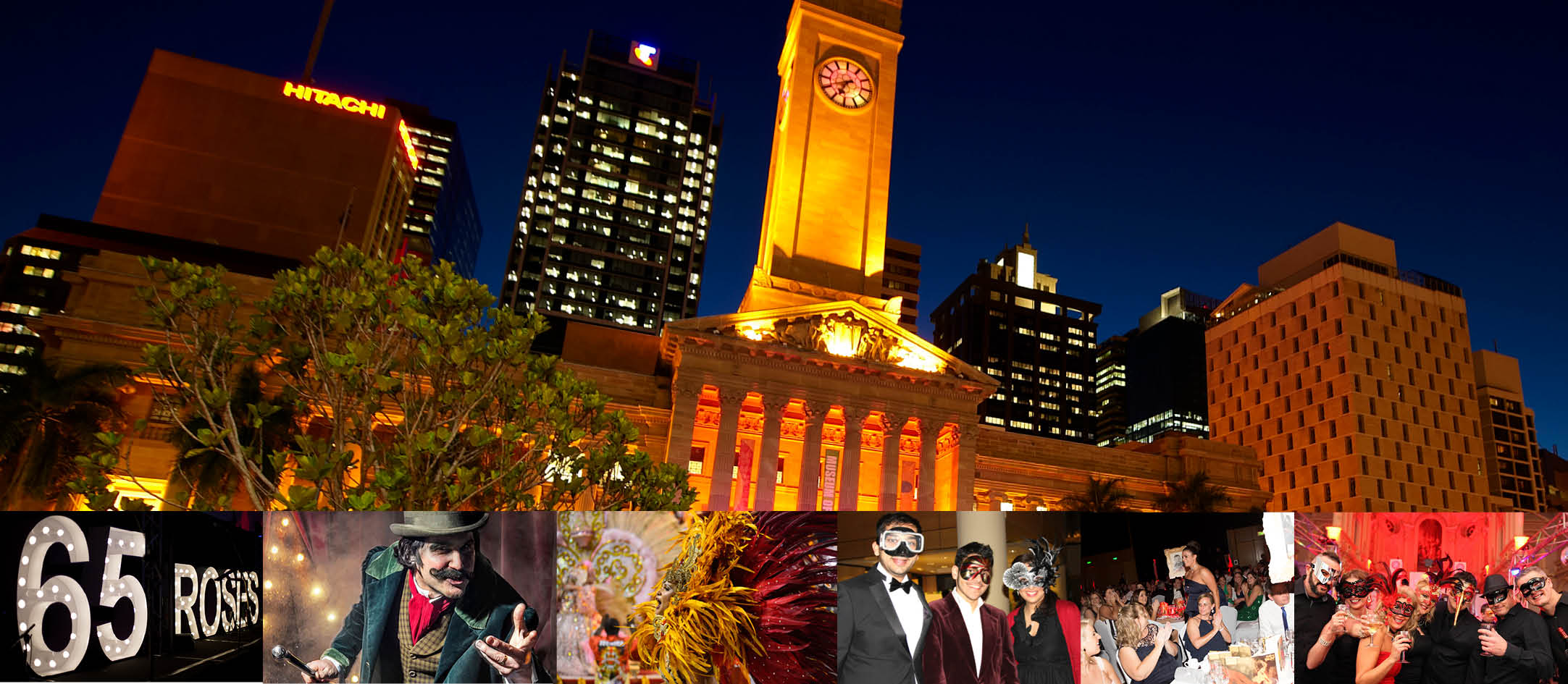 The 65 Roses story dates back to 1965 when a young boy pronounced Cystic Fibrosis as 65 Roses. Since then, 65 Roses has been synonymous with our cause and the rose has been adopted as the national symbol for Cystic Fibrosis.
Our annual 65 Roses Gala Ball is an opportunity to be part of a fairy-tale evening full of laughter, music and dancing. This year's event will take your breath away as we join forces with Rio Rythmics and Flip Side Circus to take last year's Ball's success to even greater heights as we party in one of Brisbane's finest heritage listed landmarks.
Join us for pre-dinner drinks under the stars in King George Square and get in the spirit of the night's carnaval theme by creating your own mystery signature mask, or pre-ordering one through our preferred suppliers. You mask will be waiting for you to collect on your arrival at the registration desk!
---
If you are interested in lead sponsor opportunities or sponosored prize donations within this event please contact our Business Development Manager at Cystic Fibrosis Queensland (07) 3359 8000 or email rozf@cfqld.org.au.
---
FAQs
What are the terms and conditions of attending the 65 Roses Ball 2017 ?
Please read these Terms and Conditions before confirming a booking for the 65 Roses Ball 2017
By making a booking, you are agreeing to be bound by the following terms and conditions.
General Terms and Conditions
The following conditions are both of sale and conditions of attendance at the event:
1. Payment is due immediately and is payable by Visa/Mastercard/Amex.
2. No refund or exchange on any booking except as required by law and as otherwise specified by Cystic Fibrosis Queensland.
3. The right is reserved to add, withdraw, reschedule or substitute artists and / or vary advertised programs, prices, venues, seating arrangements and audience capacity.
4. The right is reserved to add, withdraw, reschedule or vary advertised program.
5. The right of admission is reserved and is subject to Cystic Fibrosis Queensland and the venue's terms of admission, copies of which are available from Cystic Fibrosis Queensland on request.
6. Cystic Fibrosis Queensland, its affiliates and their associated agencies and companies will not be held liable for any misadventure, accident, illness or injury, loss or claim due to the act or omission of the purchaser that may occur whilst undertaking/participating in the 2017 The Rose Cup.