Location
Scitech
City West Centre
Sutherland St & Railway Street
Perth, WA 6005
Australia
Description
G


in collaboration with



invite you to a meeting of the


Space Innovation Network

at a great venue:

to celebrate
50th Anniversary of Moon Landing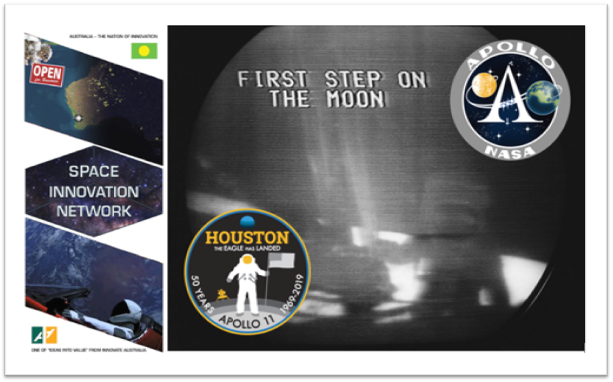 The United States' Apollo 11 was the first crewed mission to land on the Moon, on 20 July 1969. Since then there have been six crewed U.S. landings (between 1969 and 1972) and numerous uncrewed landings, with no soft landings (not resulting in damage to/the destruction of the vehicle or anything on board) happening from 22 August 1976 until 14 December 2013.


To date, the United States is the only country to have successfully conducted crewed missions to the Moon, with the last departing the lunar surface in December 1972. All crewed and uncrewed soft landings had taken place on the near side of the Moon, until 3 January 2019 when the Chinese Change 4 spacecraft made the first landing on the far side of the Moon. The first human-made object to reach the surface of the Moon was the Soviet Union's Luna 2 mission, on 13 September 1959.

Western Australia is well positioned to play a key role in the Space Industry. The state is already home to globally significant civilian and defence space research and exploration facilities, it will also soon co-host the world's most powerful radio telescope, the Square Kilometre Array. These facilities, together with the existing space industry expertise, space researchers and industry partnership with NASA and European Space Agencies mean that WA is well placed to become an internationally significant contributor to the global space industry.


____________________________________


Our Presenters:
Richard Tonello
Observatory Manager at Gravity Discovery Centre Observatory - Gingin and Director/ Astronomer at Astronomy Education Services.



Dr Katarina Miljkovic
ARC DECRA Fellow & Australian L'Oréal-UNESCO for Women in Science Fellow, Senior Research Fellow - School of Earth and Planetary Sciences (EPS) at Curtin University



____________________________________

Bonus!


Special Presentation - '50 Years Later'

Shawn Fernando (Woodside) Robotics Manager and Phil Strawser (NASA) will show how current space technologies can be applied to the energy business.
____________________________________


About Presenters:
Richard Tonello


Richard's experience in the field of Astronomy spans over 18 years, from teaching various community courses through UWA Extensions and TAFE, to heading up the Public Outreach and Education at the Perth Observatory from 2004 to 2010.
Currently, Richard is Manager and Senior Astronomer at the Gravity Discovery Centre Observatory, Gingin, and his goal is to make it the best public Astronomical Observatory in the country. He also lectures for the School of Science at Edith Cowan University and has held the position of Astronomy Lecturer since 2010.
He's also involved in active research in the hunt for Exo-Planets and has worked with the following institutions in various capacities;
* NASA / JPL (Jet Propulsion Laboratory)
* United States Air Force Academy
* University of Western Australia
* Edith Cowan University
* Curtin University
* International Centre of Radio Astronomy Research (ICRAR)
* Gravity Discovery Centre, Gingin
* Kurongkurl Katitjin (Indigenous Australian Education and Research/ ECU Mt Lawley)
Richard was also Head Lecturer/ Presenter for the successful 2015 Guinness World Record for the "Largest Astronomy Lesson", instructing and entertaining 1108 participants who attended the event in the Shire of Kalamunda.


Dr Katarina Miljkovic


Katarina is a planetary scientist with expertise in numerical and experimental impact physics. She is also involved with data analysis from space missions. Katarina's research focuses on the understanding of geophysics of planetary bodies, including the Earth, through impact processes, as well as cratering mechanics, and shock physics applied to geologic materials.
Katarina joined Curtin University as a Curtin Research Fellow in 2015. In 2018, she became an ARC DECRA Fellow at Curtin University. Prior to joining Curtin University, Katarina was a postdoctoral research associate at Massachusetts Institute of Technology (2014-2015) in the USA, Institut de Physique du Globe de Paris (2012-2014) in France, and Imperial College London (2011-2012) in the UK. She graduated in astrophysics from the University of Belgrade in Serbia in 2006 and was awarded PhD from the Open University in the UK in 2010.
In 2018, Katarina was awarded the Australian L'Oreal-UNESCO for Women in Science fellowship, and she was a finalist for the WA Premier's Science Awards in the early career scientist category.


Shawn Fernando

Shawn is the Head of Robotics for Woodside Energy, responsible for leading robotic development and deployment of solutions on site. Shawn has over 17 years of industry experience spanning multiple industries including the military, aerospace and the resource sector. Prior to joining Woodside, he was an asset integrity specialist and operations manager for a highly-respected consultancy.

Shawn has held roles within Woodside as a Facility Engineer, Engineering Team Leader, Operations Manager and Offshore Installation Manager. He now leads the robotics team within the Technology function of Woodside. Shawn has both a BSc and a BE with Honours as well as an MBA with Distinction from the University of Western Australia. Shawn is also a Chartered Professional Engineer and Engineering Executive with Engineers Australia.


Philip Strawser
Philip Strawser was born in Athens, Georgia in 1977. He received a B.S. in Computer Engineering at Georgia Tech in 2002. In 2002, he joined NASA's Johnson Space Center (JSC) in Houston, Texas. At NASA, Mr. Strawser works in the Robotic Systems Technology branch of the Software, Robotics, and Simulation division. Initially focused on avionics and embedded systems, he helped to design and implement several robotic platforms including Robonaut, Spidernaut, and Centaur.
He later focused on software development, and in 2007, he led the software team to develop Robonaut2. He led the software certification effort which allowed R2 to go to the International Space Station in 2011. In 2012, Mr. Strawser worked with a JSC team to design and develop the Valkyrie robot for the DARPA Robotics Challenge. Mr. Strawser is currently the Perception and Cognition lead for the Robonaut2 system. His interests are in computer vision, machine learning, and robotic task design and execution.
____________________________________


PARKING
procedure


Attendees of the event don't need to pay for parking, but please note that THE PARKING IS PATROLED UNTIL 5 PM.
ARRIVING AFTER 4 PM PLEASE REGISTER FOR 1 FREE HOUR PARKING AT THE PARKING MACHINES IN THE CAR PARK.
YOU WILL NEED TO ENTER YOUR VEHICLE REGISTRATION NUMBER.
Please arrive earlier to allow time for parking procedure.


Once parked, please come directly upstairs to register for the event.
____________________________________


UPCOMING EVENTS WORTH CHECKING OUT



https://www.eventbrite.com.au/e/landgate-innovation-series-presents-gihan-perera-fit-for-the-future-tickets-61412116293?aff=ebdssbdestsearch

____________________________________

https://www.eventbrite.com.au/e/innovative-solutions-for-sustainable-energy-forum-tickets-62138590196?aff=ebdssbdestsearch

____________________________________

https://www.eventbrite.com.au/e/guanxi-with-mr-peter-kasprzak-tickets-64771674823
____________________________________

OUR HOST:

____________________________________

OUR PLATINUM SPONSORS

____________________________________

OUR SPONSORS AND SUPPORTERS: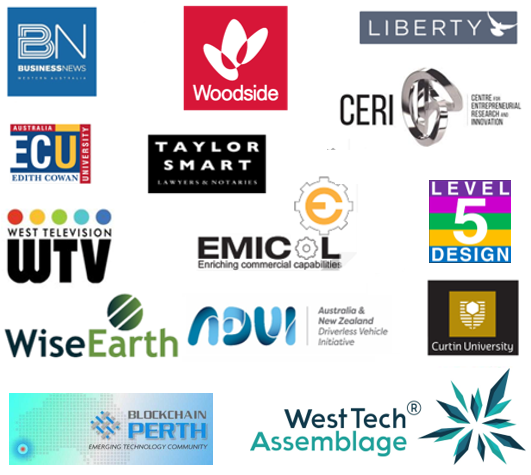 ____________________________________



Let's make WA a true STATE OF INNOVATION!